Hawkeye Fan Shop — A Black & Gold Store | 24 Hawkeyes to Watch 2018-19 | Hawk Talk Monthly — March | Box Score (PDF) | Photo Gallery | Boxscore
By RICK BROWN
hawkeyesports.com
IOWA CITY, Iowa — The 10,720 fans who came to Carver-Hawkeye Arena on Friday witnessed history.
 
In fact, they had a hand in second-seeded Iowa's 66-61 victory over No. 15 Mercer in a first-round NCAA Women's Basketball Tournament game.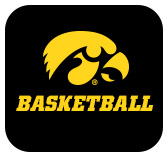 "They feed off our energy and we feed off them," Iowa All-American center Megan Gustafson said after the Hawkeyes advanced to Sunday's second round against seventh-seeded Missouri (24-10).
 
It was the first career NCAA victory for anyone on the Iowa roster. The Hawkeyes lost a first-round game to Creighton last season.
 
"I think a lot of us got the jitters out," Gustafson said. "Our first NCAA win. Another home game coming up. We've got the Sweet 16 on the line for this next game. We're going to be excited and ready to go."
 
Survive and advance. That's what the NCAA Tournament is about. And that's what the Big Ten Tournament champions did.
 
With the game tied, 59-59, with four minutes to play, Iowa buckled down on defense and finished the game with a 7-2 run to improve to 27-6 overall. That includes a 16-0 mark at Carver-Hawkeye Arena this season.
 
"Our crowd was fabulous," Iowa coach Lisa Bluder said. "It probably helped us get those five points we really needed. Hopefully they'll come back Sunday."
 
Gustafson finished with 30 points and 16 rebounds. She made 14 of 16 shots from the field and that was despite a terrific defensive effort turned in by Mercer.
 
The Southern Conference champions forced Iowa into a season-high 24 turnovers. Many of them came when an attempted entry-pass to Gustafson got tipped away. Mercer did a good job of pressuring Iowa's passers.
 
"Actually, we didn't see anyone do that (on film) and I didn't understand why," Mercer coach Susie Gardner said. "I wondered, 'Why is no one trying to get tips? Why is no one pressuring the passer?' We knew (Gustafson) was going to get her points, but our goal was to not let her get as many touches as she was used to."
 
Mercer received 21 points from KeKe Calloway and 18 from Amanda Thompson, but had its winning streak end at 17 games. Mercer finished the season 25-8.
 
"We're disappointed with the outcome, but what a great basketball environment," Gardner said. "I thought their fans pulled them through when they needed to be pulled through. We had opportunities, we never went away."
 
Iowa led by as many as 11 points in the first half and took a 35-27 advantage into halftime after Mackenzie Meyer drained a 3-pointer from the left corner with :02 remaining.
 
Meyer finished with 16 points, including five 3-pointers in seven attempts. That was her highest scoring game since she had 18 at Penn State on Feb. 3. Her five made triples matched a career high.
 
Hannah Stewart added 12 points and 11 rebounds, her second career double-double.
 
Mercer rallied from that halftime deficit, cutting Iowa's lead to a single point on six occasions before taking its first lead of the game when Shannon Titus scored in the final seconds of the third quarter to put the Bears in front, 51-50.
 
Iowa never trailed after Meyer made one of two free throws for a 60-59 lead with 3:25 to go.
 
WORTH NOTING
Gustafson set a pair of Big Ten single-season records while recording her 31st double-double of the season. She now has 927 points this season, erasing the previous mark (917) set by Rachel Banham of Minnesota in 2015-16. Gustafson increased her rebounding total to 442. The previous mark (426) had been established by Minnesota's Amanda Zahui B in 2014-15.
 
The Hawkeyes averaged 13.5 turnovers entering the game, and had 14 at halftime. Mercer had just two turnovers for the game. The Bears had an 18-2 edge in points after turnovers.
 
Free throws were rare. Iowa was 5-of-9 from the line, and seven of them came in the final 4:51 of regulation. Mercer didn't attempt a free throw the entire game.
 
Fast-break points were even harder to find. Stewart got a nifty pass from Kathleen Doyle and scored the game's only fast-break hoop with 2:24 remaining. It gave Iowa a 62-59 lead.
 
QUOTING COACH BLUDER
"We knew (Mercer) was a good team coming in here. They had won 17 in a row, and went undefeated in conference play the last two years. They had five seniors on this team. They had all the makings. They played Florida State to a one-point loss. They played Georgia and last year they played Georgia to a five-point game (in the NCAA Tournament).  It doesn't surprise me at all. We knew they were a good team."
 
ON THE HORIZON
The Hawkeyes meet Missouri of the Southeastern Conference on Sunday at Carver-Hawkeye Arena. The Tigers advanced with a 77-76 overtime victory against No. 10 Drake. Missouri coach Robin Pingeton played for Bluder at St. Ambrose.