Hawkeye Fan Shop — A Black & Gold Store | 24 Hawkeyes to Watch 2018-19 | Hawk Talk Monthly — March
By JAMES ALLAN
hawkeyesports.com
IOWA CITY, Iowa — Evan Davis nearly canceled his recruiting visit to the University of Iowa, now he's a Hawkeye in contention for Big Ten Freshman of the Year.
 
Davis, an all-around student-athlete from Houston, is the 15th-ranked gymnast nationally by Road to Nationals and he's one of the brightest young Hawkeye stars on a Big Ten championship team.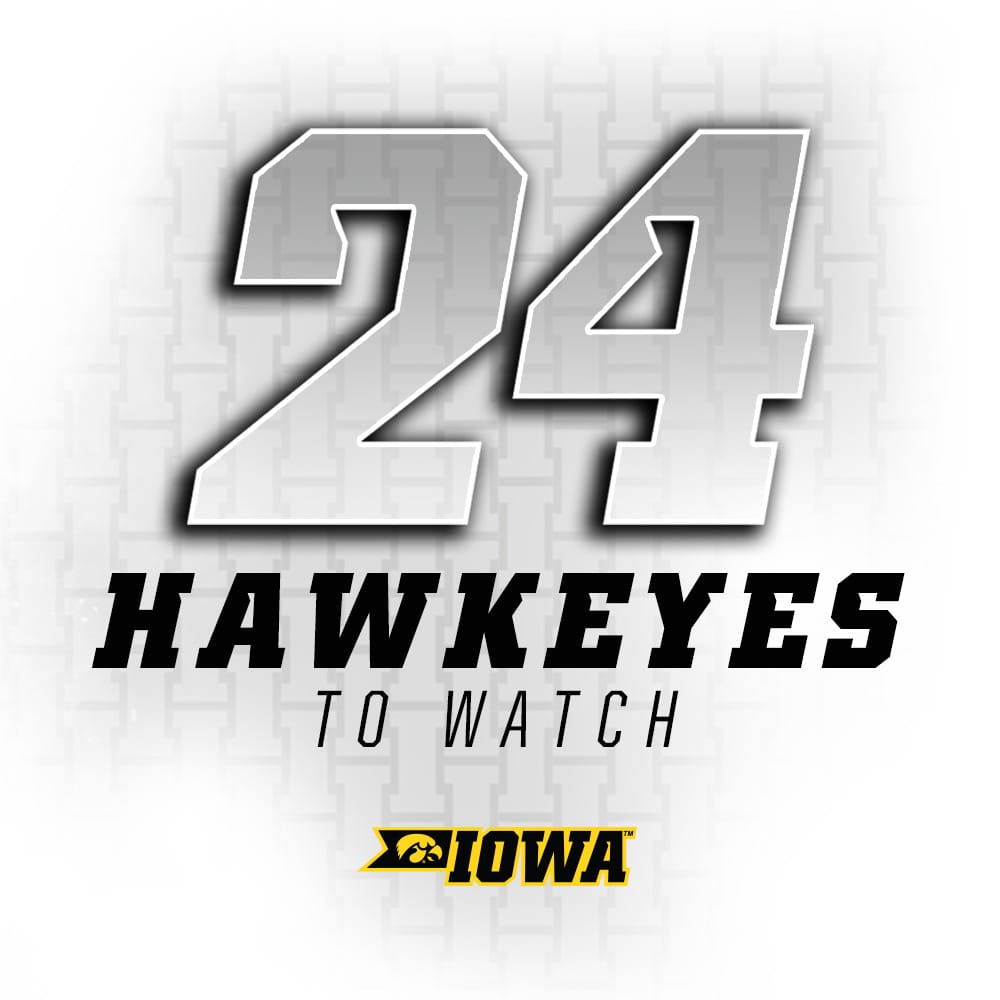 "He has had a tremendous impact," said Iowa head coach JD Reive. "He has our No. 2 contributing point total for the entire team.  He has brought energy, excitement, and enthusiasm that has played out well over the course of the season.
 
"A lot of our success comes not only from the hard work, but the positive energy. He epitomizes a lot of that."
 
Davis was a recruiting commodity coming out of Jersey Village High School.  He won the all-around at the 2018 Junior Olympic Nationals and finished second on pommel horse and rings and third on parallel bars.  He also recorded top-eight finishes at the 2018 U.S. Championships to earn the Mas Wantanabe Award, signifying the outstanding senior level 10 gymnast.
 
When Davis took his recruiting visits, he went to Penn State and Oklahoma, the defending back-to-back national champions.  He almost didn't make it to Iowa City, Iowa.
 
"(Iowa) was my last trip and I was thinking about canceling because I thought I knew where I was going to go," said Davis. "I decided to come and I fell in love with the school, JD, and the other members of the coaching staff were right there for me.  I loved this team, so I committed."
 
Davis met with the Hawkeyes team captains and they revealed a plan for the program.
 
"They wanted to change the perception of Iowa," said Davis. "Everyone thinks Iowa gymnastics won't amount to anything. When they said they wanted to change the culture, I bought into the ideal that I wanted to be a part of that."
 
Davis arrived on campus in August for summer training, preparing for the U.S. Championships. Reive was impressed immediately.
 
"He is fun to work with, fun to coach, and he loves gymnastics," said Reive. "He loves doing it, loves competing, and you see that come out when he's on the floor.  As soon as we got going, we were like, 'This is going to be a blast.'
 
"It's going to be a lot of fun to take this kid, mold him into the senior athlete we know he can become, and do it with a great freshman class."
 
Davis' Hawkeye debut included a No. 1 spot on the vault at the Windy City Invitational and his coming out party came in a dual against top-ranked Oklahoma in February.  He finished second in the all-around to teammate Andrew Herrador with 79.350 points.
"I wasn't sure how much I would contribute coming in," said Davis. "I knew quickly when I started training that I would play an important role on the team.  I was ready to step into that position."
 
After earning Big Ten Freshman of the Week for his performance at the Winter Cup, Davis and the Hawkeyes took off during the home stretch of the season.  Iowa posted dual wins over No. 7 Nebraska, at No. 3 Michigan, and against Ohio State, setting up a shot at the regular-season title at Minnesota.
 
The Hawkeyes finished second at the dual behind Minnesota and defeated Penn State to claim a share of the first-ever regular-season Big Ten Championship.  It was Iowa's first Big Ten title since 1998.
 
"I didn't quite realize what happened," said Davis. "When everyone else started cheering, my heart rate increased and I was so excited, I went around and was hugging everyone and cheering. I had a single tear come down my cheek because we finally achieved one of the biggest goals this program has accomplished in the last 20 years."
 
Now Iowa looks to carry over their success into the postseason, where the Hawkeyes host the 2019 Big Ten Championships on April 5-6 in Carver-Hawkeye Arena.
 
"We have the confidence that we are a top-three team in the Big Ten," said Davis. "This season it's anyone's game and because we're the most consistent team, we have a good shot at winning this championship."
 
As the Hawkeyes prepare to contend for the team title, Reive believes Davis is a contender as the best freshman in the Big Ten Conference. 
 
"Once he got in and started competing consistently and we got those all-around scores in, he started realizing what he was able to do," said Reive. "Watching that confidence come along, he was like, 'Oh, I can be really good.'
 
"We have to continue to build that on him.  As we get into the Big Ten Championships, he is a viable Freshman of the Year contender based on his influence over the entire team score.  I don't think anybody has been as influential as him on a squad as a freshman.
 
"We're seeing that play out and he's starting to own it."
 
And to think, Davis almost didn't make it to Iowa City.
Tickets to the 2019 Big Ten Championships are available at hawkeyesports.com/tickets.