Hawkeye Fan Shop — A Black & Gold Store | 24 Hawkeyes to Watch 2018-19 | Hawk Talk Monthly — April | I-Club Events Page | 2019 Football Tickets
By RICK BROWN
hawkeyesports.com
IOWA CITY, Iowa — Tim Polasek is the University of Iowa's offensive line coach. Derrick Foster is the running backs coach.
 
Both know that their unified performance will go a long way in determining how much success Iowa's football team has in 2019.
 
One number stands as a goal: 4.5. As in 4.5 yards per carry.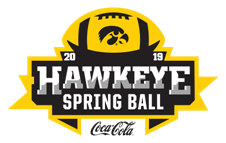 "If you hit five explosive plays (20 yards or more), you're on track," Polasek said Tuesday at a news conference in the Stew and LeNore Hansen Football Performance Center. "That's championship-level football. If we can help cultivate situations with enough open space where a running back can make a play, we're doing our jobs. Our goal into each game is 4.5 (yard per carry) and 150 yards rushing."
 
Wins and losses will be ultimately determined by the number of explosive plays, red zone efficiency, and third down production, but moving the ball consistently on the ground is another important factor.
 
Foster has tried to one-up that 4.5 goal with his running backs.
 
"If the block opens a four-yard run, try to get more than four. I'm telling my backs to get more yards than they are blocked for," Foster said. "I think that's important. That's a realistic goal for us."
 
Iowa averaged 4.0 yards per carry during a 9-4 season in 2018. The Hawkeyes rushed for at least 150 yards in six games.
 
Iowa returns three running backs in juniors Mekhi Sargent (745 yards in 159 carries), Toren Young (637 yards in 136 carries), and Ivory Kelly-Martin (341 yards in 97 carries).
Both Sargent and Young averaged 4.7 yards per carry.
 
"It's definitely doable," Foster said. "We've got to take that next step."
 
Iowa's ground game was running back by committee last season. Kelly-Martin battled injury much of the season. That left a majority of the work to Young and Sargent, the latter who arrived on campus in June after joining the program from Iowa Western Community College.
 
Asked if a three-man running back attack was in the cards again in 2019, Foster said that determining that wasn't high on the to-do list in spring drills.
 
"Our focus right now is to make sure we're developing every one of these guys," Foster said.
 
Sargent's growth after joining the program is a sign of optimism moving forward. Sargent started the final four games of 2018 and produced 173 yards against Nebraska in the regular-season finale. He also had nine touchdowns.
 
"We've seen him make progress consistently over a period of time," Foster said. "He, Toren, and Ivory are definitely improving."
 
Iowa returns starting junior offensive tackles Tristan Wirfs and Alaric Jackson, a tandem with a wealth of experience. Also back is guard-center Cole Banwart, who started seven games last season at right guard.
 
Polasek said Wifs is understanding the concepts of his position, something that points to a bright future.
 
"He's getting closer to his full potential," Polasek said. "He's trending toward where he has a complete understanding of what we're doing and he's playing faster."
 
Polasek added that Jackson is "detailing his work and getting pads on people. He's not a guy who is reaching for blocks."
 
Redshirt freshman Tyler Linderbaum is getting a long look at center this spring.
 
"Tyler Linderbaum is what you're looking for from a recruiting standpoint, from a competitor's standpoint, from a toughness standpoint," Polasek said. "I think he's a tempo-changer. He has a long way to go, but we've been impressed. None of this has been a surprise. I think he's on the right track."
 
Things like learning to pick up blitzes and experience gleaned from scrimmages will determine if Linderbaum ends up a starter.
 
"I like his work habits," Polasek said. "The thing I like is you can challenge him."
 
Landan Paulsen is getting significant repetitions at left guard, with brother Levi Paulsen and Banwart seeing action at right guard. The Paulsons will be seniors. Banwart is a junior.
 
"Levi is a swing guy for us," Polasek said. "There's an opportunity for him to start right now. We value his leadership ability, his ability to go out there and do the job."
Iowa's spring practice continues through April 26. Requests for 2019 Iowa football season tickets can be submitted HERE or by calling 1-800-IAHAWKS.