Hawkeye Fan Shop — A Black & Gold Store | Hawk Talk Monthly — April | 24 Hawkeyes to Watch | 2019 Football Tickets | I-Club Events Page | Photo Gallery
By DARREN MILLER
hawkeyesports.com
IOWA CITY, Iowa — Twice during the 2018 football season, the University of Iowa converted two running plays of 20-or-more-yards in the same game.
 
That's not enough for junior running back Mekhi Sargent.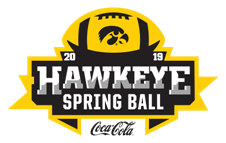 "(Running backs coach Derrick Foster) wants more explosive plays and I agree with him," said Sargent, who had four of Iowa's seven 20-plus yard carries a year ago.
 
Two of those explosive plays came in a season opening 33-7 win over Northern Illinois and both were from junior running back Toren Young (40 and 24 yards). Wide receiver Ihmir Smith-Marsette had a 20-yard run in the fourth game of the season against Wisconsin, then there was a three-game dry spell.
 
The final four big runs came from Sargent, who led the Hawkeyes on the ground with 745 yards and nine touchdowns. At Penn State he had runs of 23 and 20 yards and he had a 29-yard run at Illinois. Sargent's season-best 32-yard carry came during a 31-28 win against Nebraska.
 
"We're coming to (spring) practice with a mentality and treating it as if it was a game and going from there," Sargent said. "This year we are ready to capitalize."
 
There is plenty of reason to agree with Sargent that more explosive runs are on their way in 2019. Returning are starting offensive linemen Cole Banwart, Alaric Jackson, and Tristan Wirfs. Jackson has 24 career starts at left tackle, Wirfs has 20 at right tackle, and Banwart has seven at right guard.
 
Also back are Iowa's top eight ground-gainers, including Sargent, Young (637 yards, five touchdowns), and junior Ivory Kelly-Martin (341 yards, two touchdowns).
 
"I love competition, so I'm going in every day not thinking about a starting job, being second string, or third string," Sargent said. "I'm working day-in and day-out and competing with my teammates."
 
Last year at this time, Sargent was a junior college All-American looking for a home. He was coming off a phenomenal season at Iowa Western Community College where he ran for 1,449 yards and 14 touchdowns.
 
Once enrolled at Iowa, Sargent was faced with a learning curve that included a new playbook and accelerated game speed. He has been a Hawkeye for 11 months and his comfort level has increased dramatically.
 
"On a scale of 1 to 10, I would say I am at 10," Sargent said. "There are more factors like knowing the plays and knowing what I have to do now. I know what my offensive linemen are doing, I am patient, and I trust my path."
 
That hasn't always been the case, especially early in his Hawkeye career.
 
"I was just trying to get to my gap and my reads," Sargent said. "Coming in this year from the offseason, I have been studying what the offensive line is doing and knowing what guy I have to make miss and stuff like that.
 
"In order for there to be big runs, we have to click. We have to know what those guys are doing, they have to know exactly where we're coming."
 
Hawkeye fans saw Sargent's confidence grow during the season. In the first six regular-season games, he carried the ball 63 times for 243 yards and four touchdowns; in the final six, he had 89 attempts for 505 yards and five touchdowns. Against Illinois in Game 11, Saregent ran for 121 yards and two touchdowns; against Nebraska in Game 12, he ran for 173 yards and a touchdown.
 
"It was a learning process and once I got adjusted, it was pretty easy," Sargent said. "I feel comfortable, but it there is still room to get better every day and I am focusing on that."
 
The Hawkeyes are coming off a 9-4 season that was capped by a 27-22 victory over No. 18 Mississippi State in the Outback Bowl.
Iowa's spring practice continues through April 26. Requests for 2019 Iowa football season tickets can be submitted HERE or by calling 1-800-IAHAWKS.