Hawk Talk Monthly — April | Hawkeye Fan Shop — A Black & Gold Store | 24 Hawkeyes to Watch | 2019 Football Tickets | I-Club Events Page
By RICK BROWN
hawkeyesports.com
 
IOWA CITY, Iowa — LeVar Woods was one of the players Kirk Ferentz inherited when he replaced Hayden Fry as the University of Iowa's football coach in 1999.
 
Woods remembers listening to Ferentz in one of the first meetings he had with his new team.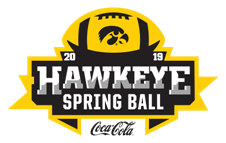 "He talked about the blueprint of Iowa football," Woods said. "Winning with defense, special teams, and strength and conditioning."
 
Those words still ring true, 21 seasons later.
 
"We take that very seriously here," Woods said Friday.
 
Instead of trying to reach those objectives as a player, Woods does it now as a member of Ferentz's coaching staff. A seven-year NFL veteran, Woods is in his 12th season on the staff and is currently the Hawkeyes' special teams' coordinator.
 
Woods pointed to portraits of past Iowa All-Americans that hang on a wall of the All-America Room in the Stew and LeNore Hansen Football Performance Center. Guys like Nate Kaeding, Shonn Greene, Adrian Clayborn, Josh Jackson, and Josey Jewell first made a name for themselves as Hawkeyes with their special teams play.
 
Woods is looking to continue that legacy, and spring practice is a perfect opportunity to observe and analyze the next wave of candidates.
 
One of the biggest holes heading into 2019 is replacing placekicker Miguel Recinos, who made all 47 point-after kicks and 17 of 22 field goals in 2018.
 
The leading candidates are juniors Keith Duncan, who held the job in 2017, and Caleb Shudak.
 
"Caleb and Keith worked hard last year as if they were going to be the starter, knowing that they were behind a senior who was having a good season and ended up having a good career," Woods said.
 
Iowa also added another kicker in freshman walk-on Lucas Amaya from Muskego, Wisconsin.
 
Woods said it is a spirited competition between Duncan and Shudak in spring practice.
 
"I don't know who is going to win the job," Woods said. "That's what camp is for."
 
Iowa returns both its punters from a season ago in Colten Rastetter, who averaged 38.9 yards on 53 punts, and Ryan Gersonde.
 
"Both started off much improved, and tapered off at the end," Woods said. "I've seen marked improvement in both of them."
 
Iowa also signed Michel Sleep-Dalton, a graduate transfer from Arizona State.  He averaged 43.8 yards on 59 punts for the Sun Devils last season.
 
"He has been punting for two years in the Pac-12," Woods said. "It's a different conference and a different type of football. That's part of the challenge for him in making the move to come here. He has a strong leg."
 
Sleep-Dalton punts with both his left and right feet, and can kick it rugby style or the traditional spiral style.
 
"He has a bunch of shots in his bag, if you will," Woods said.
 
Ihmir Smith-Marsette had a team-high 24 kickoff returns for 707 yards last season, and Woods hopes he'll be even more effective this season.
 
"We need to get him more consistent and fundamentally sound in what he is doing," Woods said. "We all see the electric speed and ability he has.  He needs to field the ball more cleanly. That will help the rest of the unit block for him and help him get to the next gear he wants and get it into the end zone."
 
Iowa must replace the chief punt returner, Kyle Groeneweg. He returned 24 punts for 238 yards and a touchdown, showing what Woods called "nerves of steel."
 
"That's what we're trying to get from returners," said Woods. "If you get the ball past the first two guys there's usually something there for you."
 
Woods said Devonte Young, Nico Ragaini, Geno Stone, and Terry Roberts have all shown kick return potential.
 
Woods is always looking for leaders on his special teams, and Amani Jones could be just what he is looking for. Jones was a strong contributor last season, even after losing his starting job at linebacker.
 
"He's an old school football player," Woods said. "All he wants to do is play football. He's physical, fast, and explosive. There's plenty of room for him to improve. He could really turn a game on special teams. He's a guy who has truly bought in, even after he kind of got knocked off his pedestal when he was no longer a starter at linebacker."
Iowa's spring practice continues through April 26. Requests for 2019 Iowa football season tickets can be submitted HERE or by calling 1-800-IAHAWKS.