Hawkeye Fan Shop — A Black & Gold Store | Hawk Talk Monthly — April | 2019 Football Tickets | 24 Hawkeyes to Watch | I-Club Events Page
By RICK BROWN
hawkeyesports.com
IOWA CITY, Iowa — Wide receiver Brandon Smith walked to the line of scrimmage and saw the cornerback was playing off him.
 
Smith made eye contact with quarterback Nate Stanley, silent communication about the opportunity that presented itself.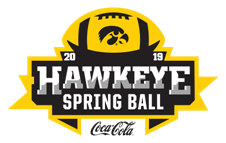 "I knew the ball was coming to me," Smith said. "It's good to have that kind of chemistry."
 
The 10th practice of spring drills on a Tuesday is a far cry from games at Kinnick Stadium on Saturday, when the Smith-Stanley connection could play an important role in the University of Iowa's 2019 football season.
 
A 6-foot-2, 218-pound junior from Lake Cormorant, Mississippi, Smith has finally found his footing in the college game.
 
"When he steps on the field, he looks like how you want a guy to look at our level," said Kelton Copeland, Iowa's third-year wide receivers coach. "My challenge a year ago was, 'Brandon, we need you to play how you look. You look awesome. You look dominant. I need you to play that way.' He made strides to do so."
 
After seeing limited duty as a freshman in 2017 out of necessity because of a lack of depth at the wide receiver position, Smith started 12 of 13 games last season.  He had 28 catches for 361 yards and two touchdowns.
 
His first career start, in the season opener against Northern Illinois, was tough sledding. Smith didn't have a catch in the 33-7 victory.
 
"I grew from that game, because it wasn't a pretty game for me," Smith said.
 
He did grow, thanks to the power of positive thinking.
 
"You have to keep working at it," Smith said. "You've going to have some ups and downs, but you can't let failure dictate who you are."
 
Smith officially introduced himself to Hawkeye fans a week after the Northern Illinois game. Iowa was clinging to a 6-3 fourth-quarter lead against Iowa State when Stanley and Smith hooked up for a 30-yard connection to the Cyclone 2. Mekhi Sargent scored a player later to secure that victory.
 
"I try not to pay attention to the big moment, I just try to pay attention to what I have to do on a play, and take it step by step," Smith said.
 
His confidence grew with each passing week.  Coming off a bye week, he had five catches for 68 yards in a 48-31 victory at Minnesota.
 
"I saw how good I could do at the college level," Smith said.
 
Iowa finished a 9-4 season with a 27-22 victory against No. 18 Mississippi State in the Outback Bowl.
 
The game carried extra meaning for Smith, a Mississippi native who had three catches for 33 yards against the Bulldogs.
 
When Smith returned for a five-day homecoming, one of his stops was to Lake Cormorant High School.
 
"I saw a bunch of Mississippi State stickers on the lockers, because most of the kids back home, they want to go to Mississippi State," Smith said. "I had a Sharpie and I wrote "Iowa' (on the stickers). It was pretty funny. My high school coach (Nick Nester), he was laughing about it."
 
Smith is spending the spring perfecting his craft in an offense that needs more big-play potential with the loss of tight ends T.J. Hockenson and Noah Fant and slot receiver Nick Easley.
 
"The offense is still going to throw to the tight ends and run the ball," Smith said. "But it feels like there will be more targets for the receivers. Just knowing that you can possibly get more targets, that's pretty exciting."
 
Smith has several things on his to-do list in the months heading into the Aug. 31 season opener against Miami of Ohio.
 
"What I would like to get better at is being more consistent and catching the ball with my hands more than with my body," Smith said.
 
Smith has also worked on his own to become more of a complete receiver.
 
"Sometimes I go to the indoor facility and work on getting in and out of my breaks, trying to stay more aggressive and get lower," Smith said. "If you run your routes standing up, you'll get put on the ground."
 
Copeland has a new set of goals for Smith.
 
"My challenge into the spring was, 'OK, you saw the strides that you made, the improvements you made from your freshman year to your sophomore year,'" Copeland said. "My challenge to him is, can you make the same if not more improvement from last year going into 2019?"  Consistency. Being that dominant, being that explosive, that physical player that he can be. I think he will."
Iowa's spring practice continues through April 26. Requests for 2019 Iowa football season tickets can be submitted HERE or by calling 1-800-IAHAWKS.