Hawk Talk Monthly — April | 24 Hawkeyes to Watch 2018-19 | Fight For Iowa
By JAMES ALLAN
hawkeyesports.com
IOWA CITY, Iowa — Kareem Allaf didn't have much time to figure things out when he enrolled at the University of Iowa.
 
Allaf moved to the United States in the fall of 2015 from Dubai, United Arab Emirates, as a 17-year old to join the Iowa men's tennis program. He arrived in Iowa City two weeks after classes began.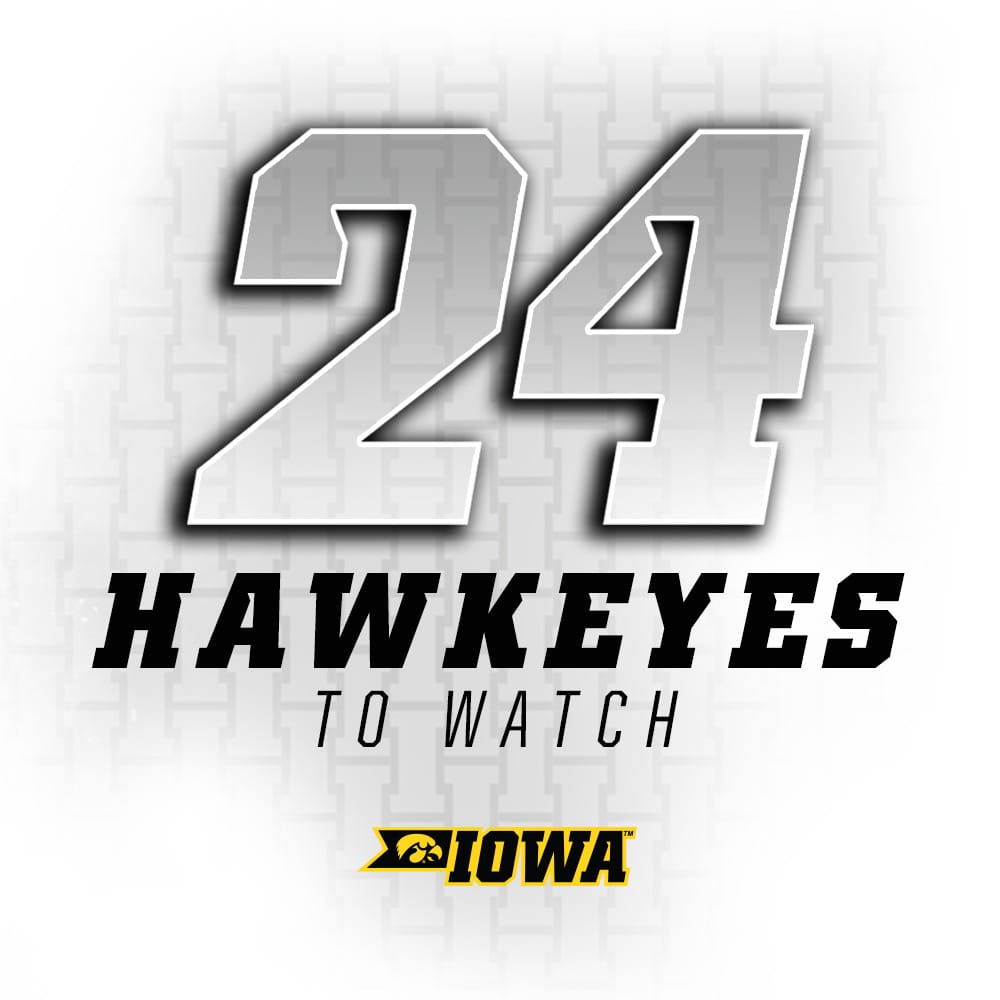 "I didn't know that was happening," said Allaf. "Everything came at me at once and I had to figure out all the little things for me to improve as a player. The change has been tremendous."
 
After redshirting his first season because of an NCAA ruling that deemed him ineligible until he completed a year of school, Allaf jumped into the lineup in 2017. In the three years since, he has won 44 singles and 55 doubles matches to ascend to the No. 1 singles position for the nationally ranked Hawkeyes.
 
Tennis wasn't always the initial plan for Allaf. His dad, with a swimming background, pushed him toward the pool, but when he got the taste of his first tennis tournament — and succeeded — his dad urged him to choose.
 
"I had a good time at the tournament and decided to stick with tennis," he said. "I knew this is what I wanted to do."
 
With tennis guiding his path, Allaf became a world traveler. At age 11, his father sent him to a competitive tournament, and at 13, he started competing on the International Tennis Federation junior circuit.
 
"We kept going and going," said Allaf. "I kept playing and going place-to-place until he started trusting me to go alone."
 
That came at 14 when Allaf started traveling around the world. He went from Dubai to Singapore to Kuwait to Istanbul to Cairo.
 
"I had to learn a lot of things on my own when I was traveling," said Allaf. "I had to survive."
 
Allaf was ranked inside the top 500 players in the ITF World Junior rankings when he first caught the attention of Iowa head coach Ross Wilson.
 
"We sent a message on Facebook and kept in touch," said Wilson. "He kept climbing the rankings over a two-year period. His highest ranking was No. 160 in the world and we formed a relationship."
 
Allaf met former Iowa assistant coach Ty Schab face-to-face in Austria during his final year of high school, but he never had a chance to visit Iowa City or any other schools because of time constraints. Allaf made up for it with phone calls and social media messaging with Wilson for many hours before deciding to become a Hawkeye.
 
"I decided to commit the June before coming in the fall," said Allaf. "I think I made the greatest choice in my life."
 
In Allaf's first competitive season at Iowa, he won 23 singles matches, playing at the one, two, and three positions. He continued his success from year one to year two, winning 19 matches — 16 during the spring season — including a career-best nine straight to end his sophomore season.
 
That success carried into the summer and then the fall of his junior year. After advancing to the quarterfinals of the Old Capital Futures Tournament last July, Allaf joined a select group in Hawkeye history when he became the third player to claim an ITA Central Region singles title.
 
"For Kareem to do that seven matches in a row at that level over a three to four day period was empowering for him to see that the fitness, healthy eating, and training has paid off," said Wilson. "It showed him that he can play at that level with the best players in college tennis."
 
What was special about the win for Allaf was his teammates were there to share in the glory. The Hawkeyes stormed the court when he defeated Tulsa's 39th-ranked Majed Kilani, 7-5, 2-6, 6-3.
 
"They supported me that whole week," said Allaf. "I would not have won the tournament if it wasn't for them."
 
This season, Allaf is Iowa's No. 1 singles player and a part of the No. 2 doubles tandem. He rattled off four straight wins to start the season, but wins have been hard to come by, playing against the best of the best on a weekly basis.
 
"It has been a tough year, but you have to hang in there," said Allaf, who is 8-12 at No. 1 singles. "You're going to play some of the best players in the country and sometimes you're going to win and sometimes you're going to lose.
 
"(This season) has taught me to try to be mentally tougher during the tough points. It has taught me that you can't play passive, you have to be on your A game every day, and you can't relax in matches."
 
If Allaf wins, he's happy, but if he loses and the team wins, he is just as ecstatic because he loves the team aspect of collegiate tennis.
 
"We have a great group of guys," Allaf said. "I love the adrenaline we have in matches, we're so competitive. You will never find a team atmosphere in tennis other than in the United States.
 
"You practice and live with these guys and it's basically your second family. They're with you in the good times and bad times and anywhere you go, they're there for you."
 
As the 2019 season winds down (Iowa is 14-9 overall, 4-5 in Big Ten play), Allaf wants to achieve the ultimate team milestone. That would be earning a bid into the NCAA Tournament for the first time in program history.
 
"It has been on our mind for the past two years," said Allaf. "It's the ultimate goal to make the NCAAs and we have been so close. Last year we were right on the edge and we didn't get selected. I feel like this is the year will finally start the tradition of making the tournament every year.
 
"We just need to have one year to get us going and I think this is the year."
 
Allaf has grown, matured, and figured things out as a Hawkeye.
 
Iowa closes out the regular season with three matches this weekend at the Hawkeye Tennis and Recreation Center. The Hawkeyes host Michigan State on Friday at 6 p.m. (CT) and Michigan and Illinois State on Sunday at noon and 5 p.m., respectively.