Hawkeye Fan Shop — A Black & Gold Store | 24 Hawkeyes to Watch | Fight For Iowa
IOWA CITY, Iowa — University of Iowa senior Ben Colin has been named a recipient of the 2019 Jim McKay Scholarship, it was announced Tuesday by the NCAA.  He is the first Hawkeye athlete to be awarded the scholarship.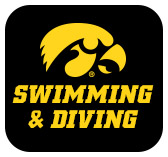 "It's an honor to be recognized by an award in Jim McKay's name," said Colin. "I've looked up to his legacy my whole life and am inspired by the impact he has made through ABC's Wide World of Sports. It is an unbelievable award to be recognized with.
 
"He has inspired me to showcase student-athletes' stories and impact the lives of student-athletes once I get into the industry upon graduation. I am grateful to be awarded that honor as a walk-on swimmer. I am excited for the future and can't wait to seize the opportunity and pursue further education."
 
The $10,000 Jim McKay Scholarship is awarded to two student-athletes on track to graduate who demonstrate achievement in sports communications or public relations or hope to contribute in the field.  Northwestern's Jennifer Haskel is also a recipient.
 
"We're honored to have Ben recognized as the recipient of the prestigious Jim McKay Scholarship," said Iowa head coach Marc Long.  "It's a well-deserved honor for an outstanding, reliable, hardworking, and loyal student-athlete. We're very proud of Ben's recognition by the NCAA.  He's a tremendous representative of the Hawkeyes."
 
Colin, a distance freestyler for the Iowa men's swimming and diving team, plans to pursue a Master of Science degree in sport and recreation management at the University of Iowa.  The Dubuque, Iowa, native will complete his undergraduate studies in May with a degree in journalism and mass communications and sport and recreation management. 
 
Colin has been a three-time Academic All-Big Ten and two-time Big Ten Distinguished Scholar during his Hawkeye career.  Colin boasts a 3.66 grade point average, is the chair of Iowa's Student-Athlete Advisory Committee, and a member of Iowa Student Government.
 
In the water, Colin led the team in the 1,000-yard freestyle as a freshman and he ranked among the team leaders in the 1,650-yard freestyle in each of his four seasons.
 
The scholarships recognize student-athletes' outstanding academic achievements and their potential to make major contributions to the sports communications industry. The scholarship was created in 2008 to honor pioneer sports journalist Jim McKay, and the recipients are selected by the NCAA Walter Byers Scholarship Committee.