Hawkeye Fan Shop — A Black & Gold Store | 24 Hawkeyes to Watch 2018-19 | Hawk Talk Monthly – May | I-Club Events Page
By DARREN MILLER
hawkeyesports.com
IOWA CITY, Iowa — Spotlights and storylines abound in Hollywood, California.
 
But there is no way Megan Gustafson knew in 2015 that when she left Port Wing, Wisconsin, (population 164), that one of her final duties as a University of Iowa student-athlete four years down the freeway would take place in Los Angeles (population 4 million).
 
It is an appropriate location for a Gustafson curtain call.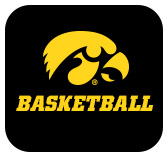 There she was, in the City of Angels on April 12, at the ESPN College Basketball Awards Show receiving a trophy as a Wooden Award finalist recognizing the nation's outstanding college basketball player. As Iowa's 2018-19 season progressed, it seemed a foregone conclusion that Gustafson would be up for such a prestigious honor. She led all Division I women's basketball players by averaging 27.8 points per game with a 69.6 field goal percentage. She also led the nation with 33 double-doubles and was third with 13.4 rebounds per game.
 
There is more symbolism within the Gustafson-Los Angeles merger.
 
After Gustafson averaged 10.7 points and 6.8 rebounds during her freshman season with the Hawkeyes, Iowa associate head coach Jan Jensen — who took the lead in recruiting Gustafson and works with Hawkeye post players — suggested that the 6-foot-3 prodigy spend the offseason fine-tuning a hook shot. So, Gustafson searched the internet for how-to videos featuring Kareem Abdul-Jabbar, master of the skyhook.
 
Abdul-Jabbar was known as Lew Alcindor during his college days at the University of California Los Angeles (UCLA). With Abdul-Jabbar in the post, the Bruins went 88-2 and won three NCAA Championships from 1966-69. He went on to star with the Los Angeles Lakers of the NBA.
 
Gustafson met Abdul-Jabbar during the Wooden Award festivities.
 
"To be able to meet him and talk with him was special," Gustafson said. "I told him I watched his hook shot and he thought that was pretty cool."
 
Los Angeles symbolism, Part II
 
The groundwork for Iowa's 2018-19 successes on the court was positioned by what happened in Pauley Pavilion in Los Angeles on March 17, 2018. The Hawkeyes were making their first NCAA appearance since 2015, but the journey was abruptly halted by a 76-70 loss to Creighton in the first round.
 
Throughout the 2018-19 season, Gustafson and her teammates admitted they weren't interested in a repeat of that postseason experience that left a bad taste in their mouths.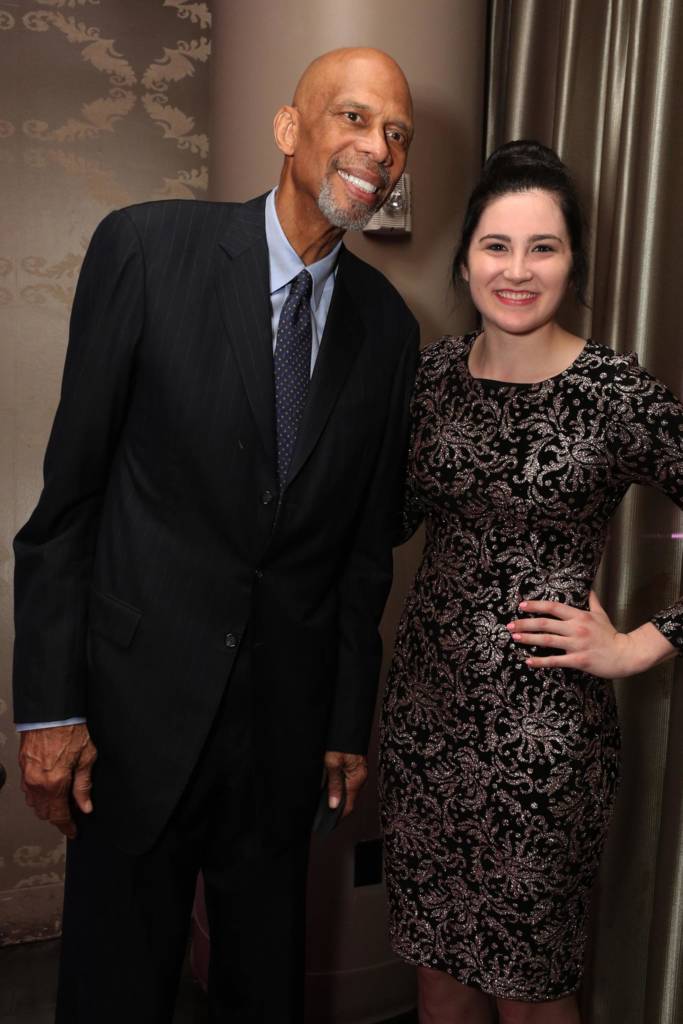 By all accounts, that postseason loss in Los Angeles served as motivation for the Hawkeyes, who opened the 2018-19 season with four consecutive victories. Three times during the regular season the Hawkeyes put together five-game winning streaks. Then, in a span of eight games from Feb. 25 to March 30, Iowa went 8-0, won the Big Ten Tournament with victories over Indiana, Rutgers, and Maryland, and won its first three games in the NCAA Tournament.
 
Iowa won a school-record 29 games in 2018-19 and over the course of the 36-game season, Gustafson scored 30-or-more points 13 times and 40-or-more points three times. She pulled down a career-high 20 rebounds at Nebraska on Feb. 25.
 
Her accolades are extensive:
 
•           ESPNW National Player of the Year
•           AP Player of the Year
•           Naismith Trophy Winner
•           USBWA Player of the Year (Ann Meyers Drysdale Trophy)
•           Lisa Leslie Award Winner
•           SeniorCLASS Award Winner
•           First Consensus National Player of the Year in conference history
•           Consensus First Team All-American
•           Wade Trophy Finalist
•           John R. Wooden Award Finalist
•           Naismith Defensive Player of the Year Semifinalist
•           Big Ten Player of the Year
•           Unanimous First Team All-Big Ten Selection
•           Big Ten Tournament's Most Outstanding Player
•           Big Ten's All-Time Leading Rebounder 
•           23 career Big Ten Player of the Week Awards — a Big Ten record
•           13-time Big Ten Player of the Week this season — a Big Ten record
•           Led the nation in five categories, including points per game (27.8), field goal percentage (69.6), total points (1,001), field goals made (412), and double-doubles (33). Ranked second in defensive rebounds per game (11), and third in rebounds per game (13.4), and total rebounds (481).
•           Became the fourth NCAA women's basketball student-athlete and first post player to score 1,000 or more points in a season
 
Iowa's season ended April 1 with an 85-53 loss to eventual national champion Baylor in the Elite Eight in Greensboro, North Carolina. It was Iowa's first Elite Eight experience in 26 years.
 
Then Gustafson's tumultuous month began. She traveled nearly 9,000 miles in 10 days, beginning with a flight to Tampa, Florida, for the Final Four where a majority of national awards were announced. After a day or two in Iowa City, it was off to New York City for the WNBA Draft, where Gustafson was selected in the second round (pick 17) by the Dallas Wings. From the Big Apple, she flew directly to Los Angeles for the presentation of the Wooden Award. Gustafson returned to campus for Iowa's postseason banquet, then left the next day for St. Louis, where she received the USBWA Player of the Year award.
 
"It has been quite the whirlwind. I have been traveling all across the state of Iowa, too," Gustafson said. "This has been the most incredible few weeks of my life. It has been amazing to wrap up my career and nothing compares to the last couple weeks of what I have been able to do and where I have been able to go."
 
Gustafson threw out the first pitch for University of Iowa baseball (March 16) and for Triple-A Iowa Cubs baseball (April 29). She visited the Iowa State Capitol on April 24 where she met Governor Kim Reynolds and was recognized with a joint resolution by the House and Senate.
 
Los Angeles symbolism, Part III
 
She may not have known it while she was posting monster numbers on basketball courts and representing the University of Iowa with dignity for four years, but Gustafson was also living a motto of Jackie Robinson, another UCLA graduate who went on to do incredible things in Major League Baseball.
 
"A life is not important except in the impact it has on other lives," said Robinson, who broke the color barrier in Major League Baseball.
 
Gustafson burst on the scene as an influential role model, especially to young girls across the state.  
 
Near the end of her senior season, a video went viral on social media of a girl in her driveway — wearing a replica of Gustafson's recognizable headband — trying to imitate Gustafson's two-basketball Mikan Drill.
 
"That was special to see," Gustafson said.
 
Then, during an autograph tour in Davenport, Iowa, a girl showed up to the event holding a custom-made Dallas Wings jersey with Gustafson's name on the back.
 
"It is so exciting to see the impact that I have had on other people across the state of Iowa," Gustafson said. "I am thankful I have been able to interact with them these past few days, get closure, and say my final good-byes."
 
Before Gustafson left for Dallas on May 2 for a 2 ½-week training camp, the Academic All-Big Ten selection worked with professors to extend assignments and reschedule exams.
 
"They have been flexible and that has been helpful in figuring out my academics," Gustafson said.
 
The Wings want her to walk during graduation ceremonies May 11, appropriately enough, in Carver-Hawkeye Arena where she was Queen of Mediacom Court for the past four seasons.
 
"I'm thankful for that because I have worked so hard for four years, not just on basketball," said Gustafson, who earned a double major in marketing and finance with a minor in psychology.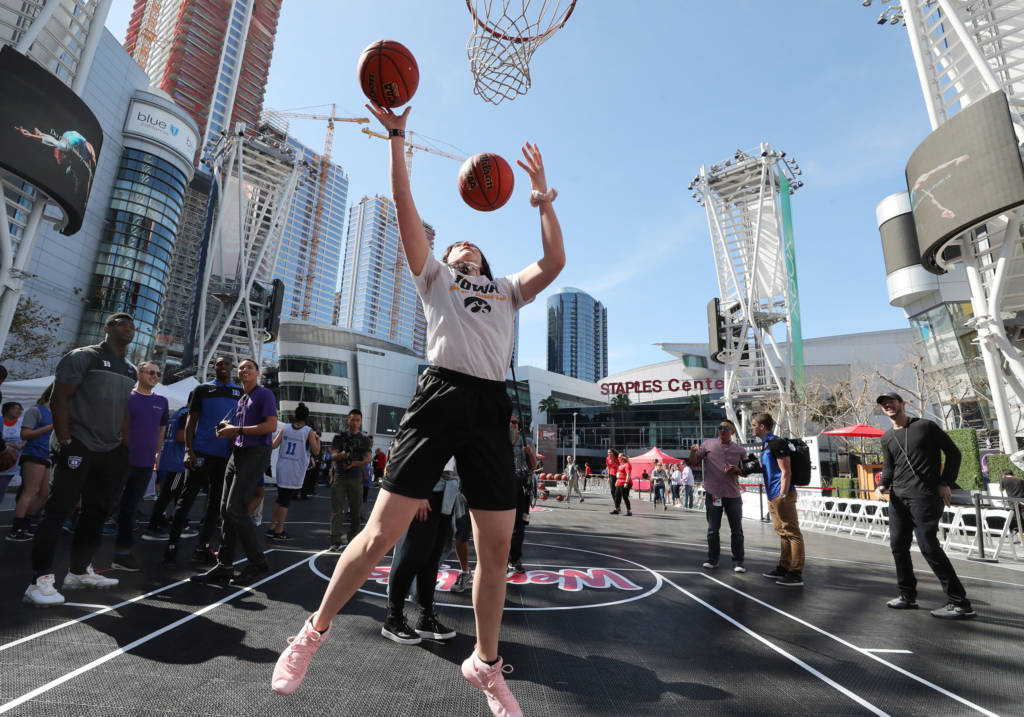 No. 10 is REALLY Retired for Gustafson
 
In the WNBA, for the first time in a long time, Gustafson will not wear jersey No. 10 when she competes on a basketball court. No. 10 was on her uniform at South Shore (Wisconsin) High School where she amassed 3,229 points, 1,724 rebounds, and 628 blocked shots from 2011-15.
 
South Shore retired No. 10.
 
Gustafson wore No. 10 at Iowa were she collected a school-record 2,803 points and a school-record 1,460 rebounds from 2015-19.
 
It was announced April 24 that Iowa will officially retire No. 10 at a ceremony some time next season.
 
But on the Dallas Wings roster, No. 10 is worn by Leticia Romero, a second-year guard from Florida State by way of Spain.
 
As much as she adored No. 10, Gustafson was excited to select a new number. She will wear No. 13 with the Wings and it has plenty of sentimental value. First, her favorite Bible verse is Philippians 4:13, "I can do all this through Christ who strengthens me." Second, her birthday is Dec. 13. But the third reason holds the most significance.
 
"Mostly, the reason I chose 13 is to honor coach Jensen," Gustafson said. "She wore No. 13 throughout college (at Drake University) and that is her favorite number. What better way to honor her than to wear her number and be able to show that she has been such an inspiration to me during my time at Iowa?"
 
At Drake, Jensen scored 1,996 points from 1987-91, including an average of 29.6 points per game as a senior in 1990-91. Her retired 13 jersey is one of three hanging from the ceiling of Drake's Knapp Center.
 
Life in the WNBA…and Beyond
 
Gustafson and the Dallas Wings open the 2019 WNBA season May 24 against the Atlanta Dream in Atlanta. Ironically, prior to Gustafson, the most recent Hawkeye to be selected in the WNBA Draft was Sam Logic by the Dream in the first round in 2015.
 
"I'm excited to play at the highest possible level of basketball," Gustafson said. "Being a basketball player growing up, you dream of playing the best of the best and that is exactly what I get to do. I'm excited for the new challenge."
 
The WNBA season extends into September with the last possible finals date being Oct. 8. Soon after, most WNBA players, including Gustafson, will play overseas.
 
"I haven't signed any contracts yet, but it looks like I will be heading to Europe in the fall," said Gustafson, who has hired an agent. "I'm excited to explore a new country as well as Europe overall."
 
Iowa's Greatest of All Time
 
Gustafson stepped on Mediacom Court inside Carver-Hawkeye Arena for the first time on Nov. 13, 2015, 4 minutes and 22 seconds into Iowa's game against North Dakota. Her first basket came 24 seconds later off an assist from Tania Davis.
 
In the next four seasons, Gustafson sank 1,136 more field goals and gave Hawkeye fans a lifetime of memories. There is little doubt that she leaves the Iowa program as its greatest women's basketball player of all time.
 
"This is tough and bittersweet for sure," Gustafson said of saying good-bye to the University of Iowa. "Being able to move on to a new adventure in a new city with a new challenge is exciting, but at the same time, I'm leaving something behind that has been so good and incredible to me."
 
She leaves behind a career that was nothing short of a made-for-Hollywood classic.