Hawkeye Fan Shop — A Black & Gold Store | Hawk Talk Monthly – May | 24 Hawkeyes to Watch | B1G Championship Central | B1G Notebook | Hawkeyes Remember the Then, Prepare for the Now | Track-apella
By DARREN MILLER
hawkeyesports.com
IOWA CITY, Iowa — There are two very recognizable qualities about University of Iowa redshirt junior Antonio Woodard. He is one of the premier sprinters in the country, and he is an exceptional singer.
 
Because of that, there are two things on his bucket list: 1) perform a song with Beyoncé, although that could be a ways down the road, and 2) contribute 30 points to the Hawkeye men's track and field team at the Big Ten Outdoor Track & Field Championships. The latter could happen May 10-12 at Francis X. Cretzmeyer Track in Iowa City, Iowa.
 
"I have 30 points on my mind," said Woodard, who is expected to compete in the 200-meter dash as well as the 4×100 and 4×400-meter relays.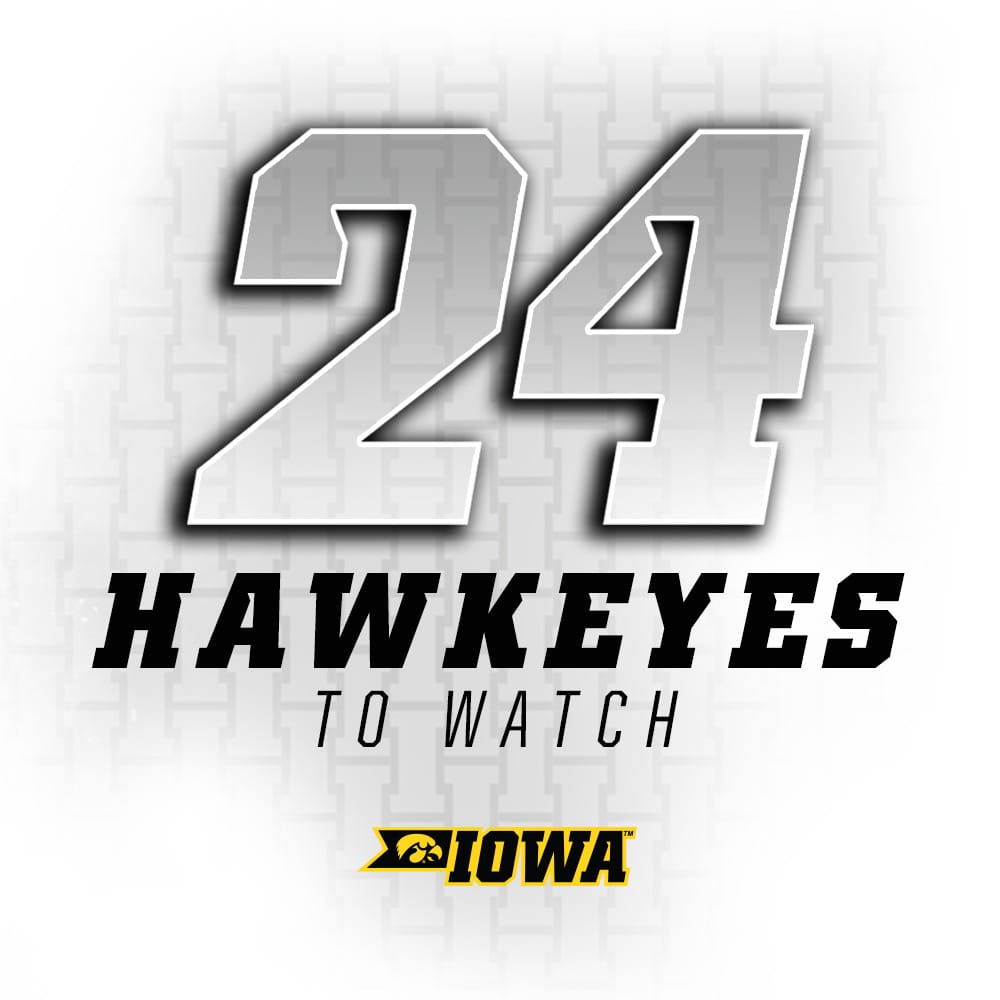 Entering the conference championships, Woodard sits sixth in the 200 with a time of 20.69 seconds set at the Florida Relays on March 28. The Hawkeyes have the fifth-fastest time in the 4×100 (40.16) and the fastest time in the 4×400 (3:03.10).
 
The last time the outdoor championships was held in Iowa City in 2011, the Iowa men won the team title by 2 ½ points over runner-up Minnesota. On paper, the Hawkeyes are contenders to duplicate that feat this season.
 
"It is exciting and humbling, we have come a long way," Woodard said. "We still have a lot of work to do. One thing coach (Joey) Woody tells us is that it doesn't matter what you have done to this point, you could be on top in the country, the world, in your conference, on your team all season long, but you have to get it done that day."
 
Woody sees Woodard as one of the top 200-meter sprinters in the nation and credits his "balance" as a key to his improvement.
 
"He has been doing a good job taking care of his body and he can do multiple rounds and progress throughout a meet to have his best performances at the end of the meet," Woody said. "He has been dialed in this year with taking care of his body and making sure he balances his life with academics and the other stuff he is involved with on campus."
 
An example of Woodard's balance (and busyness) came in a five-day span from April 23-27. On Tuesday of that week he sang two songs — Perfect by Ed Sheeran and I Was Here by Beyoncé — at the annual Golden Herkys athletics banquet in Hancher Auditorium. On Friday at the Drake Relays, he ran the preliminary of the 100 dash and 4×100 relay and the final of the 200 dash. The next day, he competed in the 100 dash final and the sprint medley relay. Adding a degree of difficulty is that the 100 final started 15 minutes after Woodard's 200 leg on the sprint medley.
 
A native of Rancho Cucamonga, California, Woodard first heard of the University of Iowa through his summer track and field club teammate, Brittany Brown. Brown was from Upland, California, and during her time at Iowa was a Big Ten champion and 11-time All-American.
 
"Brittany was coming to Iowa, but I didn't think anything of it," Woodard said. "Then we were talking when she was a freshman and sophomore (at Iowa). My senior year (of high school) Mar'yea (Harris) signed with Iowa.
 
"I saw Brittany was doing well here, she was running fast and getting better, so I took my visit, fell in love with Iowa, and now I'm here."
 
In his first year on campus, Woodard lived with Harris, but his track season was spent listening to recaps of meets from his roommate. Woodard was out of action after having surgery on the patellar tendon of his left knee.
 
"I was in a low place freshman year. I like to think I'm a pretty resilient person and I saw light at the end of the tunnel and tried to stay positive," Woodard said. "I had great teammates and support system around me."
 
So, Woodard crutched around campus, methodically tended to rehabilitation, worked hard toward a degree in criminology with a minor in theater, and repeatedly told himself that the injury situation was temporary.
 
"Now I am trying to leave my mark and do what I can while I'm here," Woodard said. "You only get four or five years (in college), so you make the best of it and pass the baton to the next person."
 
Last season as a redshirt sophomore, Woodard placed sixth at the Big Ten Indoor Championships in the 200 (20.99) and became an All-American by running the second leg on Iowa's ninth-place 4×400 relay team (3:04.93); the Hawkeyes also won 4×400 relay at Big Tens (3:06.32). He established career-bests in the 60 (6.85 seconds) and 100 (10.48).
 
When Iowa opened the 2018 outdoor season at the Willie Williams Classic on March 17, Brown won the women's 200, Woodard won the men's 200, and Reno Tuufuli won the discus. Four days later, all three Hawkeyes were named Big Ten Athletes of the Week. 
 
"That was kind of my breakout season, back from surgery and injuries," Woodard said.
 
Woodard added a second Big Ten title in the 4×400 relay during the 2019 indoor season, joining Collin Hofacker, Chris Thompson, and Harris in running 3:07.46 on Feb. 23 in Ann Arbor, Michigan. He was also fourth in the 200 (20.98).
 
In the season-opening Jimmy Grant Invitational on Dec. 8, Woodard won the 60 in 6.88 seconds and set a facility record in the 300 (32.89).
 
"I'm not satisfied, I'm not done," Woodard said. "I still have a lot I need to get done."
 
The Big Ten Outdoor Championships begin May 10 with the heptathlon 100-meter hurdles at 12:15 p.m. (CT). The final event is scheduled for May 12 at 3:45. At various points between, Woodard will attempt to put 30 points on the scoreboard for the Hawkeyes.
 
A duet with Beyoncé will have to wait until the offseason.