Hawkeye Fan Shop — A Black & Gold Store | Hawk Talk Monthly – May | 24 Hawkeyes to Watch | I-Club Events Page | Photo Gallery
By DARREN MILLER
hawkeyesports.com
BETTENDORF, Iowa — Lisa Bluder was named Citizen Naismith Coach of the Year after leading the University of Iowa women's basketball team to a Big Ten Tournament championship and an appearance in the Elite Eight. Tom Brands directed the Hawkeye wrestlers to a share of the Big Ten Dual Championship and a fourth-place national finish. Kirk Ferentz became the winningest football coach in Iowa history in a 2018 season that ended with an Outback Bowl victory.
 
All three head coaches were on stage May 15 at an I-Club Hawkeye Fan Event at the Quad Cities Waterfront Convention Center in Bettendorf, Iowa.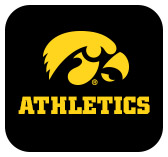 "This is a pretty important group to have these three here," emcee Gary Dolphin said.
 
What ensued in front of a crowd of nearly 300 was an evening of photographs, autographs, and laughs, mixed with updates on the status of Iowa's women's basketball, wrestling, and football programs.
 
The most captivating moment of the evening came when Brands described the makeup of Spencer Lee, a two-time 125-pound NCAA wrestling champion.
 
"You talk character, staying power, having sand in your belly," Brands said. "Spencer Lee embodies that."
 
The last part of that description piqued Bluder's curiosity.
 
"I have to ask Tom about sand in the belly. What is that?" she asked.
 
"Sand in the belly. It's tough, are you tough?" replied Brands.
 
"I have never heard of sand in the belly, but I'm going to start using it now," Bluder said.
 
Then Brands supplied an origin of the phrase.
 
"(Former Iowa head wrestling coach Dan) Gable would say, 'Are you a candy (butt) or do you have sand in your belly?'"
 
To listen to this type of banter between Iowa coaches in person, attend one of the upcoming Hawkeye Events. A schedule can be found HERE.
 
Bluder provided a recap for women's basketball, a season that saw the Hawkeyes win a school-record 29 games, including three in the NCAA Tournament. Senior center Megan Gustafson joined her head coach by making it an all-Iowa sweep of Naismith awards. Gustafson was named national player of the year after scoring 1,001 points during the 2018-19 season and leading the nation in points per game (27.8), field goal percentage (69.6), and double-doubles (33).
 
"This year was amazing," Bluder said. "You saw a team that cared about each other, had great synergy, worked hard, and were tremendous role models."
 
She then glanced toward 2019-20.
 
"You don't replace Megan Gustafson with another Megan Gustafson," Bluder said. "They aren't out there that often. That shows how special she was. It might not be that one person (next season) and that's OK. I like a team that has five people in double figures, you're harder to guard when you have that balance versus one star."
 
Ferentz is alone on top of Iowa's football coaching list with 152 victories. He won nine in 2018, with the final one coming New Year's Day in the Outback Bowl where the Hawkeyes defeated No. 18 Mississippi State, 27-22.
 
"They did a great job of week-in, week-out preparing, showing up and competing as well as they could," Ferentz said. "Our four losses were all one-possession losses where we had our chances. A big part of being successful is putting yourself in position to do that. The key to winning and having a high-level team is finding ways to win those games in the last couple minutes. That is always a challenge."
 
Ferentz said spring practice went well with younger players beginning to emerge and seniors taking ownership of the team.
 
"We're seeing good things that way," Ferentz said.
 
Brands spoke of a buzz surrounding Iowa's 2019-20 wrestling schedule that includes visits to Carver-Hawkeye Arena by Penn State, Ohio State, Oklahoma State, Nebraska, and Minnesota.
 
He opened the question-and-answer session by politely interrupting a question from Dolphin and informing the emcee that he had his "own agenda." Brands then referenced the men's basketball Baer family (Nicholas and Michael from Bettendorf) that was in attendance and reminded the audience that the Baer family has Hawkeye wrestling ties. Joy Baer (Nicholas and Michael's mother) is the sister of Mitch Kelly, a UI professor who wrestled at Iowa.
 
"Mitch Kelly was a mentor of mine," Brands said. "I went to a party when I was a freshman in Iowa City. I was a true freshman and I didn't know anything about anything and we were at a party and there was a foosball table in the kitchen.
 
"Mitch Kelly, he has a PhD now and he was in grad school or on his way to get his PhD in psychology, and he gave me some profound advice. He said, 'If you ever find you're living in a house with a foosball table in it, get out. It is not a good recipe for success.'"
 
Iowa was 14-1 in duals last season and finished third in the Big Ten Tournament and fourth at the NCAA Championships in Pittsburgh. The Hawkeyes return eight wrestlers who competed at the NCAA Championships, six were All-Americans.
 
"We have to get young people developed. We have to have veterans perform and exceed expectations. You have to keep perspective, there is no better time than now, and there are no automatics," Brands said. "If you can wake up and you're ready to fight every day and you're not fatigued by that mentality or challenge, we will be fine."
 
Dolphin asked Brands about Alex Marinelli, who finished 27-2 and seventh in the country at 165 pounds.
 
"Marinelli has some horsepower. He would whoop your (butt), Dolph," Brands said. "Marinelli's leadership is key. The scary thing about Marinelli and Lee is that their best wrestling is ahead of them."
 
The next stop is the Des Moines Hawkeye Happy Hour on June 5 at The Iowa Taproom. Coaches in attendance include assistant football coach Jay Niemann, head women's soccer coach Dave DiIanni, and assistant men's basketball coach Sherman Dillard.