24 Hawkeyes to Watch 2018-19 | Hawkeye Fan Shop — A Black & Gold Store | Day 2 Practice Photo Gallery | Championship Central | Day 1 Practice Photo Gallery | Austin Bound with High Expectations | Photo Gallery (Day 1) | Live Results | Nothing Compares to Mar'yea | ESPN3 | Photo Gallery (Day 2) | This is an NCAA Finalist Calling
AUSTIN, Texas — University of Iowa junior Nia Britt earned her first All-American honor on Thursday at the 2019 NCAA Outdoor Track and Field Championships.
 
Britt placed 17th in the shot put competition to be considered an honorable mention All-American. Her 16.15-meter mark (53-0) edged out seven competitors.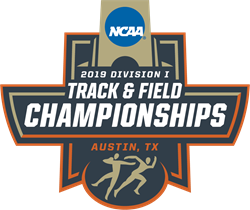 "I'm very proud of Nia for having a big breakthrough this season indoors and outdoors," Iowa Director of Track and Field Joey Woody said. "She had her best performances at the biggest meets. I'm very confident that she can make the NCAA Finals next year."
HAWKEYES' NCAA SCHEDULE
All times are subject to change and are listed in central time (CT):
 
Friday
2:30 p.m. – women's heptathlon: 100-meter hurdles (Jenny Kimbro, Tria Simmons)
3:30 p.m. – women's heptathlon: high jump (Kimbro, Simmons)
5:50 p.m. – women's heptathlon: shot put (Kimbro, Simmons)
7:00 p.m. – men's high jump (Jay Hunt)
7:54 p.m. – men's 3,000-meter steeplechase (Nathan Mylenek)
9:13 p.m. – women's heptathlon: 200 meters (Kimbro, Simmons)
9:51 p.m. – men's 1,600-meter relay
 
Saturday
1:30 p.m. – women's heptathlon: long jump (Kimbro, Simmons)
2:45 p.m. – women's heptathlon: javelin (Kimbro, Simmons)
5:05 p.m. – women's discus (Laulauga Tausaga)
7:13 p.m. – women's heptathlon: 800 meters (Kimbro, Simmons)