Hawk Talk Monthly – June | Hawkeye Fan Shop — A Black & Gold Store | 24 Hawkeyes to Watch 2018-19
By DARREN MILLER
hawkeyesports.com
IOWA CITY, Iowa — A.J. Epenesa treads a fine line between distraction and motivation as the University of Iowa junior defensive end prepares for the upcoming football season.
 
If all goes according to plan, the 6-foot-6, 280-pound Epenesa will make his first collegiate start when the Hawkeyes open the 2019 season Aug. 31 against Miami (Ohio) in Kinnick Stadium. Even with no starting experience to date, the first question he fielded at a media availability in mid-June was to describe his take on 2020 mock NFL Drafts that have his name being called high in the first round.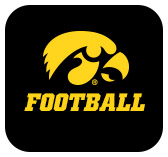 "(Playing in the NFL) is a life-long dream, but I try not to think too hard about it," Epenesa said. "I don't want it to distract me from other things."
 
Other things like staying low and running through blocks. Or driving offensive linemen back and changing the line of scrimmage in Iowa's favor.
 
"In a way, I'm motivated by the possibilities of what could happen," Epenesa said. "It motivates me, but I try not to think about it too much."
 
The past two seasons, when Iowa combined to win 15 regular-season games and two bowl games, Epenesa was in on 52 tackles, 22 tackles for loss, 16 quarterback hurries, and 15 sacks. Those are impressive numbers for someone still searching for his first start. But during that time there was plenty of quality experience on the depth chart in front of Epenesa and he soaked in the strengths of the other Hawkeye defensive linemen.
 
There was Parker Hesse's effort and want-to; Anthony Nelson's technique and focus on fundamentals; the way Matt Nelson utilized his 6-8, 295-pound physique.
 
"All those things I'm capable of doing on my own," Epenesa said. "I can put in a little more effort like Parker, I can focus on the details like Anthony. All those things can come to fruition and be real — it's just a matter of me doing it."
 
When Iowa head coach Kirk Ferentz reflects on the 2018 season, one of the first things he mentions is a fourth-quarter goal-line stand against Mississippi State in the Outback Bowl. When it comes to fine lines, the 12-inch patch of real estate between the 1-yard-line and the end zone in Raymond James Stadium was the difference between a bowl win and a bowl loss.
 
The Hawkeye defense held Mississippi State to a field goal and Iowa went on to win the game, 27-22. The defensive linemen combined for four tackles in the series: Anthony Nelson had two and Matt Nelson and Hesse had one during the Bulldogs' three rushing attempts.
 
"The defense has a saying: We don't ask who started the fire, we just put it out," Epenesa said. "Wherever there is trouble, we try to clean it up."
 
Epenesa wasn't on the field during that clean-up session, although he impacted the outcome of the game with a sack, pass breakup, and forced fumble. He will undoubtedly see more playing time in 2019.
 
"I'm excited. I wanted to be on the field more, that's how every player who wants to be good at the game thinks," Epenesa said. "I was waiting for my moment and my time is coming. It will be here before you know it."
 
When his first season as an Iowa starter arrives, Epenesa expects a flashback to his days at Edwardsville (Illinois) High School. As a senior, the high school All-American posted 57 tackles; not bad considering most of the action went away from him.
 
"In high school, (opponents) ran to my buddies on the other side," Epenesa said. "College is a different game; they aren't going to run away, they are going to double-team me and run right at me, it's just how it is."
 
Epenesa hopes to create opportunities for teammates this fall as well. For Iowa's opponents, it comes to picking their poison.
 
"I hope they know how good of an athlete Chauncey (Gohlston) is on the other side and having Brady (Reiff) and Ced (Lattimore) in the middle," Epenesa said. "If they only want to focus on me, I think they might be making a mistake leaving our other guys open."
 
Iowa football mini packs are on sale through the University of Iowa Athletic Ticket Office at 800-IA-HAWKS or hawkeyesports.com/tickets. Single-game tickets go on sale July 18 with the exception of games against Penn State and Minnesota.