Hawkeye Fan Shop — A Black & Gold Store | Hawk Talk Monthly – June | Fight For Iowa | 24 Hawkeyes to Watch
IOWA CITY, Iowa — Seven members of the University of Iowa swimming and diving team were named College Swimming & Diving Coaches Association of America (CSCAA) Scholar All-Americans, it was announced Tuesday by the association.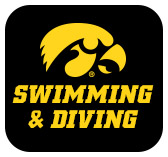 The seven honorees — all of whom were honorable mention selections — were freshman Mateusz Arndt, sophomore Kelsey Drake, junior Steve Fiolic, senior Kenneth Mende, sophomore Jonatan Posligua, senior Jack Smith, and senior Jacintha Thomas.
 
Honorable mention Scholar All-Americans must post a GPA of at least 3.50 and achieve an NCAA "B" time standard or compete at an NCAA Zone Diving qualifier.
 
Arndt, a health and human physiology major, posted an NCAA "B" qualifying time in the 500-yard freestyle in 2018-19.  The Gdynia, Poland, native is a school record holder, setting the record as part of the 800-free relay at the 2019 Big Ten Championships.
 
Drake, an industrial engineering major, swam to NCAA "B" times in the 100 and 200 butterfly events as a sophomore.  The Marion, Iowa, native broke the 100 fly school record at the Hawkeye Invitational and the 200 fly record at the Big Ten Championships.
 
Fiolic, a computer science and engineering major, swam to an NCAA "B" cut in the 50 free, finishing in 19.89 seconds.  The Urbandale, Iowa, native was part of the fourth-place 200-free relay at the Big Ten Championships.
 
Mende, a finance, business analytics and information systems major, was Iowa swimming's MVP as a senior after posting NCAA "B" cuts in the 100 and 200 backstroke events.  The Chemnitz, Saxony, Germany, native ended his career as the school record holder in the 200 back and as part of the 400-medley relay.  The honor is the third of Mende's career.
 
Posligua, an astronomy major, posted an NCAA Zone standard and competed at Zones off the platform as a sophomore. The Guayaquil, Ecuador, native earned the distinction in two straight seasons.
 
Smith, a sport and recreation management major, posted NCAA "B" qualifying times in the 50 and 100 free as a senior.  The Stoke-On-Trent, England, native posted an NCAA auto qualifying time as a member of 400-free relay, where he earned a bronze medal at the Big Ten Championships. 
 
Thomas, a human physiology native, posted NCAA Zone Diving standards and competed in Zones off the 1-meter and 3-meter as a senior.  The honor is the fourth of the Iowa City native's career.
 
Collectively, the Iowa women's team was named a CSCAA Scholar All-America team for posting a 3.43 team grade point average.