Hawkeye Fan Shop — A Black & Gold Store | Hawk Talk Monthly – June | 24 Hawkeyes to Watch 2018-19
By JAMES ALLAN
hawkeyesports.com
IOWA CITY, Iowa — The comparisons occur often for senior Nate Wieting when it comes to being a University of Iowa tight end.
 
When he arrived on campus from Rockford, Illinois, Henry Krieger-Coble was a senior and Wieting has been in the position room with George Kittle, T.J. Hockenson, and Noah Fant.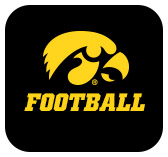 "I think you always try to draw similarities and identify different strengths," said Wieting. "It's an honor (to be compared) to those guys, they are all great players, had nice careers and incredible seasons, and were on good football teams. 
 
"We're trying to put together a good season and maximize everyone's potential."
 
Everyone in this case includes a tight end group consisting of Wieting, senior quarterback-turned-tight end Drew Cook, and junior Shaun Beyer.
 
"We have a lot of talent in the room," said Wieting. "Drew and I have been here five years, and Shaun is going on his fourth year.  That's a lot of experience and we are looking to put together a nice season."
 
Wieting has played 29 games as a Hawkeye, where he has three catches for 68 yards.  Cook and Beyer don't have receptions, but Wieting sees potential.
 
"Drew and Shaun are incredible guys, both have high ceilings, and both are great athletes," said Wieting. "We come into work every day, put in the work, bring a good attitude, and are enthusiastic. Now it's time to put it all together and it will be there in the fall."
 
Wieting knows it won't be an overnight fix when it comes to replacing Hockenson and Fant — two first-round NFL Draft picks.  The duo combined for 88 receptions for 1,279 yards and 13 touchdowns.
 
"We have a lot coming back," said Wieting. "The guys in the room can show that we can be good at the tight end position despite losing Noah and T.J."
 
Wieting and his cohorts embrace the Iowa tight end standard and want to be next in the long line of success stories.
 
"That standard is a good thing to have," said Wieting. "The guys in the room are trying to improve, get in shape for the season, and when camp rolls around in August, it is about improving fundamentals, technique, getting in shape, and showing what we can do.
 
"I'm excited to get after it, show what I can do, and help the team win some games."
 
The Hawkeyes open the 2019 season Aug. 31, hosting Miami (Ohio) at 6:30 p.m. (CT) in Kinnick Stadium.  For ticket information, visit hawkeyesports.com/footballgameday.  Iowa will host its annual "Kids Day at Kinnick" on Aug. 10 with gates opening at 10 a.m.