Hawkeye Fan Shop — A Black & Gold Store | Hawk Talk Monthly – June | Photo Gallery — Friday | Photo Gallery — Thursday
BY DARREN MILLER
hawkeyesports.com
CHICAGO — As a senior at Monona Grove (Wisconsin) High School, running back Toren Young carried the ball 333 times for 2,779 yards and 28 touchdowns. He was the conference player of the year.
 
Young signed with the University of Iowa, redshirted during the 2016 season and had 45 rushing attempts as a freshman.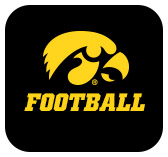 "That is tough when you come from high school, get to college and you're back at the bottom of the totem pole," Young said Friday at Big Ten Football Media Days at Hilton Chicago. "It was tough, but I had great guys in front of me and I was able to learn from their experiences."
 
Now a junior, Young is one of three Hawkeye student-athletes who attended the Big Ten's two-day kickoff to the 2019 season. He was caught off guard when Iowa head coach Kirk Ferentz invited him to Chicago.
 
"It was a surprise," said Young, who was second on the team in rushing last season with 637 yards and five touchdowns. "I was excited; it is a great honor to represent the University of Iowa and my teammates."
 
Young started three games a year ago and led the Hawkeyes in rushing in six contests, including a season-opening win over Northern Illinois and a season-ending win over No. 18 Mississippi State. His first attempt against Northern Illinois resulted in a season-long gain of 40 yards; his most productive game came at Indiana when he carried the ball 19 times for 96 yards.   
 
As Ferentz viewed cutups of game video, he was frequently reminded of Young's presence.
 
"Sometimes we underappreciate him," Ferentz said.
 
"Sometimes we devalue because he's not a 4.3, 4.4 (second 40-yard dash) guy," Ferentz added. "He's not this or he is not that."
 
"He's an unsung hero," continued Ferentz.
 
Perhaps more importantly, Young is a leader. A leader by example. He was one of two redshirt freshmen named to Iowa's Leadership Group in 2017. Last season he was the lone sophomore on the Leadership Group. As the Hawkeyes enter the 2019 season, Young is the only junior on the Leadership Group.
 
"I have to give credit to my mom (Tianna Parkinson) with how she raised me and the things she instilled in me," Young said. "She taught me how to be a leader and I have carried on the lessons she has given me. It has helped me here as student and as a human being."
 
Young is a veteran in a crowded Iowa running back room. At the Division I level with its demanding 12-game regular season, crowded is good.
 
"It's a great problem to have," Ferentz said.
 
"Different backs bring different things to the field," Young said. "The more we have in our room, the better we are as an offense."
 
Last season, when the Hawkeyes finished 9-4 and won their second consecutive bowl game, running backs Mekhi Sargent, Young, and Ivory Kelly-Martin combined for 1,723 rushing yards and 16 touchdowns.
 
Young is the one who really enjoys contact.
 
"I pride myself on being physical and hard-nosed," Young said. "I like to set the tone, push those guys and lead them."
 
Iowa quarterback Nate Stanley calls him a stereotypical third-and-1 back.
 
"He is going to get that handoff and run somebody over," Stanley said. "He is not going to shy from contact."
 
Iowa's 27-22 victory over Mississippi State in the Outback Bowl served a dual purpose for Young. First, it is always easier to move forward after victory. Second, the Hawkeye running backs were less than thrilled with their output in Tampa, Florida, that included 20 attempts for minus-15 yards.
 
"Coming off the bowl game, as a running back room, we were not happy," Young said. "We knew we were better than that, so we put an emphasis on growing and learning from that experience."
 
It's easier to grow and learn when you have a solid leadership presence. Young is happy to oblige in that area. He has been doing it his entire Hawkeye career.