Hawkeye Fan Shop — A Black & Gold Store | 24 Hawkeyes to Watch 2019-20 | Hawk Talk Monthly – June
By JAMES ALLAN
hawkeyesports.com
IOWA CITY, Iowa — The University of Iowa soccer team isn't afraid to talk big picture. 
 
The goal for the 2019 season is a return trip to the Big Ten Tournament and beyond.  The Hawkeyes are eyeing the second NCAA Tournament appearance in program history.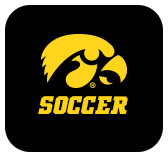 "That's the primary goal," said Dave DiIanni, Iowa's sixth-year head coach. "We're OK talking about it because we feel we should have done it last year.  We had a good spring and focused on the areas where we were lacking.
 
"We're not afraid to talk about (the NCAA Tournament) because it's something that needs to be a consistent theme at Iowa."
 
The Hawkeyes won eight games last season and went 4-5-2 in Big Ten play.  Iowa was in Big Ten Tournament hunt until the final weekend, but a draw with Northwestern saw the Hawkeyes finish on the outside looking in.
 
"We come out every day knowing our goals and what we want to accomplish," said senior Natalie Winters, who was a third-team All-Big Ten selection in 2018 after leading the team with five goals. "It has been a goal the last two seasons to make it to the Big Ten Tournament.
 
"The seniors want to end on a good note, that's important to us."
 
. @hannah_drkulec dishes on what makes the #Hawkeyes hungry for the 2019 season! pic.twitter.com/eS2S6oBzdH

— Hawkeye Soccer (@HawkeyeSoccer) August 12, 2019
Iowa's 2019 optimism lies in the numbers. 
 
The Hawkeyes boast a roster that is 36 players deep. There are 22 returning letterwinners, including 10 returning starters.  The roster includes a 12-member senior class to go along with 10 newcomers.
 
"Our strength is not only going to be our depth, but the quality of depth," said senior Hannah Drkulec, a team co-captain. "People coming in off the bench will be able to make an impact rather than just maintaining the game.  They'll be able to change the game, which will be important."
 
. @WintersNatalie on the all important experience factor. #Hawkeyes pic.twitter.com/MD39iJu0cr

— Hawkeye Soccer (@HawkeyeSoccer) August 12, 2019
DiIanni has already seen depth help during the grind of preseason camp. He expects to see it in a game setting once the regular season begins Aug. 22 against Western Michigan.
 
"(The depth) will help when we're playing 90 minutes and we don't have to play people like Natalie Winters and Kaleigh Haus two 90 minute games back-to-back," said DiIanni. "We can play 70 solid minutes and have someone play off the bench for 20 minutes.
 
"We have to define roles, but it can be beneficial to the team this fall."
 
Haus, Winters, and Drkulec are three of the team's 10 returning starters.  Others include:  Devin Burns (senior, F), Isabella Blackman (senior, M), Claire Graves (senior, GK), Sydney Blitchok (senior, M), Hailey Rydberg (sophomore, M), Riley Whitaker (sophomore, D), and Sara Wheaton (sophomore, D).
 
NCAAs? Let's talk about it! #Hawkeyes pic.twitter.com/zW5zl7IHA8

— Hawkeye Soccer (@HawkeyeSoccer) August 12, 2019
 
Iowa returns players that accounted for 17 of the teams' 20 goals and the team has five of its top six goal scorers back. The Hawkeyes were dynamic offensively during the spring when they scored 19 goals in seven games and the trend continued during a May trip to Europe.
 
"Last year we had a hard time scoring goals, so that was one of our main focuses in the spring," said Burns, who scored twice in 2018, a season after leading the team with nine goals as a sophomore.
 
"We scored a lot of goals this spring and in Europe off a good defending shape, playing higher on the field," said DiIanni. "We're athletic in areas we weren't in the past and that starts in back.  We're also athletic up front, and we can play at a faster pace."
 
This sounds like the #Hawkeyes have a good problem… quality depth up front! pic.twitter.com/qCzuTygfVd

— Hawkeye Soccer (@HawkeyeSoccer) August 12, 2019
 
Drkulec, Wheaton, and Whitaker return on the backline, while Graves enters her fourth season as Iowa's starting goalkeeper.  She had six shutouts, 43 saves, and a 0.86 goals against average as a junior.
 
"It's comforting having Claire back," said DiIanni. "She's a cerebral, calm influence on and off the field.  To have her back in that position is helpful."
 
The Hawkeyes' experience has the program hungry to go dancing for the first time since 2014.
 
"The seniors have done a lot to push this culture along into a direction to be successful in the nonconference, in the Big Ten, and getting to the NCAA Tournament," said DiIanni. "It's a group that is hungry and you can feel the sense urgency."
 
"It's going to be important to be dialed in the whole season," said Drkulec. "We always have a time where we have some ups and downs, but if we can stay focused for all those games then we have a chance to be successful in the Big Ten Tournament, not just making it."