Hawkeye Fan Shop — A Black & Gold Store | HOF Spotlight: Marc Long | HOF Spotlight: Diane Pohl | HOF Spotlight: Eric Juergens | I-Club Events Page | HOF Spotlight: Deb Brickey
By DARREN MILLER
hawkeyesports.com
IOWA CITY, Iowa — When Larry Wieczroek was named head men's track and field coach at the University of Iowa in 1998, his first order of business was signing a thrower he could build the program around.
 
"Explosive" is how Wieczorek described Jeremy Allen from Pike High School in Indianapolis.
 
A standout in football and track and field, Allen was recruited by several universities with the stipulation that he select one sport or the other. All the interest he received from Big Ten schools came in track and field.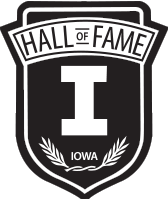 "I didn't get any football offers, but I knew I could play," Allen said.
 
Wieczorek offered an acceptable solution: become a full-time thrower during his first year on campus, then walk onto the football program if head coach Hayden Fry was interested. 
 
"I did well in track," said Allen, who became a five-time All-American and four-time Big Ten champion. "But wherever I went, I wanted to do both. After the first week of football practice, Hayden Fry gave me a full football scholarship and from there I played both."
 
Allen is one of seven inductees into the 31st National Iowa Varsity Club Hall of Fame class Aug. 30 at the Coralville Marriott Hotel and Convention Center. Tickets to the event, which is open to the public, can be purchased HERE (use promo code VCHOF).
 
It didn't take Allen long to make an impact in track and field. In 1998, he was named Big Ten Freshman of the Year for both indoor and outdoor, the first person in conference history to accomplish that feat. He also won the U.S. Junior Championships in the discus before placing fourth at the World Junior Championships in France.
 
Allen still holds Iowa's school record in the outdoor shot put (63-feet, 2 ¾ inches), he is fifth in discus (195-4), and seventh in hammer (199-0). Indoors, Allen has the third-best effort by Hawkeye in the shot put (62-10 ½) and fifth in weight throw (65-10 ¼). All five of those marks were set in 2001.
 
One of his athletic highlights was winning the Big Ten indoor shot put title on his final attempt in 2000 in Bloomington, Indiana. The toss of 61-4 ¼ surpassed the leading mark by Wisconsin's Anders Holmstrom, who stood 7-feet tall and weighed 330 pounds.
 
"Iowa was a great place for me and I was blessed to have the opportunities I did," Allen said. "It was at Iowa where I grew into a man, became more responsible, and understood time management. Because of that, I was able to balance sports and school."
 
As a fullback in football from 1998-2001, the 6-foot-1, 240-pound Allen carried the ball 99 times for 438 yards and four touchdowns; he caught 36 passes for 386 yards and four more scores. Most of his yardage came in 2001, when the Hawkeyes went 7-5 for their first winning season in four years. Allen ran the ball 52 times for 242 yards with four touchdowns and caught 20 passes for 264 yards and four touchdowns.
 
During a 59-16 win over Northwestern on Nov. 10, 2001, Allen had two rushing touchdowns and one receiving.
 
"I want to be remembered as someone who gave their all, worked hard and was able to stand alone as a successful track athlete, but also a successful football player," Allen said. "I never wanted to be a track guy playing football or a football guy doing track. Each sport was separate, but they make up who I am.
 
"I wanted people to know I tried to treat everybody with respect and work hard for all my coaches. I was grateful for every opportunity and I was also committed to being a good student and a good example. I wanted to represent Iowa well and embody what Iowa ultimately wanted in its student-athletes."
 
Allen remembers his final football game inside Kinnick Stadium against Minnesota on Nov. 17, 2001. He scored two touchdowns (giving him five in a two-week span against Northwestern and the Gophers) and the Hawkeyes won the game, 42-24.
 
"We beat Minnesota and got the Floyd of Rosedale trophy," Allen said.
 
He is looking forward to a return to the Kinnick Stadium turf Aug. 31 when the Hall of Fame inductees are introduced at halftime of Iowa's season opening football game against Miami (Ohio).
 
"The energy in Kinnick is genuine love and I'm looking forward to being back," Allen said. "My wife didn't go to Iowa, so it will be cool for her to feel that energy, there is nothing like it. When you are running out there holding your teammates' hands and after you make a big play, it is so electric. I'm looking forward to getting back."
 
Allen earned a bachelor's degree in business with an emphasis in marketing and a minor in communications. After graduation, he spent time in the NFL with the Vikings, Saints, and Falcons. He also spent a season playing in NFL Europe.
 
Allen resides in Dallas, Texas, with his wife, Elizabeth, and children Victoria (3 years old) and Isaiah (1). He owns a personal training-fitness company.