Hawkeye Fan Shop — A Black & Gold Store | 24 Hawkeyes to Watch 2019-20 | Hawk Talk Monthly – June | Monday Practice Photos
By DARREN MILLER
hawkeyesports.com
IOWA CITY, Iowa — Thirteen seasons ago, Rafael Eubanks started at center for the University of Iowa football team that opened by defeating Montana, 41-7.
 
It is noteworthy because Eubanks was a freshman, and a Hawkeye rookie hasn't started at that position since.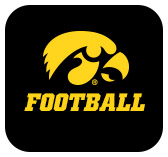 That could change Aug. 31 when Iowa hosts Miami (Ohio) for its season opener. Currently on top of the depth chart at center is redshirt freshman Tyler Linderbaum of Solon, Iowa.
 
How did Linderbaum get there?
 
"There is an edge and toughness about him and that is what was immediately established," said Tim Polasek, who begins his third season as Iowa's offensive line coach. "It won't be long before everyone looks his way."
 
Linderbaum stood out on both sides of the ball in high school, playing two years at center.
 
"It is nice having that (experience at center) under my belt, but there are so many differences between playing center in high school and college," said the 6-foot-3, 286-pounder.
 
This is Linderbaum's second fall camp, but even the 2019 version is unlike a year ago. He played the entire 2018 regular season at defensive tackle, seeing action against Northern Illinois and Illinois, allowing him to preserve his redshirt. Then, three days after Iowa's 31-28 victory over Nebraska on Nov. 23, Linderbaum was called into head coach Kirk Ferentz's office.
 
"Coach Ferentz thought (switching to center) was the best thing for me, so whatever he says, I'm going to do," Linderbaum said.
 
Preparation for the Outback Bowl was spent on the offensive line, learning from senior Keegan Render, who made 33 career starts at center.
 
"It was beneficial for the bowl prep that I had a senior like Keegan to help me," Linderbaum said. "I picked up how they see things with different looks and how they game plan. Watching the older guys go through that was beneficial."
 
The education continued for Linderbaum during spring and into summer.  Now he has another resource in junior Cole Banwart, his roommate during fall camp. Banwart started Iowa's final five games at right guard last season after playing behind James Daniels at center as a redshirt freshman in 2017.
 
"If I have any questions on making a call here, or what to do in a certain situation, he will give me his input," Linderbaum said. "If I ask for the help of anyone on the offensive line, they will be there."
 
Iowa's offensive line has experience at the tackle positions, where junior Alaric Jackson has 24 career starts and junior Tristan Wirfs has 20. Banwart will make his eighth career start at guard, joining senior guard Landan Paulsen, who has yet to start a game.
 
The Hawkeyes were fourth among Big Ten schools in scoring offense last season at 31.2 points in 13 games. They were 10th in total offense with 375 yards per game (226.6 passing, 148.4 rushing). Those numbers should go up, thanks in part to solid offensive line play.
 
"The goal of everyone on the offensive line is to come every day and do our best," Linderbaum said. "The older guys do a great job setting an example for us younger guys to follow and that has been helpful."
 
Becoming a Hawkeye is a dream come true for Linderbaum, who grew up 15 miles from Kinnick Stadium. Becoming a Hawkeye starter could become reality later this month.
 
"I have a lot to work on, just like anyone else on this football team," he said.
 
Linderbaum's position coach is more than willing to wait through any growing pains.
 
"You can't recruit enough big athletes that run fast, are physical and tough, and are good football players," Polasek said. "They will find a home. That is kind of the case with Tyler and I'm excited about the opportunity to coach him."
 
The Hawkeyes open the 2019 season Aug. 31 against the RedHawks from the Mid-American Conference. For ticket information for all seven home games, visit hawkeyesports.com/footballgameday.