Hawkeye Fan Shop — A Black & Gold Store | Hawk Talk Monthly – June | 24 Hawkeyes to Watch 2019-20
By DARREN MILLER & JAMES ALLAN
hawkeyesports.com
IOWA CITY, Iowa — University of Iowa defensive coordinator Phil Parker and offensive coordinator Brian Ferentz met with media Tuesday following a morning practice that was conducted under the watchful eye of the Big Ten Network.
 
Here are six takeaways from Parker and Ferentz.
 
Nixon Brings 'Juice' to the Defense
Sophomore Daviyon Nixon is making a splash in fall camp. The 6-foot-3, 309-pounder from Kenosha, Wisconsin, is listed on the depth chart as a back-up at left tackle behind senior Cedrick Lattimore.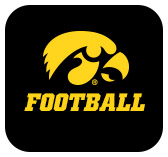 "Sometimes people flash and go up and down. It is a season where these guys are growing and there a lot of guys, maybe not one in particular," Parker said. "One guy, Nixon, as a defensive tackle, has jumped up a little bit and he is doing a good job inside for us.
 
"His effort, hustle, and the way he moves around, he has done a good job. His leadership is exciting to have more guys with that energy you need. It brings juice to the defense."
 
Building Depth on the Defensive Line
With 11 days before kickoff, Parker said he feels comfortable with the two-deeps on the defensive line…and then some.
 
"We might have a couple more guys inside that can play and obviously in different packages we can add other guys at the ends," Parker said. "I'm happy with the way the ends are going, too. We have three, four, maybe five out there and we probably have five inside. I'm excited to see where they go in the next week and a half."
 
Who Keeps a Redshirt?
Similar to the 2018 season, student-athletes will be able to play in up to four games without burning their redshirt. Because there are so many young Hawkeyes who could add value on special teams, Parker said that will lead to difficult decisions this season.
 
"That is hard when you start going through with all the special teams kids can be on," Parker said. "We're going to have to make a decision; is it going to be the first four games we're going to sit there and use kids and see how they develop and maybe they have a positon where they might be pushing for a second back-up?
 
"Then there will be some guys where we hold on, wait and see until the end of the year and play them four games on special teams and see how they develop at their position. There are multiple things going on with how we are going to manage that and it is not as easy as last year. I don't know if it will be as easy this year."
 
The deciding factor on playing a true freshman more than four games is simple, Parker said.  
 
"If they can help us win, we're going to put them on the field."
 
Run. The. Ball.
The Iowa running attack averaged 148.4 yards during the 2018 season. The season prior, Iowa averaged 139.2 yards per game. Offensive coordinator Brian Ferentz says that won't cut it in 2019.
 
"We're trying to win more than nine games, so we need a consistent running game," said Ferentz. "That has been an area of focus since 1999 and I don't think anyone won't tell you we fell short the last two years. We need to get that established right out of the gates."
 
Ferentz said juniors Toren Young and Mekhi Sargent have separated themselves as Iowa's lead backs with their unique skill sets. Sargent led the team with 745 yards and nine touchdowns last season; Young ran for 637 yards and five touchdowns.
 
"Toren is running the ball as well as he ever has and is a tempo setter," said Ferentz. "Mekhi is a jack-of-all-trades back, a utility knife. We have to do a good job with the balancing act. Those are two of our best players, so we need to keep them involved in what we're doing offensively."
 
ISM +12
It's no secret that Ihmir Smith-Marsette has game-changing speed. The junior wide receiver has added to his repertoire.
 
"The biggest change he has made is he's up 12 pounds," said Ferentz. "When you're a guy that runs fast, that's good, but if you're just a guy that runs fast, you can still get up and take him away.
 
"He has developed that size and strength that makes it easier for him to get off the line of scrimmage and beat press coverage. That's going to help him elevate his performance."
 
Smith-Marsette made 23 catches for 361 yards and three touchdowns as a sophomore. 
 
The Right Hawkeyes
Brian Ferentz deferred to head coach Kirk Ferentz when asked about which freshmen will see the field in 2019. Brian Ferentz says, by all indication, the program has found the right Hawkeyes.
 
"When you look at the class, all returns indicate we recruited the right people," said Ferentz. "That's a good start and the results typically follow. If you don't have that box checked, the results get a little iffy."
 
The Hawkeyes open the 2019 season Aug. 31 against Miami (Ohio) from the Mid-American Conference. For ticket information for all seven home games, visit hawkeyesports.com/footballgameday.