Hawkeye Fan Shop — A Black & Gold Store | I-Club Events Page | HOF Spotlight: Marc Long | HOF Spotlight: Diane Pohl | HOF Spotlight: Eric Juergens | HOF Spotlight: Jeremy Allen | HOF Spotlight: Deb Brickey | HOF Spotlight: Tangela Smith
By JAMES ALLAN
hawkeyesports.com
IOWA CITY, Iowa — When University of Iowa football coaches approached LeRoy Smith to move from offense to defense, Smith knew the time was right. 
 
Smith was recruited out of Sicklerville, New Jersey, as a top-100 running back and several schools wanted him to be a collegiate defensive back. His National Iowa Varsity Club Hall of Fame resume was filled with exploits as a defensive end.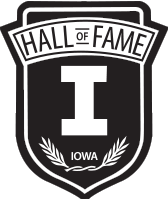 The 31st induction ceremony will be held Aug. 30 at the Coralville Marriott Hotel and Convention Center.  Tickets to the event, which is open to the public, can be purchased HERE (use promo code VCHOF).
 
"When the coaches put me on defense, I never had any hesitation," said Smith. "I knew it was the right move, but it would take time to become a good player. I had coach (Bill) Brashier, coach (Bernie) Wyatt, coach (Milan) Vooletich, and coach (Hayden) Fry in my corner, so I always felt comfortable.
 
"I had to learn the defense and become a student of the game."
 
Smith redshirted during his first season before getting injured and playing sparingly in 1988.  When he returned from the Peach Bowl and saw the Hawkeyes' running back depth chart, he saw the writing on the wall.
 
"We had good running backs on our team — Nick Bell, Tony Stewart, Marvin Lampkin, Lew Montgomery," said Smith. "It seemed like a better fit for me to play defense, especially since I was a linebacker in high school.
 
"When the coaches approached me it was a no-brainer. I just wanted to play. I didn't care what position. I could have been the water boy as long as I got on the field."
 
Smith relied on his experience, while Wyatt worked with him on technique and leverage. 
 
"It went pretty smooth, but I had so much to learn," he said. "Offense is more generated to thinking, defense is more reacting. I felt more comfortable reacting."
 
Smith played all 13 games during his first season as a defensive end.  He started the final two games, which included a 10-tackle (four tackles for loss) effort against Minnesota.  He finished the year with 45 stops, including seven tackles for loss and two sacks.
 
In 1990, Smith became a leader on a team that claimed a Big Ten championship to earn a berth in the Rose Bowl.  He led all defensive linemen with 78 tackles, including 55 solo stops, four tackles for loss, and two sacks. 
 
The Hawkeyes opened the season with seven wins in their first eight games before losing 27-26 to Ohio State in Kinnick Stadium.  Iowa won the league title via a tiebreaker after finishing with a 6-2 Big Ten record.
 
"We had great leaders on that 1990 team — Merton Hanks, Melvin Foster, John Derby, Eddie Polly, Matt Rogers, Danan Hughes, Tony Stewart, Mike Saunders, Mike Devlin, and Mike Ferroni," said Smith. "We had so many people who wanted to win and believed we could win.
 
"That makes a big difference. We were one team and no matter what we could win."
 
Smith says the Hawkeyes were excited and prepared for the 1991 Rose Bowl against Washington.  The way the game unfolded — Iowa fell behind 33-7 at the half — was fuel for the 1991 season.
 
"We were fired up and when we walked out of the tunnel we were ready to play," said Smith. "We just started out slow. That Rose Bowl was a game that changed our next season.  We knew we weren't going to let anybody jump on us like that."
 
The Hawkeyes rolled to a 3-0 start during the 1991 season before suffering a home setback to Michigan.  Iowa rebounded to win its final seven games to finish 10-1 to earn a berth in the Holiday Bowl against Brigham Young and Heisman Trophy winning quarterback Ty Detmer
 
Smith anchored an Iowa defense that allowed 14.9 points per game. He was the disrupter and had a season for the ages.  Smith set an Iowa and Big Ten record with 18 sacks and finished with 77 tackles, including 22 tackles for loss, to earn consensus All-America honors.  He was the Big Ten Defensive Player of the Year.
 
"What helped me is our linebackers, safeties, and defensive linemen were so good," said Smith, whose single-season sack total ranks third all-time in Big Ten history. "Coach Brashier and coach Fry came up with that defense my sophomore year to allow us to attack people with our speed.  It was designed to attack people and be fast. My strength was I was fast.
 
"My coaches deserve all the credit for my success and my teammates. It was nothing I did that was special, I was a part of a special team."
 
Smith's final game in San Diego was gut wrenching, as Smith suffered a first-half knee injury that ended his Hawkeye career.
 
"I wish I could have finished that game," he said. "John Hartlieb did a great job in my absence, but I wanted to be out there with him. Not being out there was the worst feeling. I tore my knee up and it had pain, but my heart was tore up. It felt like I let people down."
 
Following his Iowa career, Smith had professional stints in the National Football League with the 49ers, Browns, Lions, Chiefs, and Packers. His football career ended with the World League Rhein in 1994.
 
"My destiny was a great destiny," said Smith. "I had the best coaches and team in college.  When I first got hurt, it was, 'Whoa me.' When I got older, it was the best thing for me.
 
"I wouldn't change it for the world, my five years at Iowa. I wish I didn't get hurt in the Holiday Bowl, but I am thankful I graduated from Iowa, I am thankful I had the coaches and teammates I had, and I am thankful for all the people I met at Iowa."
 
Smith is excited to return to Iowa City for the induction ceremony because it is an opportunity to show his appreciation to everyone who aided in his journey.
 
"The biggest thing about me being in the Hall of Fame is not that they say I am good enough to be in the Hall of Fame, it's the fact I get to tell people thank you," said Smith. "Without all these people, I wouldn't be where I am or achieve what I achieved.
 
"I can't beat on my chest because it's too many people who protected me and showed me the way to becoming a winner. There are too many people at Iowa and in New Jersey who showed me how to become what I became."
 
Smith is a branch manager with J.P. Morgan Chase in the Dallas-Fort Worth market.  He and his wife, Laura Flores, have three children — Brisa, Isreal, and Ismael.