Hawkeye Fan Shop — A Black & Gold Store | 24 Hawkeyes to Watch 2019-20 | Hawk Talk Monthly – June | Transcript in PDF
By JAMES ALLAN & DARREN MILLER
hawkeyesports.com
IOWA CITY, Iowa — University of Iowa head football coach Kirk Ferentz held his weekly news conference Tuesday in the Stew and LeNore Hansen Football Performance Center. Here are a few highlights as well as the complete transcript: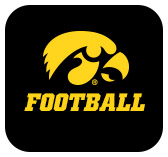 Quarterback Depth Chart
Ferentz shed light on the depth chart at quarterback behind three-year senior starter Nate Stanley.
 
"(Redshirt freshman Spencer) Petras would be the next guy in the game with (sophomore Peyton) Mansell third," Ferentz said. "We'll play the week out and see how that goes, too. In that competition as you can read between the lines, it has been pretty close all the way through it. We'll just kind of wait and see on that one. But right now Spencer would be the first guy in the game."
 
Last season Petras appeared in two games and was 0-for-1 passing; Mansell played in five games, completing 5-of-8 passes for 83 yards and an interception.
 
Kicking It Out
Ferentz and the Iowa coaching staff are still in discussions on who will be the starting kicker, saying the battle between juniors Keith Duncan and Caleb Shudak has been neck-and-neck.
 
"They're both doing a good job," Ferentz said. "I looked at the stats the other day and you can almost flip a coin. It might be fair to say we will let both guys play and see what happens.
 
"Caleb will be kicking off, though, I will go out on a limb and say that one."
 
Duncan, a Weddington, North Carolina, native, made 9-of-11 field goals, including the game-winner in the 14-13 victory over No. 2 Michigan, during the 2016 season.  He redshirted in 2017 and didn't see game action last season.
 
Shudek, a native of Council Bluffs, Iowa, hasn't attempted a field goal in his career, but he is 1-for-1 on PATs.
 
Keeping an Eye on Cole
The Hawkeyes are healthy heading into Saturday's season opener with the exception of junior Cole Banwart, who was previously listed as a starter at right guard.
 
"Injury-wise we've really come out of camp healthy to this point, and I think the only guy in the two-deep that is doubtful would be Cole Banwart," said Ferentz. "We'll see how that goes, but right now I'm not optimistic that he'll play based on practice (Tuesday) morning."
 
Hall of Fame Weekend
Two former Iowa football players — Leroy Smith (1989-91) and Jeremy Allen (1998-2001) will be inducted into the 31st National Iowa Varsity Club Hall of Fame class Aug. 30 at the Coralville Marriott Hotel and Convention Center.
 
Smith was recruited as a running back, but switched to linebacker; Allen played fullback.
 
"(Jeremy) was so easy to coach, and was a fullback, which we appreciate that position," said Ferentz. "He had tremendous success in track, too, and was an outstanding performer. It's great to see him recognized.
"Leroy is a tremendous person who had a tremendous career here. That is such a nice honor to be picked in the Hall of Fame — it's not easy, there are a lot of good players that haven't made that and will in time, I'm sure. But it's an elite group of folks, and to me, it's meaningful, so I'm happy for both those players."
 
Students First
Ten University of Iowa student-athletes will wear decals of a commencement cap and tassel on their helmets to signify that they have already earned an undergraduate degree. The Hawkeyes are Drew Cook, John Milani, Landan Paulsen, Levi Paulsen, Colten Rastetter, Brady Reiff, Brady Ross, Ryan Schmidt, Jackson Subbert, and Nate Wieting.    
 
"It's a good reminder for all of us that the guys out there playing on Saturdays are college students, and we have 10 players with graduation decals on their helmets," Ferentz said. "It's something new that we'll start this season. We have 10 guys that have already graduated, a bunch more that will graduate at mid-term, and a few next May.
 
"It's a good reminder that these guys are here for a bigger purpose than just playing football, and we're excited about starting that tradition."
 
The Hawkeyes open the 2019 season Aug. 31, hosting Miami (Ohio). For ticket information for all seven home games, visit hawkeyesports.com/footballgameday.