Hawkeye Fan Shop — A Black & Gold Store | 24 Hawkeyes to Watch 2019-20 | Hawk Talk Monthly – June | Photo Gallery: | Stoops News Release
By DARREN MILLER
hawkeyesports.com
IOWA CITY, Iowa — Student-athlete. Graduate assistant. Opposing coach. Honorary captain.
 
Bob Stoops has worn many hats relative to the University of Iowa football program since his redshirt season under Bob Commings in 1978. Seems fitting since the hard-hitting safety spent his playing career knocking hats off any opponent in his vicinity.
 
Stoops, a four-year letterwinner and first-team All-Big Ten selection in 1982, is honorary captain for Iowa's season opener against Miami (Ohio) on Saturday. Kickoff is set for 6:40 p.m. (CT).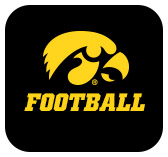 "It is a huge highlight for me in my career to be back and to be in Kinnick Stadium," Stoops said. "These memories from my time at Iowa are incredibly special, as good as any I have had after that."
  
The oldest of three Stoops brothers to play football for the Hawkeyes, Bob's first game as a player was also the first for head coach Hayden Fry. On Sept. 8, 1979, Iowa led Indiana, 26-3, at halftime in Kinnick Stadium, only to lose, 30-26. The Hoosiers were coached by ESPN analyst Lee Corso.
 
"We were learning how to win and finish games," Stoops said.
 
During his Hawkeye career, Stoops made 230 tackles with eight interceptions. He was a member of the 1981 Big Ten championship team that played in the Rose Bowl. A season later, he was named team captain and most valuable player.
 
"The kicker is when we turned it around in 1981 and 1982, when we broke through and not only had a winning record, but to be co-Big Ten champs and represent the Big Ten in the Rose Bowl was incredibly special," Stoops said.
 
Iowa's defense in 1981 included All-Big Ten performers Andre Tippett, Mark Bortz, Lou King, Mel Cole, and Pat Dean.
 
"I was on a defense with a bunch of wild, tough guys," Stoops said. "It was a crew and there was a fight every other play in practice. I'm still great friends with all those guys."
 
In a bit of foreshadowing, in the second collegiate game Stoops played, the Hawkeyes fell to Oklahoma, 21-6, in Norman, Oklahoma. Twenty years later (in 1999), Stoops began an 18-year coaching career with the Sooners, winning a school-record 190 games, including the 2000 national championship. With Stoops as head coach, the Sooners finished in the top 10 11 times; he was named National Coach of the Year in 2000.
 
Every Saturday for 18 years before, Stoops left home to coach the Sooners, his wife Carol, an Iowa native, had the same message: Go Hawks.
 
"My kids would roll their eyes," Stoops said.
 
A native of Youngstown, Ohio, Stoops was recruited to Iowa by Commings and Gus Pachis. Commings and Stoops' father, Ron, attended the same high school.
 
"There weren't many people after me," Stoops said. "Coach Commings giving me a shot and giving me an opportunity to come to Iowa was the biggest break I ever had in my life."
 
It almost ended after his redshirt season of 1978. The Hawkeyes were 2-9 that season with a 31-0 loss to Iowa State, 34-0 loss to Michigan and a 42-7 loss to Michigan State.
 
"We were an incredibly poor program at the time," Stoops said. "I was from a steel mill town (and now I was) out in Iowa, which was a drastic culturally change. Fortunately I had a father who gave me tough love and made me come back. That was the best thing that happened to me."
 
Three years later, during the Big Ten championship run, the Hawkeyes defeated Michigan, 9-7, and Michigan State, 36-7. The latter game sent Iowa to the Rose Bowl against Washington.
 
After his playing and coaching days at Iowa, Stoops spent a year at Kent, seven at Kansas State, and three at Florida before becoming head coach at Oklahoma in 1999. The Sooners and Hawkeyes met in the 2011 Insight Bowl.
 
"My blessing was coming up under coach Fry and all those great assistants: Kirk Ferentz, Dan McCarney, Barry Alvarez, Bill Brashier, Bill Snyder," Stoops said. "I came up under the best coaches in the country with those assistant coaches and coach Fry together. Going with coach Snyder and developing Kansas State from the ground up was a huge learning experience. It topped off being around Steve Spurrier (at Florida), who is an incredible coach. I have been around great people."
 
Saturday's opener against Miami (Ohio) marks the 40th anniversary since Stoops started his first game for the Hawkeyes in 1979.