Hawkeye Fan Shop — A Black & Gold Store | 24 Hawkeyes to Watch 2019-20 | Hawk Talk Monthly – June | Game Recap | Iowa Finishes Drives, Finishes Miami | Sargent's Talent Takes Over | Kirk's Sunday Conversation
By DARREN MILLER
hawkeyesports.com
IOWA CITY, Iowa — September 1 marked the one-year anniversary of University of Iowa redshirt sophomore Kyler Schott making his collegiate football debut against Northern Illinois.
 
With the Hawkeyes ahead by 26 points, he played three snaps and didn't play again.
 
Until Saturday's season opening 38-14 win over Miami (Ohio) in a sold-out Kinnick Stadium. This time, Schott's Labor Day weekend game action involved more than getting his feet wet.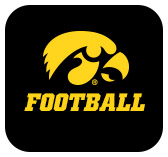 Junior left tackle Alaric Jackson, who was making his 25th career start, went down with a knee injury 10 minutes into the first quarter. That sent Tristan Wirfs to left tackle, Levi Paulsen to right tackle, and Schott off the sideline to right guard.
 
So, who is Kyler Schott?
 
He is a 6-foot, 2-inch, 290-pounder from Coggon, Iowa, where he started all four years at North Linn High School and was a two-time state wrestling medalist at heavyweight.
 
"He played violent and finished every block," recalls Jared Collum, his high school football coach. "We don't start freshmen around here very often. He was three-year all-district, two-year all-state, and he destroyed people in Class A."
 
Schott did his share of destroying Division I defenders on Aug. 31. On his first play of a scoreless game, Iowa quarterback Nate Stanley ran for 16 yards. Iowa gained 21 more yards on five plays before Keith Duncan kicked a 21-yard field goal.
 
Trailing 7-3, the Hawkeyes went back to work and opened a nine-play scoring drive by running behind Schott and Levi Paulsen. Toren Young picked up 12 yards, Iowa scored nine plays later, and never trailed again.
 
Iowa head coach Kirk Ferentz said there was no need to adjust anything scheme-wise or downsize the playbook just because Schott was making the first real game appearance of his career.
 
"He walked on here and quietly has done a quality job," Ferentz said. "This is clearly his best year of football. He has had a good camp and he is versatile, he can play any of the three (offensive line) spots inside and seems to do it with ease. He can move around without grinding coffee at all."
 
Ferentz was not surprised by Schott's performance, which helped the Hawkeye offense gain 465 yards — 252 through the air and 213 on the ground. It was the most passing yards for Iowa since gaining 269 against Northwestern and the most rushing yards since picking up 266 against Nebraska.
 
"He jumped in and played well. I can't say it's a total surprise because he has practiced well," Ferentz said. "He has blocked guys well. He has probably blocked Cedrick Lattimore better than anybody. He gives Cedrick the best battles on the field during practice than anyone we have."
 
Still, it was the most Schott has played in a football game since North Linn took on Wapsie Valley on Oct. 21, 2016. Pretty sure there weren't 69,000 people in the stands for that one.
 
"I was thinking to just stick to what we worked on all week and I'll be fine," Schott said. "I was trying to keep everything out and focus on the 22 guys who were on the field.
 
"My assignment of getting to the guy I was supposed to block was good. Technique can improve and obviously, you can always finish better. Overall, I didn't do too badly."
 
Schott's highlight came on the third snap with him at right guard. Here's what he recalls:
 
"We had an inside zone to the right. (Tyler Linderbaum) and I had a double-team and then he came off and the left guard ended up working with me. I came off for a linebacker…it was a good block."
 
While Young ran for eight yards and a first down, Miami linebacker Myles Reid was flat on his back at the 4-yard-line, compliments of a Schott pancake. 
 
During much of the game, Iowa's offensive line consisted of Wirfs (left tackle), Landan Paulsen (left guard), Linderbaum (center), Schott (right guard), and Levi Paulsen (right tackle). That's more than 1,500 pounds of homegrown Hawkeyes: Wirfs is from Mount Vernon (population 4,454), Linderbaum from Solon (2,680), the Paulsens from Moville (1,610), and Schott from Coggon (670).
 
All five were adept at wrestling as well. Wirfs and Levi Paulsen were high school state champions, Schott and Landan Paulsen were runner-up, and Linderbaum placed third.
 
"It's not intentional, but historically we have had a lot of high-quality players, especially on the offensive line, from this state," Ferentz said. "A big part of being a lineman is being a guy who doesn't mind working hard, takes a lot of pride in what he does, and invests that extra time in his technique and preparation. The state has been pretty fruitful for us."
 
Also seeing action on the offensive line were relative newcomers Justin Britt, Cody Ince, Jeff Jenkins, Mark Kallenberger, and Jack Plumb.
 
Jackson is expected to return this season, so will junior guard Cole Banwart. But Schott's time on the field is just beginning.
 
"It gives me confidence knowing I can play here and that I am ready to step in when they need me," Schott said.
 
Iowa opens Big Ten play Saturday against Rutgers inside Kinnick Stadium. Kickoff is set for 11 a.m. (CT).