Hawkeye Fan Shop — A Black & Gold Store | 24 Hawkeyes to Watch 2019-20 | Hawk Talk Monthly – June | Ferentz Transcript (PDF)
By JAMES ALLAN & DARREN MILLER
hawkeyesports.com
Hello, Big Ten.
When Rutgers and Iowa meet Sept. 7 in Kinnick Stadium, it will mark the earliest the Hawkeyes have ever played a Big Ten football game. Iowa head coach Kirk Ferentz would rather play all the nonconference games before entering Big Ten play, but…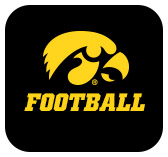 "That's just the way it is, so we'll play them," he said. "Any time you're in a conference, it's a significant thing. You only get nine of those, you get 12 games total, but nine conference games, so that's important.
 
"To me, the month of September is about focusing on trying to improve and pull things together, tie up the loose ends, those types of things. I'm sure (Rutgers is) fighting the same battle, though. It's their second game, as well, so it's even footing for both teams."
 
A More Confident Mekhi
Junior Mekhi Sargent compiled 156 all-purpose yards Aug. 31 against Miami (Ohio). He carried the ball 14 times for 91 yards and a touchdown and caught four passes for 65 yards.
 
"That's what we saw during the course of last season," Ferentz said. "He looked like he had a different gear in the Penn State game last year. That was the first time where it looked like he was starting to get comfortable, and then he just kept getting better during the rest of that season. He did the same thing in spring, as did Toren (Young), and they carried it right through camp.
 
"He's a real confident guy right now, knows a lot more than he did a year ago about what we're doing and what his role is. He's a delightful young guy, just a humble, hard-working, team-oriented type player."
 
A Deep & Talented Wide Receiver Group
Quarterback Nate Stanley completed 21 passes to 10 targets against Miami (Ohio). On the other end of 11 of those 21 passes were five different wide receivers.
 
"We have a much healthier group than what we've had in the past, and more numbers, too," Ferentz said. "The good news is that'll keep all those guys from getting run ragged and hopefully bring the best out of all of them."
 
Mixing & Matching Up Front
Ferentz was anticipating shuffling the offensive linemen during the season-opener against Miami (Ohio), but his hand was forced when offensive tackle Alaric Jackson went down with a second-quarter knee injury. 
 
"We were forced to do it a little more than the plan was calling for," said Ferentz. "The good news is Kyler (Schott) played well, (Cody) Ince came in and played well, both the Paulsens played their best football since they have been here. The trick for us right now is to keep pushing forward and see these guys improve."
 
Playing & Learning
The Hawkeyes surrendered 14 points and 245 yards in the season-opening victory over Miami (Ohio).  The issue?  Iowa gave up four big plays — plays of 20 or more yards — to the Redhawks.
 
"If you look at their two scoring drives, we gave up a couple of big plays, three in the two drives," said Ferentz. "Some of that goes back to communication and just a better understanding of what technique we need to be playing.
 
"It's not good that it happened, but if there is a positive, we'll learn from it — that's the best way to say it.  You want to make your opponent work a little bit if you're playing defense and we gave up a couple easy plays that aren't going to be good for us if we keep doing that."
 
The Hawkeyes open Big Ten Conference play Saturday, hosting Rutgers at 11:01 a.m. (CT) inside Kinnick Stadium. For ticket information for all remaining Hawkeye home games, visit hawkeyesports.com/footballgameday.