Hawkeye Fan Shop — A Black & Gold Store | 24 Hawkeyes to Watch 2019-20 | Hawk Talk Monthly — September
By MAGGIE WESLEY
hawkeyesports.com
 
IOWA CITY, Iowa — The University of Iowa cross country team hosts its first event of the 2019 season Sept. 6. With practice and workouts underway, the Hawkeyes are mastering a blend of old and new. The women welcome five new faces, including three freshmen and two transfers. The men gain three freshmen.
 
"It's different this year, because last year we came in with 12 girls and it took me awhile to get to know them all," said senior Megan Schott. "A couple of them will be contributors right away and the rest will eventually come on. It might take them a little longer, but I am excited to see what they can do."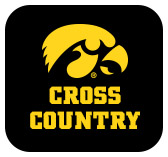 "The freshmen are great. They are focused and ready to make the jump into collegiate running," said senior Luke Sampson. "(Head coach Randy Hasenbank) has done an incredible job over the years of developing young runners and I don't think there will be an exception with these guys."
 
The rookies are joined by 21 letterwinners. Five men return from the team that placed seventh at the Midwest Regional. Six women return from a 12th-place regional finish. The newcomers add depth to those groups, some contributing right away, others in the near future.
 
"Everyone on this team has a lot to offer whether they contribute right away or in the coming years," said senior Nathan Mylenek. "They're not here by mistake. They were recruited with the intention of building an all-around championship-caliber team."
 
Senior Nathan Mylenek became the first Hawkeye to advance to the NCAA finals since 2011 in 2018, covered 10,000 meters in 141st with a time of 30:59.88.
 
"I expect to return to the Big Ten Championship and compete as an individual and also as a team," said Mylenek.
 
The season opener is one of seven events on Iowa's schedule. The Hawkeyes have three regular season road trips before postseason begins Nov. 3 at the Big Ten Championships in Columbus, Ohio.
 
"We shouldn't shy away from going for top three in the Big Ten and doing everything we can to have a shot at making the national championships," said Sampson.
 
"We want to see how much we can move up this year," said sophomore Jessica McKee. "I would love to get into that top 30 of the region. It's going to be hard because there's a lot of good girls, but everyone pushes each other, so much that it's attainable."
 
The Hawkeye Invitational will be held on the Ashton Cross Country Course in Iowa City. The women run a 4,000-meter race at 6 p.m. (CT), the men follow with a 6,000-meter race at 6:45 p.m. Admission is free.