Hawk Talk Monthly — September | Hawkeye Fan Shop — A Black & Gold Store | Hawkeyes in the NFL | Photo Gallery | 24 Hawkeyes to Watch 2019-20 | Game Recap
By DARREN MILLER
hawkeyesports.com
IOWA CITY, Iowa – One of the most rewarding parts of University of Iowa head football coach Kirk Ferentz's job is watching players grow and develop.
 
He said so again Saturday after the No. 19/20 Hawkeyes improved to 2-0 with a Big Ten Conference-opening 30-0 win over Rutgers in front of 61,808 in Kinnick Stadium. After Iowa completed 19 passes to eight receivers for 244 yards, one of those developing groups is wide receiver.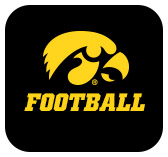 Last week, 10 Hawkeyes caught passes and five of them were wide receivers. The group of Oliver Martin, Nico Ragaini, Brandon Smith, Ihmir Smith-Marsette, and Tyrone Tracy, Jr., combined for 11 receptions for 142 yards and three touchdowns, during a 38-14 win over Miami (Ohio).
 
The Hawkeyes exceeded that productivity against Rutgers. The same five wide receivers hauled in 14 passes for 208 yards and three more touchdowns.
 
"After (tight ends) Noah (Fant) and T.J. (Hockenson) got drafted (to the NFL in 2019), we knew we would get the bulk of the work load," said Smith, who caught two passes for 22 yards against Rutgers. "We felt the need to prepare even more, because we knew we were going to be put into situations to make big plays."
 
Last season, when the Hawkeyes were 9-4 and won the Outback Bowl, Iowa's wide receivers caught 10 touchdown passes in 13 games. In wins against Miami (Ohio) and Rutgers, they already have six.
 
"Everybody is filling out their role," said Smith-Marsette, who had four receptions for 113 yards and touchdowns of 58 and 23 yards. "You have playmakers all around, getting people involved. Having that fact of moving the ball around and showing the (wide receiver) room is moving forward. That aspect of the game is where we develop a strong relationship with the quarterbacks. Getting everyone involved was key and it is going to continue to be key."
 
Ferentz praised the maturation of Smith and Smith-Marsette, who as juniors, are the elder statesmen of the receiver room. Martin is a sophomore, and Ragaini and Tracy are redshirt freshmen.
 
"Tyrone and Nico are finally getting a crack at it," Smith said. "While Ihmir and I lead, they can feed off our energy, we can feed off their energy, and everything clicks."
 
Smith-Marsette, who is from Newark, New Jersey, opened the game's scoring against his "hometown school" on the sixth play from 58 yards out.
 
"I can get to the ball, that's all I was thinking," Smith-Marsette said. "I saw (the defender) was off outside, I made a move, then took it home and Nate Stanley put a great ball on me and I finished it."
 
Smith-Marsette now has eight career receiving touchdowns. Tracy's first career touchdown catch was a 7-yarder from Stanley that gave the Hawkeyes a 14-0 lead in the second quarter.
 
"Nate had faith in me to catch the ball," Tracy said. "That moment was surreal to me. I had been waiting for it for a long time. I didn't get a chance last year; I got a chance last game, but I didn't make the most of the opportunity. This time I made sure to seize the opportunity."
 
Tracy finished with three catches for 42 yards. His day started with a dropped pass with Iowa backed up on its own 3-yard-line. After that play, he relied on advice from assistant coaches Kelton Copeland and Tim Polasek.
 
"Coach Copeland talks about how we should take one play at a time," Tracy said. "I knew I missed the ball, so I was like, what's next? So what, now what? That's what coach Polasek says. That was going through my head — I couldn't relive that play, so I had to move on and go to the next one."
 
Resilient is a way someone in the media room described Tracy on Saturday. Productive is one way to define Iowa's entire wide receiver room.