Hawk Talk Monthly — September | Hawkeye Fan Shop — A Black & Gold Store | Hawkeyes in the NFL | Wide Receivers Continue to Produce | Photo Gallery | 24 Hawkeyes to Watch 2019-20 | Game Recap
By RICK BROWN
hawkeyesports.com
 
IOWA CITY, Iowa — A.J. Epenesa broke a cardinal rule.
 
"You're not supposed to jump," the University of Iowa junior defensive end said. "Ever."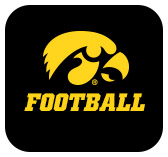 But jump he did. Epenesa bull-rushed a would-be blocker, zeroed in on Rutgers quarterback McLane Carter, jumped with his arm up and still completed the second-quarter sack.
 
"He pump-faked, and I thought he was going to launch it," Epenesa said. "And I was like, 'Oh, no.' I tried to stop him. Jumping is ill-advised, but we were still able to make the play and get off the field."
 
That was one of many big plays for the Hawkeye defense in a 30-0 victory over Rutgers in the Big Ten opener Saturday at Kinnick Stadium.
 
"Our guys played well defensively, and it was a collective effort," said Iowa head coach Kirk Ferentz.
 
Rutgers managed just 125 yards of total offense, the fourth-lowest total in the Ferentz era, and never moved the ball deeper than the Iowa 42.  The Scarlet Knights managed just 41 passing yards, the second-lowest total in the Ferentz era.
 
"We're happy with the way we played, but we're not satisfied," Epenesa said. "You're never satisfied when you want to be a great as a defensive unit, but it was a step up from last week."
 
Epenesa, who entered the season on a wave of All-America hype coming off a strong showing in 2018, managed just one assisted tackle in the season opener against Miami (Ohio). Epenesa was double-teamed throughout, and he got a lot of attention from Rutgers, too, but passed the challenge with flying colors.
 
"I knew that was going to happen, and people were going to try and stop me because of what I was able to do last year," the 6-foot-6-inch, 280-pounder said. "So I have a target on my head, or some teams think so."
 
Instead of sulking over all the attention in the opener, Epenesa went back to work at practice last week.
 
"You see guys get double-teamed all the time, and still have success," Epenesa said. "There are ways to beat it. That's what I'm working on."
 
Epenesa was quicker to respond to the look the Rutgers offense gave him than he had been the week before against Miami. When a tight end lined up against him for a double-team look, he was quicker with his outside move to get leverage. The Hawkeyes' defensive line also ran a series of inside stunts that gave them good avenues to the quarterback.
 
Epenesa was back to his disruptive best, too. In addition to his sack he was credited with four quarterback hurries. On one of them, he hit Carter's arm as he passed. Linebacker Djimon Colbert got the second-quarter interception.
 
"That was one of our stunts we were able to run," Epenesa said. "I was able to hit him as he threw it. The ball lollipopped up in the air and Djimon was able to catch it."
 
Colbert was quick to thank Epenesa for his good fortune.
 
"Yeah, of course," Colbert said. "You always have to give those dudes thanks and congratulations. They make our jobs a lot easier, and they help us make plays."
 
It's a two-way street for good defenses.
 
"The longer they cover, we can get a sack," Epenesa said. "The more we rush, it will be easier to get an interception."
 
Ferentz said he was never worried about how Epenesa would respond to his frustrating season opener.
"It's hard to shake him," Ferentz said. "He's pretty even-keeled that way. He played well last week, too. He got a little bit of attention. He's going to get that all season long. He came and had a good week of practice, and certainly worked hard out there today."
 
Ferentz also acknowledged the hype Epenesa came into the season with.
 
"I did sense some unrealistic expectations last week after the game," Ferentz said. "Yeah, he's not going to make every play, and he shouldn't. He's a defensive end, but if he just does his job, when he does it well, it impacts things."
 
Even when he breaks a cardinal rule and leaves his feet.
 
"I guess if you make the sack, it's OK," Ferentz said.
 
The Hawkeyes return to action Sept. 14, facing Iowa State at 3 p.m. (CT) in an Iowa Corn Cy-Hawk Series matchup at Jack Trice Stadium in Ames, Iowa.