Hawkeye Fan Shop — A Black & Gold Store | 24 Hawkeyes to Watch 2019-20 | Hawk Talk Monthly — September | Wide Receivers Continue to Produce | Epenesa Fuels B1G Shutout | Hawkeyes in the NFL | Kirk Ferentz Transcript PDF | Photo Gallery | Box Score (PDF) | Postgame Notes (PDF)
By DARREN MILLER
hawkeyesports.com
IOWA CITY, Iowa — 3-11-8-3-1-2-14-19.
 
This was the starting field position — on its own side of the 50 — for eight of the 14 offensive drives for the University of Iowa football team Sept. 7 against Rutgers. (The final victory-formation drive started at the Scarlet Knight 39 with 13 seconds left in the game.)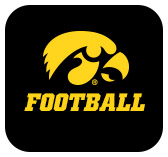 "It was nuts. I can't remember ever being in a game quite like that," said Iowa head coach Kirk Ferentz.
 
Credit goes to Rutgers punter Adam Korsak, who kicked 10 times for an average of 47.6 yards per punt. Seven of his punts pinned the Hawkeyes inside their 20-yard line. Because of that, credit also goes to Iowa punter Michael Sleep-Dalton, who had a game-high average of 48.3 yards per punt, and two of his six were downed inside the Rutgers 20.
 
"It was a tough game field-position wise," Ferentz said. "A lot of credit to Michael Sleep-Dalton, he had a great game. I don't know if I have ever been involved in a college game where two punters played as well as both those guys. Both of them performed extremely well."
 
That makes the Hawkeyes' offensive production all the more impressive. They gained 438 total yards and scored on six drives during a 30-0 Big Ten Conference-opening victory. Iowa's average starting field position in the first quarter was its 11 yard line; in the third quarter it was its 15.
 
How does an offense strategize with its back toward its own end zone?
 
"First rule of thumb is you want to move the ball, get a couple first downs," Ferentz said. "You want to get the ball out there so when you do punt, you have a chance to put the opponent on the other part of the field."
 
Four of Korsak's Coffin Corner punts pinned Iowa inside its own 4-yard-line. On the first series of the second quarter, the Hawkeyes drove 97 yards on 11 plays, scoring on a 7-yard touchdown pass from Nate Stanley to Tyrone Tracy, Jr.
 
"A 97-yard drive is the perfect answer anytime you're backed up," Ferentz said with a laugh. "That's our first choice on how to handle poor field position."
 
Here is another effective approach: Iowa led 20-0 midway through the third quarter when a Korsak punt was downed at the Hawkeye 2. Seven plays and 43 yards later, Iowa moved to its 45 where Sleep-Dalton punted 46-yards to the Rutgers 9. After a three-and-out, Rutgers punted back to the Hawkeyes and Nico Ragaini fair-caught the ball at Iowa's 44.
 
Stanley completed a pass for 33 yards to Tracy and then a touchdown toss of 23 yards to Ihmir Smith-Marsette.
 
"That might be a better illustration of the text book kind of thing," Ferentz said. "We did a good job killing a punt inside their 10 and we got the ball back right about where we ended the previous drive.
 
"That's a good example of moving the ball out, changing field position, and getting it back to where you have a chance to get points out of it. That's the kind of football we're hoping to play any time we're in that situation."
 
No. 18/19 Iowa (2-0) makes its first road trip of the season Sept. 14 at Iowa State (1-0) as part of the Iowa Corn Cy-Hawk Series. Kickoff is set for 3 p.m. (CT) from Jack Trice Stadium in Ames, Iowa.