Hawkeye Fan Shop — A Black & Gold Store | 24 Hawkeyes to Watch 2019-20 | Hawk Talk Monthly — September | Hawkeyes in the NFL | Ferentz Transcript (PDF)
IOWA CITY, Iowa — University of Iowa head football coach Kirk Ferentz held his weekly news conference Tuesday in the Stew and LeNore Hansen Football Performance Center. Here are a few highlights as well as the complete transcript:
Winning on the Road
Iowa has won its last seven road openers, starting with a 19-16 win at Michigan State in 2012. Three of those victories have come against Iowa State in Ames, Iowa. Ferentz said a key to having success away from home is being able to focus on what counts.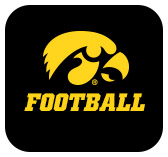 "The first word that comes to mind is maturity," Ferentz said. "It doesn't have to be that you're a four-year player or a senior, or a junior even, but the ability to focus on what counts and ignore the rest of it, because there is going to be a lot of 'rest of it' all week, not just on Saturday.
 
"That's what happens when you travel to a lot of places. That's just the way it goes, but it's that way during the week, too.
"It's the ability to focus on what is important, keep your mind there. If you are distracted by whatever — surroundings, things that are being written, nice things that are being written about you or negative things — all that stuff is counterproductive to moving forward."
 
Thin in Back
Iowa State quarterback Brock Purdy completed 30 of 41 passes for 278 yards and two touchdowns during a 29-26 triple-overtime victory against Northern Iowa on Aug. 31. Iowa's defensive secondary has a combined 35 career starts between cornerbacks Michael Ojemudia and Matt Hankins and safeties Geno Stone and Jack Koerner.
 
"I mentioned how veteran (Iowa State's) two-deep is," Ferentz said. "There are names in our two deep right now that you would have to get out your program to figure out who's who. So we're a little thin back there.
"One thing you want to try to do — and this goes back to (a 27-17 win in) 2000 against Northwestern — you want to get your best guys out there, and guys that can handle the situation the best."
 
Special Special Teams
Junior Keith Duncan connected on three field goals, including a career-long 46-yarder, in Iowa's 30-0 Big Ten Conference-opening victory over Rutgers on Sept. 7, while graduate transfer Michael Sleep-Dalton had six punts for a 48.3 average, including a long of 57 yards.
 
"If Michael can continue to play like that, that would certainly help us," said Ferentz. "Keith and Caleb (Shudak) have both been practicing well and doing a good job performing in practice, and Caleb is doing a good job on kickoffs.
 
"Any time you get into games like this, and any big games, which I consider this to be, all those axioms or old adages prove to be true.  Special teams are going to be a big part of the game."
 
Game Day Hoopla
ESPN's College Game Day will be in Ames, Iowa, on Saturday to preview the Iowa Corn Cy-Hawk Series match-up, but Ferentz says the pregame hoopla won't have any influence on the game's outcome.
"They were (in Iowa City), I can't remember what year it was, but it didn't impact the game," said Ferentz. "I don't' think it will impact this one either.  There has always been a lot of hype or interest in this game for obvious reasons.
 
"The nice thing about it is I don't think a lot of people outside our state bounds understand the intensity of the rivalry and just what a great thing it is. So maybe that will add to the spotlight a little bit."
 
Memories of the Iowa State-Iowa Rivalry
It's simple, Ferentz said, referring to a coach's emotional state after the Iowa Corn Cy-Hawk Series football game.
 
"It's like most things, it all gets squeezed down to, when we win, it's a really good thing. When we lose, it's awful," Ferentz said. "That's the essence of competition, and that's what makes it so interesting and so painful sometimes. We've experienced both. I can tell you this, it's a lot more fun when you win. I think we all figured that out in third grade. That's why you want to work hard and try to make sure you give it your absolute best."
 
Ferentz is 11-9 in his head coaching career against the Cyclones; Iowa State's Matt Campbell is 0-3 against the Hawkeyes.