Hawkeye Fan Shop — A Black & Gold Store | 24 Hawkeyes to Watch 2019-20 | Hawk Talk Monthly — September | Hawkeyes in the NFL | Game Recap
By DARREN MILLER
hawkeyesports.com
AMES, Iowa — It seems difficult topping a game-winning field goal against the No. 2 team in the nation as a true freshman, but University of Iowa junior Keith Duncan did just that Saturday at Iowa State.
 
It was the 2016 season when an 18-year-old Duncan made a 33-yard field goal as time expired to knock off Michigan in Kinnick Stadium. On Saturday, a 21-year-old Duncan kicked his way into Iowa Corn Cy-Hawk Series lore by making four field goals, the fourth from 39 yards with 4:51 remaining, as the undefeated No. 18/19 Hawkeyes (3-0) defeated Iowa State, 18-17, in Jack Trice Stadium.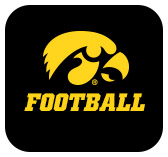 This is an older, upgraded version of Duncan.
 
"A couple years ago, he was a young guy and he acted like a young guy," Iowa head coach Kirk Ferentz said. "But boy, he has been wired in."
 
Duncan was good from 25 and 40 yards in the first half and from 42 and 39 yards in the second half as Iowa defeated the Cyclones for a fifth consecutive season.
 
"Freshman year is extremely different than how I am kicking now," said Duncan, who calls his new approach kicking free.
 
"Going into a kick, you're excited for the kick, rather than thinking you have to make this kick," Duncan said. "Right now, I'm like, give me more kicks, give me more field goals. Obviously we would like touchdowns, kicking extra points is fun, too, but I am hungry for field goals."
 
In wins against Miami (Ohio), Rutgers, and Iowa State, Duncan is 8-of-8 on field goals and 8-of-8 on extra points. His 32 points lead the Hawkeyes as they head into the first of two bye weeks Sept. 21.
 
The 5-foot, 10-inch North Carolina native won the kicking job as a true freshman in 2016 and made 9 of 11 field goals and 38 of 39 extra points. He redshirted in 2017 and did not play in 2018 after Miguel Recinos won the job.
 
The wait was worth it for Duncan.
 
"But my mindset has changed," he said. "I'm a very religious guy, and talking with Jason Baker (who punted for Iowa from 1997-2000) about this, there is a difference in kicking free. That is how I feel now; once you know God is in control and He has it for you, then kick free and there is no stress."
 
That doesn't mean an absence of nervousness.
 
"There are a few (nerves), but it is a weight lifted off your shoulders and it is awesome," Duncan said.
 
Iowa State led 17-15 with just under eight minutes to play when Iowa took over at its own 25. Running back Mekhi Sargent chewed up a combined 20 yards on a run and pass reception before Brandon Smith caught a 28-yard pass from Nate Stanley. Sargent had another run to Iowa State's 21.
 
Then it was Duncan time.
 
"I try to keep everything the same on every kick," Duncan said. "I try to find (a spot to focus on) and execute. (Long-snapper) Jackson (Subbert) and (holder) Colten (Rastetter) and our protection did a phenomenal job. The conditions were not ideal, but we executed."
 
Iowa overcame 175 minutes of weather delays leading to an elapsed game time of 5 hours and 53 minutes. It took mere seconds for Duncan's game-winning field goal to sail through the uprights.
 
"When we go through our offseason workouts, coach (Chris) Doyle and coach (Kirk) Ferentz put a big emphasis on mental and physical toughness," Duncan said. "It is won with mental toughness, and that is what showed (Saturday night)."
 
Iowa football hosts Minnesota in the battle for Floyd of Rosedale on Saturday, Nov. 16.  Fans are encouraged to wear black for the Blackout game, and it is the annual military appreciation celebration. Active duty military and veterans are eligible for a military ticket discount. Click HERE for tickets and pre-paid parking and additional game information.