Hawk Talk Monthly — September | Hawkeye Fan Shop — A Black & Gold Store | 24 Hawkeyes to Watch 2019-20 | Hawkeyes in the NFL | Duncan is Kicking Free | ISU Game Recap
By DARREN MILLER
hawkeyesports.com
AMES, Iowa — Nico Ragaini is used to playing football on Saturdays. That's when games were scheduled at Avon Old Farms Prep in Connecticut.
 
What he wasn't used to was playing in front of 60,000 people and in front of a national television audience.
 
After three games, Ragaini has adjusted well.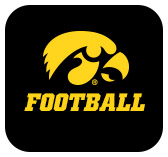 "I'm getting more confident and comfortable in front of so many people," said Ragaini, a University of Iowa redshirt freshman wide receiver. "Coming out of high school and in prep school, I played in front of like 100 people, then you come to a game like this, what is it? 60,000 or something crazy?"
 
Ragaini admitted that playing in front of 100 in prep school was an understatement, but still, it was nothing compared to the attendance figures of 69,250, 61,808, and 61,500 during Iowa's 3-0 start with wins over Miami (Ohio), Rutgers, and Iowa State.
 
A 6-foot, 192-pounder from East Haven, Connecticut, Ragaini was Iowa's top receiving target Sept. 14 as the Hawkeyes defeated Iowa State, 18-17, in the Iowa Corn Cy-Hawk Series.
 
Ragaini caught a season-high five passes for 43 yards with a long of 18. All of his receptions came in the first half.
 
"Nico is one of those guys who has really improved over the last year and a half," Iowa head coach Kirk Ferentz said. "(As coaches) we get to watch practice and see if they are growing and coming along, and Nico is playing well. I'm not surprised — none of us are — based on what we see on a daily basis."
 
For the season, Ragaini is tied for second on the team with nine receptions. He has returned five punts for an average of 8.4 yards per return; his most important to date was a 15-yard return at the end of the third quarter at Iowa State with the Cyclones leading, 14-9. Ragaini fielded a 34-yard punt from Joe Rivera at Iowa State's 40 and used a nice block from Geno Stone to take the ball to the 25. Seven plays later, quarterback Nate Stanley scored on a 1-yard sneak, putting the Hawkeyes ahead.
 
"Real big. It's a world of difference getting that field position," Ferentz said. "If you get that kind of field position, you're going to score points. To add an extra 15 yards on it made it pretty good for us."
 
Ragaini praised the other 10 on the return team, including Stone and Terry Roberts, who was hit hard near Iowa's sideline during the return.
 
"It was a nice, short kick, which I like," Ragaini said. "It wasn't up in the air for me to get killed. I caught it and everybody did a great job blocking — I had a seam to the outside, Geno was in front of me and got a quick block, which makes me comfortable back there."
 
Becoming comfortable on a big stage is where Ragaini has seen his most growth. Even though he saw action in three games as a true freshman in 2018, Ragaini said he had butterflies in his stomach for the duration of Iowa's 38-14 win over Miami (Ohio) on Aug. 31. He felt calm on the road at Ames, and his statistics showed.
 
"Now I want to keep growing, getting more comfortable and confident," Ragaini said. "I want to keep moving forward and pushing forward as a team. We got these first three wins, we have the bye week now, and we have to get better this week and be ready for Middle Tennessee."
 
Iowa hosts Middle Tennessee State on Sept. 28 with kickoff set for 11 a.m. (CT). The game will be broadcast on ESPN2.
 
Kinnick Stadium holds 69,250, but large crowd size is not an issue for Ragaini.
 
Iowa football hosts Minnesota in the battle for Floyd of Rosedale on Saturday, Nov. 16.  Fans are encouraged to wear black for the Blackout game, and it is the annual military appreciation celebration. Active duty military and veterans are eligible for a military ticket discount. Click HERE for tickets and pre-paid parking and additional game information.