Hawk Talk Monthly — September | Hawkeye Fan Shop — A Black & Gold Store | 24 Hawkeyes to Watch 2019-20 | Hawkeyes in the NFL | Duncan is Kicking Free | ISU Game Recap
By DARREN MILLER
hawkeyesports.com
IOWA CITY, Iowa — After a perfect three week stretch of games — including wins in conference and on the road — the No. 18 University of Iowa football team welcomes the first of two byes.
 
"It comes at a great time," Iowa head coach Kirk Ferentz said Sunday. "The bottom line is it is a real good time for our team to regroup. We had an intense three-week camp, then three weeks of games, so it is a chance for us to re-assess our whole squad.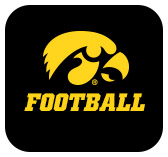 "We know a little more about it now, and hopefully we'll be able to rest guys, recharge them a little bit, and also move players along and come out of this week a better football team."
 
Ferentz said several players either didn't make the trip to Ames on Sept. 14 because of injuries, were going into the game dinged up, or were injured during Iowa's 18-17 win in the Iowa Corn Cy-Hawk Series.
 
"If we were playing Saturday, I'm not sure if they would play or not," Ferentz said.
 
The next game for the Hawkeyes is Sept. 28 against Middle Tennessee State in Kinnick Stadium.
 
5 in a Row Over Iowa State
One of the biggest stories coming out of Iowa's fifth consecutive victory over Iowa State was weather. The teams waited through two lightning/rain delays that lasted a combined 2 hours and 55 minutes.
 
"We knew it was going to be a tough environment, it always is any time we go to Ames," Ferentz said. "Their crowd is lively, they have a good football team that plays hard, and it is always a challenging game, either venue.
 
"What we didn't know is that it would become a nighttime game, which makes it that much harder. The delays threw a monkey wrench in there. The players handled things well, the staff had a good plan, too. The players, their ability to adjust to the variance in times and then with the second one which got a little challenging with the length of the delay (2:06). Guys started getting hungry and all that, so we had managers go out and getting food.
 
"All in all, everybody handled it well. Luckily we weren't worn out. Those were three pregame warmups we went through which is unheard of. All that stuff going on, yet the players stayed focused and competed better as the game went on."
 
Plus-2 in Turnovers
Iowa benefitted from two lost fumbles by Iowa State on Saturday, while the Hawkeyes didn't turn the ball over for a second consecutive game.
 
"(Iowa State) turned it over and we got a field goal out of that, and in the fourth quarter we get the punt return to the 25 and finished that drive off with (quarterback) Nate (Stanley) sneaking it in for a touchdown. Those kinds of things are huge."
 
Not Perfect, but Competed Hard
Ferentz said the Hawkeyes were not perfect in all three phases at Iowa State, but they competed hard in all three phases.
 
"We learned from our mistakes as we went on," Ferentz said. "Special teams is one area I thought we did a nice job."
 
Iowa football hosts Minnesota in the battle for Floyd of Rosedale on Saturday, Nov. 16.  Fans are encouraged to wear black for the Blackout game, and it is the annual military appreciation celebration. Active duty military and veterans are eligible for a military ticket discount. Click HERE for tickets and pre-paid parking and additional game information.