Hawkeye Fan Shop — A Black & Gold Store | 24 Hawkeyes to Watch 2019-20 | Hawk Talk Monthly — September | Hawkeyes in the NFL | Football Freshman: Tyler Goodson | Football Freshman: Jack Campbell
By DARREN MILLER
hawkeyesports.com
IOWA CITY, Iowa — Justin Britt was a high school freshman at football power Warren Central in Indianapolis when he had an idea to boost his popularity among the student body.
 
His plan, of course, revolved around football.
 
"I wanted to be a young guy starting on the offensive line," Britt said. "It was for popularity, but then I knew college was going to happen and I wanted to be well-prepared."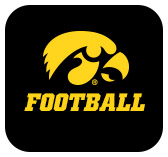 The 6-foot, 5-inch, 290-pound Britt is a freshman at the University of Iowa, where he has seen action in two games and regularly practices with the top two offensive units at right guard.
 
When Britt was a high school freshman, his offensive line coach, Derek Shay, delivered a message.
 
"He told me he was going to need me to start varsity as a sophomore, so I locked in and he taught me the basics," Britt said. "I was able to grow my knowledge as the game went on."
 
Iowa head coach Kirk Ferentz, an offensive line specialist, was amazed by what Britt knew at a young age. Ferentz met with Britt a month before the early enrollee attended classes at Iowa.
 
"I couldn't remember a lineman talking in that much detail about playing offensive line," Ferentz said. "The things he had been taught and saw while playing, at that age especially, most guys can't talk in those terms. It stood out to me."
 
Shay is now tight ends coach at McNeese State University in Lake Charles, Louisiana; Britt is now a collegiate lineman who is playing for more than popularity.
 
In May of 2017, Britt's high school teammate, Dijon Anderson, who had a scholarship to Southern Illinois, was shot and killed in Indianapolis. Days prior, Anderson pulled Britt aside and told him it was his time to step up and keep grinding.
 
"It caused me to work harder, because (Dijon) is not here and I want to live his dream, too," Britt said.
 
In June of 2017, the summer before his final high school season, Britt attended a camp at Iowa, where his goal was not to leave without a scholarship offer. Britt secured the offer before he drove away from Iowa City.
 
Still, it wasn't a storybook senior season for Britt, who tore an ACL in the second game against Trinity. The Warriors went on to cap an undefeated season by winning the Indiana Class 6A state championship, 27-7, over Carmel.
 
"When (the knee injury) happened, I put my personal stuff to the side to help my team," Britt said. "We had a young guy who didn't get a lot of reps in my spot. I had to forget what was going on with me and help him."
 
Toward the end of the season, the notion of not being able to play football took its toll and Britt craved a change of scenery. He graduated early from high school to get a fresh and early start at Iowa.
 
Ferentz thought Britt would begin practice in August and ease his way back into the game.
 
"He jumped right in and did a good job," Ferentz said. "He has been impressive."
 
What does Britt enjoy most about being back on a football field?
 
"Getting yelled at by my (offensive line) coach, (Tim) Polasek," he said with a laugh. But he is serious.
 
"He wants me to get better and when he is happy for me, it's the greatest feeling," Britt said. "You have to listen to the yelling. He might be snapping on you, but what he is saying makes sense."
 
Britt was a high school teammate with Hawkeye defensive back Julius Brents. Current Hawkeye defensive back D.J. Johnson (North Central) and wide receiver Tyrone Tracy, Jr., (Decatur Central) are also from the Indianapolis area.
 
The Hawkeyes host Middle Tennessee State on Saturday at 11:01 a.m. (CT). The game will be broadcast on ESPN2.
 
Iowa football hosts Minnesota in the battle for Floyd of Rosedale on Saturday, Nov. 16.  Fans are encouraged to wear black for the Blackout game, and it is the annual military appreciation celebration. Active duty military and veterans are eligible for a military ticket discount. Click HERE for tickets and pre-paid parking and additional game information.