Hawkeye Fan Shop — A Black & Gold Store | Hawk Talk Monthly — September | 24 Hawkeyes to Watch 2019-20 | MTS Game Recap | Hawkeyes in the NFL
By DARREN MILLER
hawkeyesports.com
IOWA CITY, Iowa — "They whooped us today."
 
When an opposing head football coach opens his postgame news conference with a quote like that, you know you put forth a good effort. It was a 644-yard good effort for the University of Iowa, which improved to 4-0 for the first time since 2015, when it won the Big Ten West Division.
 
The Hawkeyes scored on its first four drives and its final four drives to defeat Middle Tennessee, 48-3, on Sept. 28 in front of 63,706 inside Kinnick Stadium.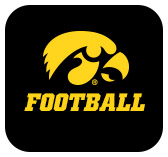 "They whooped us today," Middle Tennessee head coach Rick Stockstill said. "We didn't do anything to slow them down."
 
By the way, the Blue Raiders have played in four consecutive bowl games. On this day, they were on the wrong end of an offensive onslaught. Iowa's yardage total was the most by a Kirk Ferentz-coached Hawkeye team and Iowa's 351 rushing yards were the fourth-most in the Ferentz era.
 
The days of Big Ten football being "three yards and a cloud of dust" turned into "seven yards and a potential score" on almost every Hawkeye snap. It started with an opening 9-play, 65-yard touchdown drive where Iowa ran for 37 yards and threw for 28.
 
Iowa junior offensive tackle Tristan Wirfs said picking up Middle Tennessee's frequent blitzes to the A gap would be key.
 
"If we could slam the door on those, we were going to be feeling pretty good," Wirfs said.
 
Junior running back Toren Young carried the ball 11 times for a career-high 131 yards. His 11.9-yard per carry average was second only to wide receiver Ihmir Smith-Marsette, who averaged 14 yards a crack on two attempts.
 
"Our offensive line was pushing hard and getting us to the next level," Young said. "Our approach every game is to establish the run and we were able to do that."
 
The Hawkeyes held the upper hand physically, especially in the trenches. Ferentz was more pleased with his team's mindset heading into this game after a bye week.
 
"I'm happy we showed up ready to play," Ferentz said. "To me, that is a good indication in Week 4 that the team is thinking right, and if you're thinking right, then you have a chance to improve. That's the race we're trying to run week-in and week-out."
 
The Hawkeye put up eight explosive plays of 20-or-more yards, including a 52-yard run by Young and runs of 27 and 25 yards by true freshman Tyler Goodson.
 
Junior guard Cole Banwart made his first start of the season and eighth of his career. He was impressed that the Hawkeyes rolled up such flashy numbers against what he called a fast and physical Blue Raider defense.
 
"We wanted to get on our guys, block them, and open holes for the backs," Banwart said. "We have good backs and we have guys who see the hole and hit it."
 
Goodson finished with 97 yards on 12 carries; Sargent added 91 yards on 14 attempts. All of Sargent's yards came in the first half when Iowa built a 24-0 lead.
 
"When we have success on the ground like we did today, it opens things for (quarterback) Nate (Stanley) and makes his job easier," Sargent said. "I'm excited to be part of it. It's a special feeling and I'm fortunate to be here."
 
Stanley's accurate right arm contributed a season-high 276 yards to Iowa's offensive total.
 
Iowa's offense benefitted from line play that provided protection up front when needed and moved the line of scrimmage when needed. In all, it was a whooping kind of day.  
 
Iowa football hosts Minnesota in the battle for Floyd of Rosedale on Saturday, Nov. 16.  Fans are encouraged to wear black for the Blackout game, and it is the annual military appreciation celebration. Active duty military and veterans are eligible for a military ticket discount. Click HERE for tickets and pre-paid parking and additional game information.