Hawkeye Fan Shop — A Black & Gold Store | Hawk Talk Monthly — September | 24 Hawkeyes to Watch 2019-20 | MTS Game Recap | Hawkeyes in the NFL | No. 14 Iowa 'Whoops' Blue Raiders
By RICK BROWN
hawkeyesports.com
 
IOWA CITY, Iowa — Tight ends T.J. Hockenson and Noah Fant were go-to targets for University of Iowa quarterback Nate Stanley last season.
 
They combined to catch 88 passes for 1,279 yards and 13 touchdowns. But Hockenson and Fant are now making a living in the National Football League. And Stanley has a new group of go-to guys.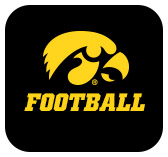 "After Noah and T.J. left, we knew we were going to have to take on more of the load," said wide receiver Brandon Smith. "We're up to the challenge."
 
Smith, a junior, had six receptions for 71 yards and two touchdowns, all career bests, in the Hawkeyes' 48-3 victory over Middle Tennessee on Saturday at Kinnick Stadium.
 
It was a big-play day for Stanley, who now has 60 career touchdown passes and trails only Chuck Long (74) and Drew Tate (61) on the all-time list.
 
Stanley threw for 276 yards as No. 14 Iowa improved to 4-0.  Eleven of his 17 completions went for at least 10 yards. Smith had catches for 13 and 14 yards, in addition to touchdown grabs of 18 and 10 yards.
 
Redshirt freshman Tyrone Tracy, Jr., had a career-best 85 receiving yards, including a pair of 33-yard receptions.
 
"We try to keep the energy going," Tracy said. "Explosive plays create energy. Even in Kinnick Stadium as a whole. It gets everyone going."
 
Junior Ihmir Smith-Marsette had catches for 10 and 38 yards and also scored his first career rushing touchdown on a 14-yard jet sweep in the third quarter.
 
Junior tight end Shaun Beyer had a 27-yard catch and freshman wide receiver Nico Ragaini added a 35-yard reception.
 
"We have a lot of guys who can go out there and make plays," Smith-Marsette said. "Nico, Brandon, Tyrone, when those dudes get the ball in their hands you never know what's going to happen."
 
All those big plays were part of Iowa's 644 yards of total offense, the most in the head coach Kirk Ferentz era.
 
"We have better balance at the receiver position, first and foremost," Ferentz said. "Coming into the season we were expecting production and good play from Ihmir and Brandon Smith, and to see Tyrone Tracy jump up and do a good job. Nico came up with a great third-down play, and Beyer, too, coming off that goal line.
 
"We have a lot of guys involved and the backs are doing a good job with their role. If we spread it around, it's always a good thing."
 
Stanley, who made his 30th consecutive start Saturday, is a quarterback with options.
 
"We've always had a lot of options," Stanley said. "The tight ends were more heavily dominant earlier, but the receivers do a great job. They have the ability to make people miss and run away from people when they do catch the ball."
 
Smith-Marsette said Stanley's ability to scan the field is a strength of this offense.
 
"He goes through his progressions well," Smith-Marsette said. "If he doesn't like something he's going to the next one. That makes you want to go out there and run your route to the fullest even though you might not be the first option."
 
During spring drills, Tracy, Jr., and Ragaini created a buzz with their play in practices. Now they've carried that over to the field of play.
 
"I know my ability," Tracy, Jr., said. "But just knowing your ability does nothing for the team. You have to go out and show them."
 
Stanley's experience has helped speed the growth of the receivers.
Smith's 18-yard touchdown catch in the first quarter came on a new play. He ran a V route and cut for the back pylon. The cornerback provided the coverage they were expecting and Stanley threw a perfect strike.
 
"That's one of the best feelings you can have, knowing you have a quarterback like Nate," Smith said. "You know he's going to put the ball exactly where it needs to be. That makes it a lot easier on us."
 
Iowa football hosts Minnesota in the battle for Floyd of Rosedale on Saturday, Nov. 16.  Fans are encouraged to wear black for the Blackout game, and it is the annual military appreciation celebration. Active duty military and veterans are eligible for a military ticket discount. Click HERE for tickets and pre-paid parking and additional game information.