Hawkeye Fan Shop — A Black & Gold Store | Hawk Talk Monthly — September | 24 Hawkeyes to Watch 2019-20 | MTS Game Recap | Hawkeyes in the NFL | No. 14 Iowa 'Whoops' Blue Raiders | Stanley's New Go-To Guys
By DARREN MILLER
hawkeyesports.com
 
IOWA CITY, Iowa — After closing the nonconference schedule with a 644-yard offensive explosion, the University of Iowa football team prepares for its final eight regular season games — all against Big Ten opponents.
 
The No. 14 Hawkeyes (4-0 overall, 1-0 Big Ten) resume league play at No. 18/19 Michigan (3-1, 1-1) on Oct. 5 in Ann Arbor, Michigan.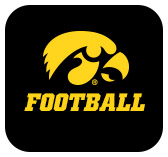 "It's always exciting to go up there," Iowa head coach Kirk Ferentz said Sunday. "It's always a tough challenge, they always have a tremendous team, they are well-coached. I'm certain we will be the underdogs, so our work is cut out for us.
 
"We'll have to play our best game of the season and it is fair to predict it will be a 60-minute game if we are going to be successful."
 
Barring any setback during the week, Ferentz said junior offensive lineman Alaric Jackson and sophomore defensive back Kaevon Merriweather should return to game action.
 
Assessing the first trimester
"We learned more about our team (Saturday during a 48-3 win over Middle Tennessee)," Ferentz said. "We're making improvement in a lot of areas; there are still things we can do a lot better, so hopefully we'll be able to address those things this week and keep building."
 
A pair of 1,000-yard rushers
Junior Toren Young rushed for 131 yards and junior Mekhi Sargent added 91 on Saturday against Middle Tennessee. For their careers, Young now has 1,081 rushing yards and Sargent has 1,044.
 
"Even though they are juniors, it feels like they are senior players with the way they carry themselves," Ferentz said. "Everything they do is first class.
 
"Two positions where we have a lot of guys doing a lot of good things and have seen a lot of growth — the receiver group is better than it was two years ago or even last year. You talk about the running backs, we have four guys we feel comfortable with right now. The two players leading the way are Mekhi and Toren. They are prideful guys who are improvement-driven."
 
Stingy defense
Iowa is third in the NCAA in scoring defense, allowing 8.5 points per game. The Hawkeyes are fifth in total defense (251 yards per game), and 10th in rushing defense (77 yards per game).
 
"A lot of guys are playing well together, complementing each other and we are getting good leadership up the middle," Ferentz said. "Kristian Welch and Geno Stone are two of the primary signal-callers and the communication guys in our defense, so they have a valuable role. Most everybody is on the same page, we're playing well collectively, and ultimately that's what playing defense is about."
 
Iowa and the Wolverines haven't played since 2016, a 14-13 win for Iowa. Michigan won the last meeting in Ann Arbor, 42-17, in 2012. Kickoff is set for 11 a.m. (CT) and the game will be televised by FOX Sports.
 
Iowa football hosts Minnesota in the battle for Floyd of Rosedale on Saturday, Nov. 16.  Fans are encouraged to wear black for the Blackout game, and it is the annual military appreciation celebration. Active duty military and veterans are eligible for a military ticket discount. Click HERE for tickets and pre-paid parking and additional game information.