Hawkeye Fan Shop — A Black & Gold Store | Fight For Iowa | I-Club Events Page | Ferentz Transcript (PDF)
IOWA CITY, Iowa — University of Iowa head football coach Kirk Ferentz held his weekly news conference Tuesday in the Stew and LeNore Hansen Football Performance Center. Here are a few highlights as well as the complete transcript: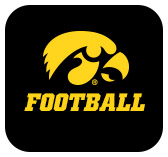 Experienced QBs are a Plus on the Road
Iowa started a senior quarterback the last two times the Hawkeyes won in Ann Arbor. With senior Brad Banks under center in 2002, Iowa defeated Michigan, 34-9. Banks completed 18-of-29 passes for 222 yards and three touchdowns.
 
With senior Ricky Stanzi under center in 2010, Iowa defeated Michigan, 38-28. Stanzi completed 17-of-24 passes for 248 yards and three touchdowns.
 
This will be Iowa senior quarterback Nate Stanley's first trip to the Big House.
 
"If your quarterback plays well at home or away, it's a good thing," Ferentz said. "The way we're wired, that's certainly a good thing, too.
 
"Nate is a veteran guy. That experience helped him on the road the last time out (at Iowa State). That was a tough environment. Having a veteran quarterback is a plus. It doesn't guarantee anything, but it's certainly a plus."
 
Finding Diamonds in the Rough in the Wolverine State
The two-deep roster for Iowa includes five players from the state of Michigan: junior offensive tackle Alaric Jackson, junior defensive end Chauncey Golston, senior defensive tackle Cedrick Lattimore, senior defensive back Michael Ojemudia, junior defensive end Zach VanValkenburg, and sophomore safety Kaevon Merriweather.
 
"Credit there goes to Phil Parker," Ferentz said. "We have to see diamonds in the rough, typically — not 100 percent, but usually the home state schools don't offer guys that we recruit out of state. You have to find something there that we think will mesh well with our program. You think about guys like Desmond (King) or Chauncey and Cedrick on this team, those guys have grown in the program. They weren't quite ready to go, although Desmond jumped in there and did a heck of a job as a young player. Part of it is luck. You have to know what you're looking for, but a little luck helps, too."
 
Survive and Build
There was adversity on the Iowa offensive line when Jackson went down with a knee injury during the season-opening victory over Miami (Ohio).  The Hawkeyes have turned the injury into a positive.
 
"Any time you can survive injuries to starters and guys go in and play, hopefully not just get by, and play well, that's a positive," said Ferentz. "That's how you build depth. There is no better way than game competition, you can't substitute that.
 
"The trick is surviving it and the offensive line has done a good job of managing the bums through the first four weeks. Getting A.J. back will help us and hopefully we'll be a more diversified group."
 
Jackson is back practicing with the team and as long as he keeps progressing, Ferentz says he will be on the field Saturday at Michigan Stadium.
 
"If he's capable, we'll start him," said Ferentz. "He's one of our starters."
 
Valuing the Football
A good recipe for winning is ball security.  Iowa has committed one turnover — a third-quarter fumble against Miami (Ohio) — in the first month of the season.
 
"Coming here in 1981, I remember coach (Hayden) Fry said, 'Before you're going to win, you can't lose,' and Ted Marchibroda said more games are lost than won," said Ferentz. "Those old axioms are true.
 
"(This year) part of it is experience and part is concentration. For the most part guys touching the football have experience and concentration is something everybody is capable of."
Working their Way Back
Jackson, Merriweather, and defensive back Julius Brents all practiced Tuesday and Ferentz said they "came out of it OK."
 
"We'll let them work all week, see how they look, but hopefully we'll start getting some guys back on the field instead of losing guys," Ferentz said. "That's encouraging from that standpoint."
Iowa football hosts Minnesota in the battle for Floyd of Rosedale on Saturday, Nov. 16.  Fans are encouraged to wear black for the Blackout game, and it is the annual military appreciation celebration. Active duty military and veterans are eligible for a military ticket discount. Click HERE for tickets and pre-paid parking and additional game information.