Hawkeye Fan Shop — A Black & Gold Store | 24 Hawkeyes to Watch 2019-20 | Hawk Talk Monthly — October | Hawkeyes in the NFL | Football Freshman: Justin Britt | Football Freshman: Tyler Goodson | Football Freshman: Jack Campbell
By DARREN MILLER
hawkeyesports.com
IOWA CITY, Iowa — On Nov. 4, 2017, Montini Catholic junior safety Jermari Harris settled in to watch the Ohio State-Iowa football game in his hometown of Chicago.
 
He was mesmerized when Iowa cornerback Josh Jackson intercepted Ohio State's J.T. Barrett three times and the Hawkeyes crushed the Buckeyes, 55-24. Because of that game, Harris vowed that Iowa was the place for him, and the next season he switched positions from safety to cornerback.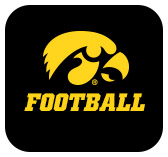 "Josh Jackson's story reminded me of myself," said Harris, an unheralded recruit who was known more for basketball until later in his high school career.
 
Harris has worked his way onto Iowa's two-deep at left cornerback behind senior Michael Ojemudia. He has seen action against Iowa State and Middle Tennessee, making two tackles during Iowa's 48-3 win over the Blue Raiders on Sept. 28 in Kinnick Stadium.
 
"We thought highly of him in high school and he has done a good job since he has been here," Iowa head coach Kirk Ferentz said. "He is picking things up well; we have had injuries back (in the secondary), so he has played there and on special teams a little bit."
 
The 6-foot, 1-inch, 177-pounder invokes comparisons to Jackson and Desmond King, two lightly recruited Hawkeye defensive backs who are now in the NFL.
 
"We think he is similar and has a similar skillset to (King and Jackson)," Ferentz said. "He seems to have a similar temperament and we like what we see about him. He has a good future here and he is learning every day."
 
Harris and the Hawkeyes will make their second road trip of the season this weekend when No. 14 Iowa (4-0 overall, 1-0 Big Ten) travels to No. 18/19 Michigan (3-1, 1-1). It will be another learning opportunity for Harris, who roomed with Ojemudia in the preseason and continues to pick the mind of Ojemudia and other veteran Iowa defensive backs.
 
So far, Harris has handled the increased work load from high school to college well. He is majoring in pre-business and is becoming more comfortable with time management. When it comes to upside on a football field, Harris has more than most. He played football until fourth grade, then didn't play again until his junior season at Montini Catholic.
 
As a senior for the Broncos, Harris made 72 tackles with eight interceptions, five pass break-ups and two forced fumbles. He had plenty of scholarship offers, mostly from mid-major programs, so when he received one from Iowa in January of 2019, he knew Iowa City would be his destination.
 
"Iowa was my dream school, so once I got his offer, I knew I was coming here," Harris said.
 
This season, he has been one of two true freshmen to crack the two-deep (Justin Britt is the other at offensive right guard).
 
"It means the world, especially as a freshman, because you are against the odds," Harris said. "To come out, make my first tackle, and get my feet wet was a blessing."
 
The Iowa-Michigan game kicks off at 11:05 a.m. (CT). The Hawkeyes have won five of the last six meetings in the series.
 
Iowa football hosts Minnesota in the battle for Floyd of Rosedale on Saturday, Nov. 16.  Fans are encouraged to wear black for the Blackout game, and it is the annual military appreciation celebration. Active duty military and veterans are eligible for a military ticket discount. Click HERE for tickets and pre-paid parking and additional game information.