Hawkeye Fan Shop — A Black & Gold Store | 24 Hawkeyes to Watch 2019-20 | Hawk Talk Monthly — October | Hawkeyes in the NFL | Game Recap | Defense, Golston Shine at Michigan
By DARREN MILLER
hawkeyesports.com
ANN ARBOR, Mich. — At 5-foot, 10-inches, perhaps the powers that be at many Division I football programs thought Geno Stone was too short to contribute. At 177 pounds, maybe they thought he wasn't packing enough weight. Didn't his 40-yard dash time meet their standards?
 
"But he was a really good football player and a great young guy," University of Iowa head coach Kirk Ferentz said. "He makes us better and has a knack for doing good things out there."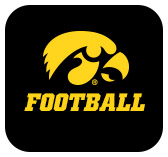 Stone, a native of New Castle, Pennsylvania, has beefed up to 210 pounds and last season the junior strong safety was named honorable mention All-Big Ten. On Saturday at Michigan, he made his 12th career start, grabbed his first interception of the season and sixth of his career.
 
"I thought it was a big play in the game," Stone said of his first quarter pick of Shea Patterson. "They hit a couple big passes and they were moving the ball, so getting that turnover helped a lot. We were trying to give the offense energy off that."
 
At that point of the game, No. 18/19 Michigan led 10-0 and No. 14 Iowa had run eight plays for 12 yards.
 
The Wolverines won the game, 10-3, but after Stone forced the turnover, they did not score again. From then, Michigan had four drives that went three-and-out and three others that moved the ball 22 yards or less.
 
The interception wasn't Stone's only highlight of the afternoon in front of 111,519 in Michigan Stadium. Of his four tackles, one came in the second quarter when the Wolverines were faced with third-and-9 from their 43-yard line. Stone stopped Michigan's Zach Charbonnet six yards short of a first down.
 
In the fourth quarter, Stone defended a pass in the end zone against Michigan wide receiver Ronnie Bell, and on the next play, the Wolverines missed a 34-yard field goal that would have made it a two-possession game with 11 minutes to play.
 
"We gave our all," Stone said. "We held them to 10 points, but as a defense, we need to keep improving."
 
A week earlier on the same field against Rutgers, Michigan rolled to 55 points and 476 yards. On Saturday, Iowa limited the Wolverines to 10 points and 267 yards on 59 plays. It shouldn't come as a surprise since the Hawkeye defense is among the best in the country. Iowa entered the game ranked third in scoring defense (8.5 points per game), fifth in total defense (251 yards allowed per game), and 10th in rushing defense (77 yards allowed per game).
 
Ferentz is also thankful for Stone's leadership in the Hawkeye secondary. An injury to starting free safety Kaevon Merriweather in Week 2 meant untested sophomore Jack Koerner needed to step up in a hurry. Stone's guidance has eased that transition.
 
"It's good to have a veteran guy to help out with Jack," Ferentz said. "He is coming along."
 
Defensive end Chauncey Golston, Iowa's leading tackler against Michigan, recognizes what the Hawkeyes have in Stone at the back end of the defense.
 
"He is a great player, a field general who can roam," Golston said. "He is a nice asset to have."
 
The next challenge for Iowa's defense is Oct. 12 at home against No. 11/12 Penn State. The Nittany Lions rank first in the conference in passing offense (305.6 yards per game), and second in total offense (499.6 yards per game) and points per game (47). Kickoff is set for 6:30 p.m. (CT).
 
Iowa football hosts Minnesota in the battle for Floyd of Rosedale on Saturday, Nov. 16.  Fans are encouraged to wear black for the Blackout game, and it is the annual military appreciation celebration. Active duty military and veterans are eligible for a military ticket discount. Click HERE for tickets and pre-paid parking and additional game information.