Hawkeye Fan Shop — A Black & Gold Store | Fight For Iowa | I-Club Events Page | Ferentz Transcript (PDF)
IOWA CITY, Iowa — University of Iowa head football coach Kirk Ferentz held his weekly news conference Tuesday in the Stew and LeNore Hansen Football Performance Center. Here are a few highlights as well as the complete transcript: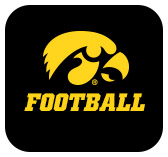 In it for the Long Haul
Whether it's the four wins or one loss, University of Iowa head coach Kirk Ferentz emphasized that seven regular season games remain. There is no time for celebration or frustration.
 
"It's a long season and we're in it for the long haul," Ferentz said. "We had a good day Sunday, everybody went back to work, and the whole thing is taking what we learned Sunday and trying to grow from that. That's what we've been focused on doing. We've gotten off to a good start this week. We'll need that in preparation for an outstanding Penn State football team."
 
Ferentz referenced the 2003 season when Iowa lost to Michigan State, Ohio State, and Purdue, but also defeated two top 20 teams in the regular season and then No. 17 Florida in the Outback Bowl.
 
"You play out the whole season," Ferentz said. "You don't panic after one game, or don't have a party, either. It's all about running the race well, and we have 12 laps we have to run and we'll assess everything at the end."
 
One of Iowa's victories in 2003 came against Penn State at home, 26-14.
 
Strong Offense Coming to Town
Iowa's defense was a bright spot Oct. 5 at Michigan, holding the Wolverines to a season-low 10 points and 267 yards. The next challenge is a Penn State offense that leads the conference in passing offense (305.6 yards per game), second in total offense (499.6), and second in scoring offense (47 points per game).
 
"This is tough," Ferentz said. "This is the best offensive football team we play, so we have a big challenge defensively."
 
It's similar on the other side of the ball, too.
 
"Their guys on defense are every good as the team we saw a week ago," Ferentz said.
 
Reinforcements Coming
Senior defensive tackle Brady Reiff and junior defensive back Matt Hankins have missed Iowa's last three games because of injury.  There is a chance both could return to Kinnick Stadium on Saturday night.
 
"Brady started practicing last week, so he should be ready to go this week," said Ferentz. "Hankins was able to jump in and start working yesterday so we'll see how the week goes with him, but he has a chance to be available.
 
"(With Hankins) It's not the same as Reiff a week ago or (Alaric) Jackson two weeks ago. It's how much work can he do, if he is able to go; that type of thing. You worry about volume with the kind of injury he had.
"We'll play it by ear and see what he can do. He's a veteran player that we have confidence. The good news is D.J. (Johnson) has done a good job back there."
America Needs Farmers
Matt Kroul, a stalwart on Iowa's defensive line from 2005-08, is the most recent member to the America Needs Farmers Wall of Honor. He will be recognized during the Penn State-Iowa football game Saturday.
 
"Every recipient has been so worthy and Matt is right there with all those guys," Ferentz said. "Just a tremendous group of individuals and I'm happy for Matt. It's a great, great honor and one he's very deserving of."
 
Somber News About a Former Hawkeye
Ferentz confirmed the death of Derrick Mitchell, Jr., who lettered for the Hawkeyes in 2015. The 24-year-old Mitchell, who was from St. Louis, passed away from injuries suffered in an automobile accident over the weekend.
 
"On a somber note, all of us are sorry to hear about Derrick Mitchell," Ferentz said. "He was involved in an accident, last Friday morning. It's a very tough thing, and way too young for something like that to happen. Our condolences are with his entire family and just a sad thing to relay."
 
During the 2015 season, Mitchell carried the ball 25 times for 162 yards and two touchdowns, and caught 15 passes for 141 yards. Mitchell played his final season at Incarnate Word in 2016, rushing for 601 yards and five touchdowns and catching 17 passes with another score.
 
Iowa football hosts Minnesota in the battle for Floyd of Rosedale on Saturday, Nov. 16.  Fans are encouraged to wear black for the Blackout game, and it is the annual military appreciation celebration. Active duty military and veterans are eligible for a military ticket discount. Click HERE for tickets and pre-paid parking and additional game information.