Hawkeye Fan Shop — A Black & Gold Store | 24 Hawkeyes to Watch 2019-20 | Hawkeyes in the NFL | Photo Gallery
By MAGGIE WESLEY
hawkeyesports.com
IOWA CITY, Iowa – Consistent. A word often used to describe Iowa's special teams group. With a diverse group of upperclassman, walk-ons and transfers, special teams coordinator LeVar Woods has worked hard for that to become a reality.
Juniors Caleb Shudak and Keith Duncan are walk-on kickers seeing significant action this season. In the preseason, questions surrounded Woods on who would secure that number one kicking spot. Entering week six, now the question is why not both?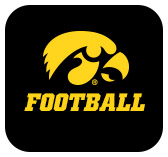 "Both kickers have done an excellent job throughout spring football, fall camp and into the season," said Woods. "Right now, Keith (Duncan) has had the first opportunities and he's done well with those. That's not to say Caleb isn't capable to do it either. Both guys have done well and contributed to the team. Caleb (Shudak) has done a good job kicking off and Keith has held his own kicking field goals and extra points. We're happy with two kickers and we like them both. They have done an excellent job."
 Keith Duncan was one of 10 true freshmen to see action in 2016. In the 2016 game against Michigan, Duncan connected 2-of-2 field goals, including the game-winner on the final play of the game. Without seeing game action for the past two years, he was quick to make his name known. Duncan has made 11-of-12 field goal attempts and 14-of-14 PAT attempts. He is tied for second in the country for field goals made and ranks sixth in the Big Ten with 47 points.
"He's worked incredibly hard and has been diligent in what he's done and how he's gone about his business," Woods said. "It hasn't been an overnight deal. It's something he's worked on these last couple years. Every single day he puts in time and effort and it's paid off for him."
With everyone trying to find their place in the group, in the offseason the Iowa specialist welcomed senior Michael Sleep-Dalton to the team. Dalton is an Australian native and graduate transfer from Arizona State. He trained previously at Pro-Kick Australia and came to the U.S. to compete on a larger stage.
"He is a little bit older than the other guys. He has some life experiences that the other people don't have so that blends in to his personality and what he brings. As he continues to understand what we do in our overall program and with the culture we have here at Iowa, he's only going to continue to flourish. Within the position room and the group, he adds a different perspective. He's been at a different university and he's been in the workforce. At age 27, he's engaged and has had different life experiences than most of the team."
Sleep-Dalton has averaged 43.0 yards on 20 punts. In week two, Dalton punted a season best of 57 yards. Besides being an ambidextrous punter, Dalton brings something different to the table.
"The transition has been good. Michael is a likeable guy," said Woods. "The players really like and respect him and want to go to war with him. He's added to the room and the group. He's brought something personality wise that's a little bit different to not only the team, but our position group. I'm happy with what he's done and we're looking for consistency from him as he goes about this week and moves forward in the season."
 
Sleep-Dalton had a slow start for the Hawkeyes. In his first game, he had only one punt for 31 yards. Sleep-Dalton found his groove during the Rutgers game and totaled 6 punts for an average of 48.33 yards. In week three, he followed up with 5 punts for an average of 47.20 yards at Iowa State.
"Overall, we're trying to be more consistent and improve upon what we've done so far this year," Woods said. "We're at game six right now and some things are starting to shake out. We're trying to be in a position to help our team and establish field position. We want to have an opportunity to score when we can and continue to push forward. We have some young guys emerging and some older guys just being more consistent. We want to be consistent in all areas whether its kicking, snapping and punting, the coverage, the things that we're doing, that's all we're looking for. Consistency and try to move forward."
Iowa hosts No. 10 Penn State on Saturday at Kinnick Stadium. Kickoff is set for 6:44 p.m. (CT).
Iowa football hosts Minnesota in the battle for Floyd of Rosedale on Saturday, Nov. 16.  Fans are encouraged to wear black for the Blackout game, and it is the annual military appreciation celebration. Active duty military and veterans are eligible for a military ticket discount. Click here for tickets and pre-paid parking and additional game information.