Hawk Talk Monthly — October | Hawkeye Fan Shop — A Black & Gold Store | 24 Hawkeyes to Watch 2019-20 | Hawkeyes in the NFL
By RICK BROWN
hawkeyesports.com
IOWA CITY, Iowa — Motivational words and phrases cover the walls of the Kinnick Stadium tunnel that takes the University of Iowa football team from its locker room to the field and back.
 
One of those words is "together." It is a word to live by, especially now. Two weeks ago, the Hawkeyes went to Ann Arbor, Michigan, looking for the program's eighth straight win. Now Iowa enters Saturday's Homecoming game with Purdue on a two-game losing streak.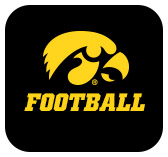 Back-to-back losses, even against top 25 foes, will test the mettle of any football team.
 
"When you start blaming people, that's when the team starts to fall apart," safety Gene Stone said. "We're trying to move forward as a team. We all believe in each other. It's a team sport. Everybody has to be together."
 
Iowa's defense played well enough to win the past two weeks. The offense struggled to find a rhythm at Michigan. Saturday's 17-12 loss to No. 9 Penn State was the result of a dominating performance by the Nittany Lions' defensive front as well as two Iowa turnovers that led to 10 points.
 
The Hawkeyes had 356 yards of total offense against a team that entered the game fifth nationally in total defense at 254.2 yards a game.
 
Quarterback Nate Stanley threw for a season-high 286 yards and a touchdown, the 61st of his career. That tied Drew Tate for second on Iowa's all-time list, but he got sacked twice and was under constant pressure in the pocket. Penn State was credited with seven tackles for a loss and five quarterback hurries, one which led to a Stanley interception in the fourth quarter.
 
The job at hand now is to reverse fortunes, starting with Saturday's  11 a.m. (CT) Homecoming tilt against the Boilermakers.
 
"As long as we continue to put our heads to the grindstone and do what we need to do on a daily basis, this is going to pass and we will get through it," Stanley said. "We are going to come out the other side of the tunnel. We believe in everybody and each other and that's the message we're going to continue to work toward."
 
Defensive end A.J. Epenesa was credited with a sack and three of Iowa's four quarterback hurries, but the loss was the only statistic that mattered.
 
"We're doing the right things, we just need to do them better," Epenesa said. "We're playing hard, and we 're close to where we need to be. We have to do them a little better."
 
Keeping everyone on the same page after two tough losses won't be an issue, Epenesa said.
 
"We're a team, we're a family, we're a brotherhood," Epenesa said. "We're going to come back, like every other week, and attack the next game."
 
Offensive tackle Tristan Wirfs said it will take a team effort to reverse the fortunes of the past two weeks and make the offense more productive.
 
"It takes everyone to win a football game," Wirfs said. "It's not going to take a heroic effort. It's going to take all 11 guys."
 
Wide receiver Ihmir Smith-Marsette took a philosophical approach to what has happened the past two weeks.
 
"It's a bump in the road," Smith-Marsette said. "You're going to take some losses in life. You learn from them, bounce back and go hard each time out there. You attack anything in life. You have to keep your head up and keep moving forward. We'll get back on the horse next week and keep on fighting
 
Iowa football hosts Minnesota in the battle for Floyd of Rosedale on Saturday, Nov. 16.  Fans are encouraged to wear black for the Blackout game, and it is the annual military appreciation celebration. Active duty military and veterans are eligible for a military ticket discount. Click HERE for tickets and pre-paid parking and additional game information.