Hawkeye Fan Shop — A Black & Gold Store | 24 Hawkeyes to Watch 2019-20 | Hawkeyes in the NFL | Photo Gallery
By MAGGIE WESLEY
hawkeyesports.com
IOWA CITY, Iowa – The Nate Stanley era started in 2017, the same year quarterbacks coach Ken O'Keefe returned to the Iowa football staff after five years in the NFL. The pair has won 21 games over the last two and one-half years. They have won two bowl games (Ricky Stanzi is the only quarterback to win three bowl games in program history), and on Saturday, Stanley will try to win his third straight Homecoming game, in what will be his 33rd career start.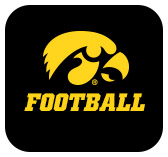 "Nate's been a pleasure to coach the last three years," said O'Keefe. "One of the benefits to having a three-year starter return on offensive at the quarterback position is that the quarterback and the offensive coordinator, Brian Ferentz, are used to working with each other, communicate extremely well together, and understand how everyone thinks."
Stanley tossed his 61st  career touchdown on Oct. 12 against Penn State. The scoring strike tied him with Drew Tate for second all-time in program history. Chuck Long (74) is Iowa's all-time leader in touchdown passes.
"His work ethic is unmatched. He's not going to leave the quarterback room or the building without being totally prepared for everything he's about to face," O'Keefe said. "I don't know if I've seen a guy work harder. He prepares down to every detail. He asks questions to make sure he doesn't leave any stones unturned. If it's something we haven't seen, being a three-year starter, he along with the coaching staff, can usually make a good adjustment based on what he sees. One of the important things that a lot of people don't understand is that on game days, the impact on coaching should be less than 5 percent. If it has to be more than that, you're probably going to be in trouble."
Stanley's ability to learn and adapt has benefited Iowa. He has started the last 32 games and the Hawkeyes have averaged 28.8 points per game, the fifth highest average by a starting quarterback in school history. He is 13-5 all-time at Kinnick Stadium.
"Nate has done a great job learning our system and has become a foundation of the process that we're teaching offensively," said O'Keefe. "He's worked his way through where he's mastered the system and he's part of the process of improvement. It can't happen until everything is done and takes its proper order. Nate has a lot of great suggestions that help us improve the way we do things, whether it's communication, route running, drops, reads; it doesn't matter what it is, it all makes a big difference."
Stanley's past two weeks haven't been easy. With back-to-back losses to (19) Michigan and (10) Penn State, O'Keefe plans to use the losses as a platform to improve and move forward from.
"All of that is in our past and Coach (Kirk) Ferentz does a great job moving the team forward immediately after any glitches that may occur," O'Keefe said. "The only thing we're looking to do is improve in the areas we need to improve. Number one is to take better care of the football; make better decisions with the football in our hands would be number two. If we do those things, we'll have a chance to be good at what we want to be."
Behind Stanley, the quarterbacks group is young. Redshirt freshman Spencer Petras saw action in 2018, playing two games. This season he has seen action in three of the six games. O'Keefe is excited to tap into the potential of this group.
"It's always hard to project the quarterback position where only one guy gets to play and there is a bunch of guys waiting in the wings working hard to get the opportunity," said O'Keefe. "They're going to work on improving their fundamentals, whether it's the drop, or the follow through. They'll be working on those things on the field and in the classroom. The biggest issue in all of sports is that the thing that matters most is productivity and not potential. You don't know what they're going to do until you get them in the game where it counts."
Iowa will host Purdue on Saturday at Kinnick Stadium. Kickoff is 11:01 a.m. (CT). The game is televised on ESPN2.
 
 
Iowa football hosts Minnesota in the battle for Floyd of Rosedale on Saturday, Nov. 16.  Fans are encouraged to wear black for the Blackout game, and it is the annual military appreciation celebration. Active duty military and veterans are eligible for a military ticket discount. Click here for tickets and pre-paid parking and additional game information.