Hawkeye Fan Shop — A Black & Gold Store | 24 Hawkeyes to Watch 2019-20 | Hawk Talk Monthly — October | Hawkeyes in the NFL | Honorary Captain: Ricky Stanzi | Honorary Captain: Miguel Merrick | Honorary Captain: Tom Hayes | Honorary Captain: Bob Stoops
By DARREN MILLER
hawkeyesports.com
IOWA CITY, Iowa — Phil Parker told Bob Sanders something at the 2003 Orange Bowl that changed Sanders forever.
 
Parker was defensive backs coach for the University of Iowa and Sanders was an All-American strong safety for the Hawkeyes. Early in the bowl game against Southern California, Sanders took two fingers to an eye and his vision was severely compromised. After being cleared by doctors, but before returning to the field, Sanders met with Parker.
 
"He said if you decide to go, when you get on the field, give it everything you have," recalled Sanders. "If you can't make it off the field, I will go out there myself and I will carry you off."
 
The conversation with Parker was inspirational.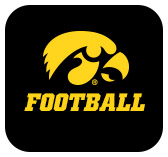 "That moment changed me forever," Sanders said. "I always played 100 percent every time I was on the field. When coach Parker said he would carry me off himself, that made me realize it was more than football. He cared about me — he knew what I was capable of, but he loved me enough that if I couldn't make it off the field, he would come out there himself and carry me off."
 
From then for Sanders, football always meant going to battle with family. That fact was more important than winning games, although the Hawkeyes were 21-5 in Sanders' final two seasons.
 
"You have to love it so much you are willing to give up your body for your brother," Sanders said.
 
Sanders finished his college career with 348 tackles, 30 pass breakups, 16 tackles for loss, and seven interceptions. Three times he was named first-team All-Big Ten, twice he was Iowa's most valuable player, and after the 2003 season, was named permanent team captain. Sanders was a second-team All-American by The Associated Press in 2003.
 
Sanders is honorary captain for Iowa's Homecoming game against Purdue on Saturday. He met with Hawkeye football players and support staff Friday and you could hear a pin drop during his 10-minute address.
 
"What you give is what you get, you can't expect anything else," Sanders told the team. "It's bigger than just football, you have to love one another. Why not give it all you have? Why not use this opportunity not to just run and make the tackle — when you get there, knock him out, period.
 
"When you go to make a block, don't just drive him back five yards and settle for that, dump him in the ground, finish, because it might be your last play, and you don't want to have any regrets."
 
The 5-foot, 8-inch, 210-pound Sanders still looks game-ready, even though he is in his eighth year of retirement from the NFL.
 
He was selected in the second round (44th overall) by the Indianapolis Colts in the 2004 NFL Draft and played eight seasons, seven in Indianapolis.
 
On Feb. 4, 2007, Sanders started at safety for the Colts in Super Bowl XLI in Miami. He made two tackles, forced a fumble, and intercepted a pass during a 29-17 win over the Chicago Bears. His honors include being named 2007 NFL Defensive Player of the Year, first-team All-Pro in 2005 and 2007 and Pro Bowl selection in 2005 and 2007. In 50 career NFL games, Sanders made 303 tackles with six interceptions.
   
"I wish I could strap it up right now," Sanders said. "This talk wouldn't even matter because I would show you how to get it done. Every single one of you has it in you — let it go. This is where it's at. Now you have to let it go."
 
One of the main reasons Sanders enrolled at Iowa was because his high school football coach at Cathedral Prep in Erie, Pennsylvania, was Joe Moore, who also happened to be a mentor for Iowa head coach Kirk Ferentz. Sanders fell in love with Iowa on his recruiting visit.
 
"Iowa's football program is set up to be detail-oriented, there is a certain way they go about handling business and that attracted me," Sanders said. "Iowa also had some of the greatest coaches in the country."
 
Sanders played immediately on special teams in 2000. In the ninth game of the season against Wisconsin, he started and made 12 tackles. He remained in the starting lineup for the final three games, making eight stops at Penn State, 12 against Northwestern, and three at Minnesota. Iowa was 2-2 with Sanders in the starting lineup and he was named honorable mention All-Big Ten.
 
With the hard-hitting Sanders at safety, the Hawkeyes won 24 of their final 30 games. Iowa played in three straight bowl games, defeating Texas Tech in the Alamo Bowl in 2001, losing to Southern California in the Orange Bowl in 2003, and defeating Florida in the Outback Bowl in 2004.
 
A playing highlight for Sanders was the game at No. 8 Michigan in 2002. Iowa won, 34-9, in front of 111,496 in Michigan Stadium; Sanders finished with five tackles and a forced fumble.  The Hawkeyes went 8-0 in the Big Ten that season.
 
"We went to their house, the stadium was sold out, it was a crazy atmosphere, and everyone was hyped for that game," Sanders said. "We weren't supposed to win, but we went in there, put up some points and we played defense well. It was a defining point of our season."
 
In his introduction, Ferentz told the Hawkeyes that Sanders positively impacted every team on which he played.
 
"Some people make it happen, that's Bob Sanders to a T as a football player," Ferentz said.
 
Iowa football hosts Minnesota in the battle for Floyd of Rosedale on Saturday, Nov. 16.  Fans are encouraged to wear black for the Blackout game, and it is the annual military appreciation celebration. Active duty military and veterans are eligible for a military ticket discount. Click HERE for tickets and pre-paid parking and additional game information.