Hawkeye Fan Shop — A Black & Gold Store | 24 Hawkeyes to Watch 2019-20 | Hawk Talk Monthly — October | Photo Gallery | Game recap | Ferentz Transcript (PDF) | Box Score (PDF) | Postgame Notes (PDF) | The Difference A Year Makes for No. 33 | Duncan's Fancy Footwork | Hawkeyes in the NFL
By DARREN MILLER
hawkeyesports.com
IOWA CITY, Iowa — Prepare during the week, show up Saturday.
 
"You earn victories," Iowa head coach Kirk Ferentz said Sunday. "You have to do a good job during the week and you have to play well. Those things won't change, and keeping your focus where it needs to be is important."
 
The No. 19/20 Hawkeyes improved to 5-2 overall, 2-2 in the Big Ten with a 26-20 win over Purdue on Oct. 19. The win snapped Iowa's two-game losing streak to the Boilermakers, but for Ferentz, he was more concerned about returning to the win column after back-to-back regular season losses to Michigan and Penn State.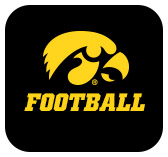 "I was more focused on the fact we had lost two straight this year," Ferentz said. "The guys did a good job preparing and they showed up and played hard (Saturday). We'll have to do the same against Northwestern, nothing about it will be easy."
 
The Wildcats have won three in a row against Iowa: 38-31 in 2016, 17-10 in overtime in 2017, and 14-10 last season.
 
"What is more important to us is to win two in a row (this season)," Ferentz said. "That is the more important figure."
 
On the play of senior quarterback Nate Stanley, who completed 23 of 33 passes for 260 yards:
 
"Nate played well and our protection was better," Ferentz said. "That helped him set his feet and throw. He made nice throws and our receivers are doing a good job, too. Brandon Smith had a big game, probably his best game of the year. Nate put good balls out there for him and he came down with beautiful plays."
 
Smith caught nine passes for 106 yards.
 
On winning the turnover battle against Purdue, 2-1:
 
"The turnover, take-away battle is a great place to start," Ferentz said. "It was great for us to get a couple takeaways and get back in that realm. At least we are starting to build on that ratio, which is important to our program."
 
On young players stepping up on defense:
 
"Both Dillon Doyle and Jack Campbell did nice job for us," Ferentz said. "Dane Belton played at the nickel/cash position and did a good job as a young player. Up front, Joe Evans did a good job giving us a pass rush up there and that was good to see as well."
 
The Hawkeyes return to action Oct. 26, traveling to Evanston, Illinois, to face Northwestern.  Game time is 11 a.m. (CT) from Ryan Field.
 
Iowa football hosts Minnesota in the battle for Floyd of Rosedale on Saturday, Nov. 16.  Fans are encouraged to wear black for the Blackout game, and it is the annual military appreciation celebration. Active duty military and veterans are eligible for a military ticket discount. Click HERE for tickets and pre-paid parking and additional game information.