Hawkeye Fan Shop — A Black & Gold Store | 24 Hawkeyes to Watch 2019-20 | Hawk Talk Monthly — October | Photo Gallery | Hawkeyes in the NFL | Game recap | Ferentz Transcript (PDF) | Box Score (PDF) | Postgame Notes (PDF) | The Difference A Year Makes for No. 33 | Duncan's Fancy Footwork
By DARREN MILLER
hawkeyesports.com
IOWA CITY, Iowa — John Waggoner blacked out for a bit Saturday during the second quarter of Iowa's 26-20 victory over Purdue. It wasn't because he absorbed a hard hit, it was because of a euphoric celebration after his first collegiate tackle and quarterback sack.
 
Waggoner is a 6-foot-5, 270-pound redshirt freshman defensive end from Des Moines, Iowa. The Dowling graduate has gradually sharpened his craft behind the likes of Parker Hesse and Anthony Nelson last season and A.J. Epenesa and Chauncey Golston this season.
 
"The main thing I learned from those older guys is how to be a professional on and off the field," Waggoner said. "Learn how to act and go about your daily processes."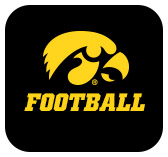 With Iowa leading 6-0 with nine minutes left before halftime, Waggoner entered the game at defensive end. A holding penalty put Purdue in a bind, faced with second-and-14 from its 16. The defensive play call required Waggoner to get to the A gap. The Boilermakers ran play-action with zone blocking, so Waggoner had an even longer path to his target.
 
"I recognized the quarterback still had the ball rolling out," he said. "I was a couple yards away from him and he still had it, so I kept coming and got the sack. The secondary did a great job on the back end holding up the defense, and the guy coming on the pressure held him up."
 
The play brought a sell-out Homecoming crowd of 69,250 to its feet inside Kinnick Stadium.
 
"It was surreal," Waggoner said. "I blacked out a little bit, but it felt good."
 
Iowa used field position from that three-and-out defensive stand to set up a 42-yard field goal for a 9-0 lead.
 
It is the fourth game Waggoner has played this season and the second against a Big Ten opponent. His career stat line currently reads one unassisted tackle and one sack for seven yards.
 
It was the only time the Hawkeyes got to Purdue quarterback Jack Plummer in 50 pass attempts, a fact that weighed on Iowa sack leader Epenesa after the game.
 
"We left a lot a sacks out there and we have to finish that," Epenesa said. "We had a lot of opportunities to get sacks, but we couldn't execute."
 
Then he turned his attention to the sack that didn't get away.
 
"John has been doing a lot of things well: consistency, effort, that sack he had was a hustle play," Epenesa said. "The play we ran told him to get to the A gap, but he was able to recognize that it was a boot out to his side and he was able to stop, change direction, come back, and make a play on the quarterback. That's what we need on the defensive line; that was an effort play and he did a good job."
 
After seven games, Iowa's defense has 11 sacks, its opponents have 17. Over the last two seasons, that is uncharacteristic. In 2018, the Hawkeyes had 35 sacks and allowed 16; in 2017, Iowa had 29 sacks and allowed 25.
 
Waggoner was certain there would be sack opportunities against a Purdue offense that leads the conference with an average of 43 pass attempts per game.
 
"We knew they would throw the ball a decent amount, so the defensive line was focused on pressuring the quarterback to make him feel as uncomfortable as possible," Waggoner said.
 
But how did a relatively untested redshirt freshman feel about getting significant snaps in a significant game?
 
"There are always jitters when you first get out there, but once you're playing, you let your preparation handle the work," Waggoner said. "You have great teammates helping you.
 
"I prepare every week like I am going to take every snap, because you never know what could happen or who is going to get in there. If you get the opportunity, make the most of it. Snap your helmet on and go out there. You tell yourself you have done this and have been preparing for this since January."
 
The Hawkeyes return to action Oct. 26, traveling to Evanston, Illinois, to face Northwestern.  Game time is 11 a.m. (CT) from Ryan Field.
 
Iowa football hosts Minnesota in the battle for Floyd of Rosedale on Saturday, Nov. 16.  Fans are encouraged to wear black for the Blackout game, and it is the annual military appreciation celebration. Active duty military and veterans are eligible for a military ticket discount. Click HERE for tickets and pre-paid parking and additional game information.