Hawkeye Fan Shop — A Black & Gold Store | 24 Hawkeyes to Watch 2019-20 | Hawk Talk Monthly — October | Box Score (PDF) | Boxscore
MINNEAPOLIS — Sophomore Samantha Tawharu's golden goal in the 110th minute lifted the University of Iowa soccer team to a 2-1 double overtime victory over Minnesota on Sunday afternoon at Elizabeth Lyle Robbie Stadium.
 
The victory is Iowa's 14th of the season — tying the second-most wins in a single season in school history.  The Hawkeyes are 14-3-1 overall, 6-3-1 in Big Ten play.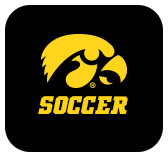 Tawharu's header came off an assist from senior Emma Tokuyama and it propelled Iowa to the victory with just 25 seconds remaining in the second overtime period. It was Tawharu's second game-winning goal of the season, and fourth goal overall.
 
Iowa scored first in the 37th minute off the right foot of sophomore Skylar Alward. Tawharu played a ball to Tokuyama, who sent a cross to Alward.  The Colorado native put it in the back of the net for her second strike of the season.  Tokuyama's has a team-leading five assists.
 
The Hawkeyes held on to their lead until the 58th minute when Minnesota's Paige Elliott scored a header off a cross from Alana Dressley to even the score at one.
 
Senior goalkeeper Claire Graves made five saves en route to her 13th victory of the season.  It is Graves' 37th career win, moving her past Hannah Clark as the winningest goalkeeper in school history.
 
HEAD COACH DAVE DIIANNI SAYS…
"We showed great character to win today against a good Minnesota team on the road on a day we didn't have as much energy as we would have liked. I like how this group rallied together, especially after the first half, knowing we didn't have our best version of ourselves to battle and compete as a team. It's a great weekend when you can go on the road in two difficult environments and come back with four points."
 
OF NOTE
– All of Iowa's points in the match came from the reserves (two goals, three assists).
– Iowa's 14 wins are tied for the second-most in program history. This is the second 14-win season of head coach Dave DiIanni's Iowa tenure.
– Today's overtime win was Iowa's first against a Big Ten opponent since Oct. 6, 2013 — a 1-0 overtime win over Michigan State.
-The Hawkeyes are six goals shy of the program record of 49 goals scored in 1999.
– Iowa out-shot Minnesota, 19-13.
 
NEXT UP
Iowa returns home Oct. 27 to host Ohio State in its regular season finale at 1 p.m. (CT) at the Iowa Soccer Complex. Admission is free.