Hawkeye Fan Shop — A Black & Gold Store | 24 Hawkeyes to Watch 2019-20 | Hawkeyes in the NFL | Photo Gallery
By MAGGIE WESLEY
hawkeyesports.com
IOWA CITY, Iowa — The Hawkeyes have faced a lot of adversity this season amid the injuries throughout the offensive line. Players coming and going, switching positions and taking on new roles. Offensive line coach, Tim Polasek, stays impressed by the overall mindset of this group.
"It's interesting. The group has responded well and stayed dedicated to improving," said Polasek. "We've stayed together as a group and we're out there giving great effort. We just need to execute better in those big moments in each game."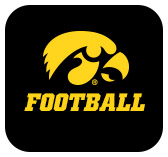 Polasek is over halfway through his third season with the Hawkeyes and his starting left tackle is finally starting to make a comeback. Junior Alaric Jackson injured his right knee in the season opener and missed weeks 2-4. Senior left guard Landan Paulson and redshirt freshman Tyler Linderbaum are the only two offensive linemen to start every game this season at the same position. Linderbaum adopted the center position from Keegan Render, who is playing center for the Philadelphia Eagles.
"This year has been strangely similar to previous years. We've dealt with injuries here and there at times," Polasek said. "The thing that is different is that your dealing with mature tackles. Getting Alaric back a couple weeks ago has been great, as well as trying to get Linderbaum all set at center, breaking in a new center for the second straight year. It's been similar, we like to continue on improving and moving forward"
Junior Tristan Wirfs stepped up in Jackson's absence. Senior Levi Paulsen moved to right tackle and sophomore Kyler Schott temporarily took over right guard. On Week 5 against Michigan, Jackson returned to the line.
"With AJ coming back, Tristan doesn't have to worry about moving back and forth between right tackle to left tackle, which he handled very well. Alaric provides some stability and gives the group some depth and the reassurance that we are back to working our normal spots. He's still battling to get back to 100 percent, but he's getting closer to playing at the highest level."
Jackson's return was not the end of injuries for the offensive line. Schott started Week 2-3 but was injured during the Hawkeye's bye week. Schott was originally in for junior Cole Banwart, who was injured in August. Banwart recovered and came back to take Schott's spot Week 4, but suffered second injury before Week 5, leaving that right guard position up in the air.
However, the group is filled with fresh legs and nothing short of eager underclassmen ready to see action.
"Nick DeJong has come along and done a great job," said Polasek. "He's a freshman walk-on tackle. With some of these guys being out and limited in practice, it creates a few opportunities here and there. Mark Kallenberger continues to come on. I know he's playing some guard now, but he's taken advantage of some opportunities that have been available to him. I would be remised if I didn't mention Cody Ince, whose repetitions continue to go up. We're trying to win that race with some of these young guys and that's always the challenge. We're helping them seize every opportunity that comes their way."
The road has not been an easy one for this offensive line. However, wins seem to make up for all the craziness. If there is one thing that hasn't changed in this group, it is the bond they share on and off the field.
"It's interesting, sometimes it galvanizes you when you go on the road. There's a little bit of discomfort," Polasek said. "However, the one thing that really excites me is when I walk into the meeting room every day and there's a sense of togetherness. I don't think there's ever been a time during the year that we're broken that way."
The Hawkeyes take on Northwestern in Evanston, Illinois on Saturday at 11:01 a.m. (CT). The game is televised on ESPN2.
 
Iowa football hosts Minnesota in the battle for Floyd of Rosedale on Saturday, Nov. 16.  Fans are encouraged to wear black for the Blackout game, and it is the annual military appreciation celebration. Active duty military and veterans are eligible for a military ticket discount. Click here for tickets and pre-paid parking and additional game information.