Hawkeye Fan Shop — A Black & Gold Store | I-Club Events Page | Photo Gallery | Postgame Notes (PDF) | Box Score (PDF) | Game Recap | Evans Finds his Niche on Iowa's Suffocating Defense
By DARREN MILLER
hawkeyesports.com
EVANSTON, Ill. — Even Superman would have difficulty getting out of this conundrum.
 
After catching the football on a 13-yard curl pattern, University of Iowa redshirt freshman wide receiver Tyrone Tracy, Jr., was surrounded by six Northwestern defenders, four with a legitimate opportunity to plant him into the Ryan Field turf. He was 37 yards from the end zone.
 
Instead of simply picking up a first down on third-and-10, the 5-foot-11, 200-pound Tracy spun out of a would-be tackle from Trae Williams and headed toward the Iowa sideline for more yardage. He noticed fellow receivers Nico Ragaini and Ihmir Smith-Marsette and used their blocks to sprint for his second career touchdown.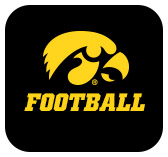 The first-quarter effort put the Hawkeyes on the board, 7-0, in a game they won, 20-0. As quick as Tracy found the end zone, he was equally quick in sharing praise.
 
"That route is basically a timing play," said Tracy, a native of Indianapolis. "When I stopped, the ball should be coming and it was. Everybody did their job — when I stopped the ball was already there, so all I had to do was catch it, turn up field, make a couple people miss, the two blockers did their thing, and I scored."
 
Easier said than done.
 
Wide receivers caught eight of the 12 completions from quarterback Nate Stanley on Oct. 26 during the victory at Northwestern. That was welcomed production since leading receiver Brandon Smith (33 catches, 407 yards, four touchdowns) missed the game and will miss a couple more because of a lower leg injury. For Tracy, it was his third start of the season, his first at Smith's X position. Smith, by the way, is three inches taller and weighs 20 more pounds than Tracy.
 
"Tyrone took advantage of his opportunity to get more snaps and did a good job, made big plays, and did a lot of good things — blocking on top of that," Iowa head coach Kirk Ferentz said. "In my mind, he learned how to play football. He has gotten better. The idea is for guys to keep pushing."
 
Tracy contributed a key block in the third quarter that kept a scoring drive alive. On fourth-and-8 from the Northwestern 30, Stanley found tight end Shaun Beyer at the Northwestern 29. Beyer still needed seven yards to move the chains, so he headed toward the sideline with Wildcats in pursuit. Tracy clipped Northwestern cornerback Cam Ruiz, allowing Beyer to gain 11 yards. The Hawkeyes scored their second touchdown four plays later.
 
"I knew the ball wasn't going to me, my route was a decoy, but I saw Shaun Beyer get the ball and I knew he didn't have a first down," Tracy said. "I saw three people coming for him and one-on-three isn't a good situation, so I threw my body in there and he got the first down."
 
Tracy's final reception at Northwestern came in the fourth quarter off play action for 38 yards and set up a 28-yard field goal by Keith Duncan.
 
"It was a Z-in, post corner and Nate put it on the money again," Tracy said. "I tried to score, but I couldn't keep my feet in (bounds)."
 
Tracy played four games last season as a true freshman, making one catch for 22 yards from Peyton Mansell against Northern Iowa. This season, he has 17 catches for 306 yards and two touchdowns. Seven days after the fact, Tracy was still thinking about nearly scoring against Purdue (his 21-yard reception placed the ball at the Boilermaker 1). But he jokingly said it was a humanitarian effort to get true freshman running back Tyler Goodson his first collegiate touchdown. 
 
"Last week I should have scored, but I let my man T-Good get his first touchdown, so that is always a good thing," Tracy said with a smile.
 
He went on to say the first-quarter touchdown at Northwestern calmed him for the rest of the game. Also having a calming effect was a conversation Tracy had with Smith during the week.
  
"Brandon Smith does a lot for our team and I know it is hard to fill his shoes," Tracy said. "He told me to do me: just do what I'm capable of, not try to be Superman, and I will have a good game.
 
"That's what I did; I went out there and was Tyrone Tracy."
 
On at least one play, Tracy looked as if he was wearing a red cape with a large letter S on his chest.
 
Iowa football hosts Minnesota in the battle for Floyd of Rosedale on Saturday, Nov. 16.  Fans are encouraged to wear black for the Blackout game, and it is the annual military appreciation celebration. Active duty military and veterans are eligible for a military ticket discount. Click HERE for tickets and pre-paid parking and additional game information.